Kitesurf has a lot to do with aerodynamics and kite shape behavior, let's find how.
Being kitesurfing one of the fastest-growing sports, kitesurf producers have been challenging each other on the market with more and more innovation and possible product choices. The result is that there are so many types of kites out there that for beginners it can be really difficult to choose a suitable one to start with.
Even more advanced riders might end up using the wrong type of kite for the discipline they want to practice or their riding style.
Let's try to simplify how different shapes influence the power kite behavior, to have a smart and reasoned way to choose our kitesurfing gear.
The three main parameters about a kite shape, which influence its performance are:
the arch shape;

the bridle system;

the aspect ratio.
ARCH SHAPE / BRIDLE SYSTEM
There are different arch shapes, from steep arch, also called C-kites, to flat arch. Flat arched kites sometimes were called Bow kites, especially at the beginning of their introduction, because of the curved shape of the leading edge and the trailing edge, which made them appear as bow-shaped from the perspective of the rider.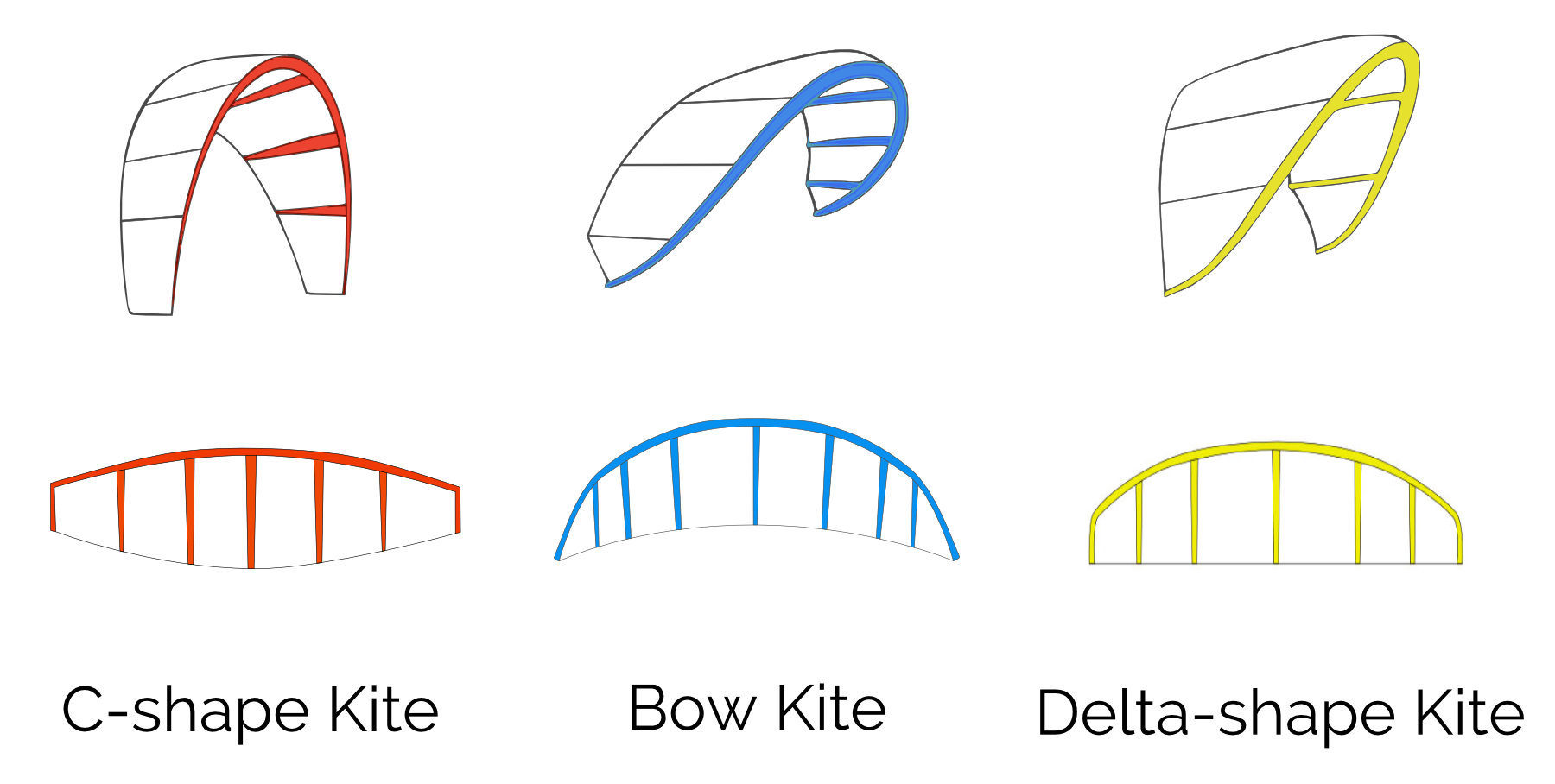 Nowadays we also have Delta shaped kites, where the trailing edge has been made straight giving a Greek Delta letter resemblance.
The main point we need to pay attention to here is that the arch shape determines how much of the canopy in the kite generates the uplift and how much of it keeps the stability in the lateral directions: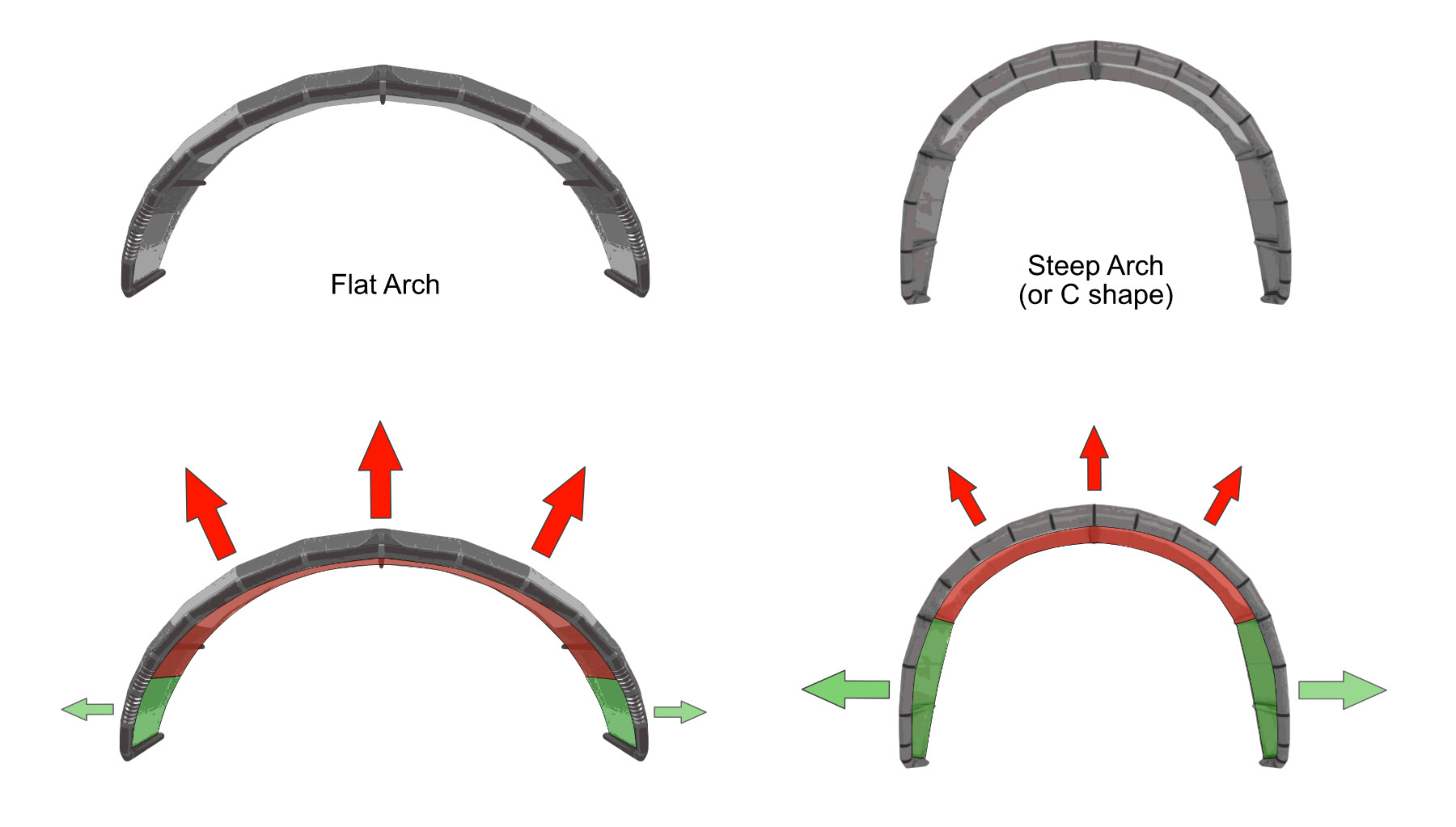 As we see in the flatter the kite shapes, the bigger component of the wind action goes to the uplift, while in steeper arch shapes the component of forces that pushes sideways gets important, playing a more influential role in the lateral stability.
It is easy to imagine that this can lead to bigger power capabilities in flat kites on one hand, and better side stability, steering responsiveness and drifting control in more C-shape kites on the other hand.
The other aspect related to the arch shape is the bridle system. Its structure depends on the shape of the kite, the more the kite gets flatter, the more it needs better support on the leading edge, to prevent it to deform in the middle of its section.
On the opposite side, a C-shape kite can function even without a bridle system, just with the lines attached to its tips. Said so, modern C kites use some form of minor bridle system or a 5th line not only as an emergency system or relaunch aid (purple elements in the image below) but as a real structural element.

Apart from shape stability, bridle systems have another important effect on the kite's behavior: the capability of broadening the excursion of the angle of attack on the wind.
Below is represented the difference between a C-shape kite and a flat kite. Pivoting on the bridle system a flatter kite has a bigger leverage arm (B'), therefore its capability of changing the angle of attack (A') on the wind is way bigger.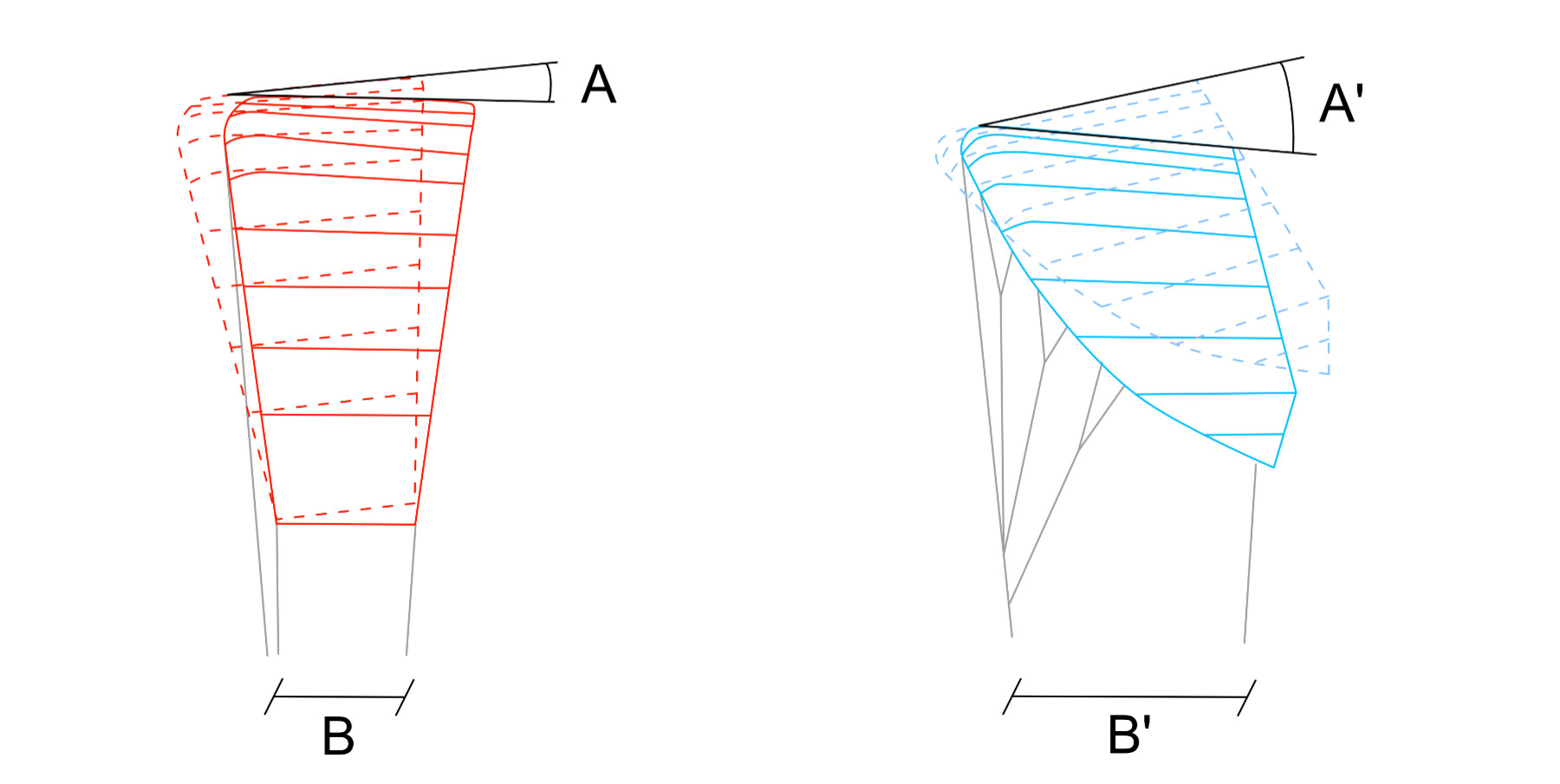 This effect is the key of the higher depower capabilities that flat kites have in comparison to C-shape kites, which have a limited possibility of changing their angle of attack.
Now we can understand how the combination of the shape and the bridle system leads to such different behaviors between the two arch shapes:
Flat kite

More Uplift and Power
Bigger Wind Range
Longer Hang time in Jumps
Bigger Depower (therefore, more safety)
C shape kite

Better lateral stability
Better behavior even with slack lines and in drifting (important for wake style)
More reactive and smoother steering
Of course, on the market, as every kiter knows, there are a lot of different models with different arch shapes, from almost pure C-shape to very flat ones:
ASPECT RATIO
The other important parameter to predict the power kite behavior is the aspect ratio. This characteristic of the kite shape is, as the name says, the proportion between different dimensions of the kite. There are different ways to calculate it, a good one is to divide the square of the kite span by its surface area.
We can see that in the next picture: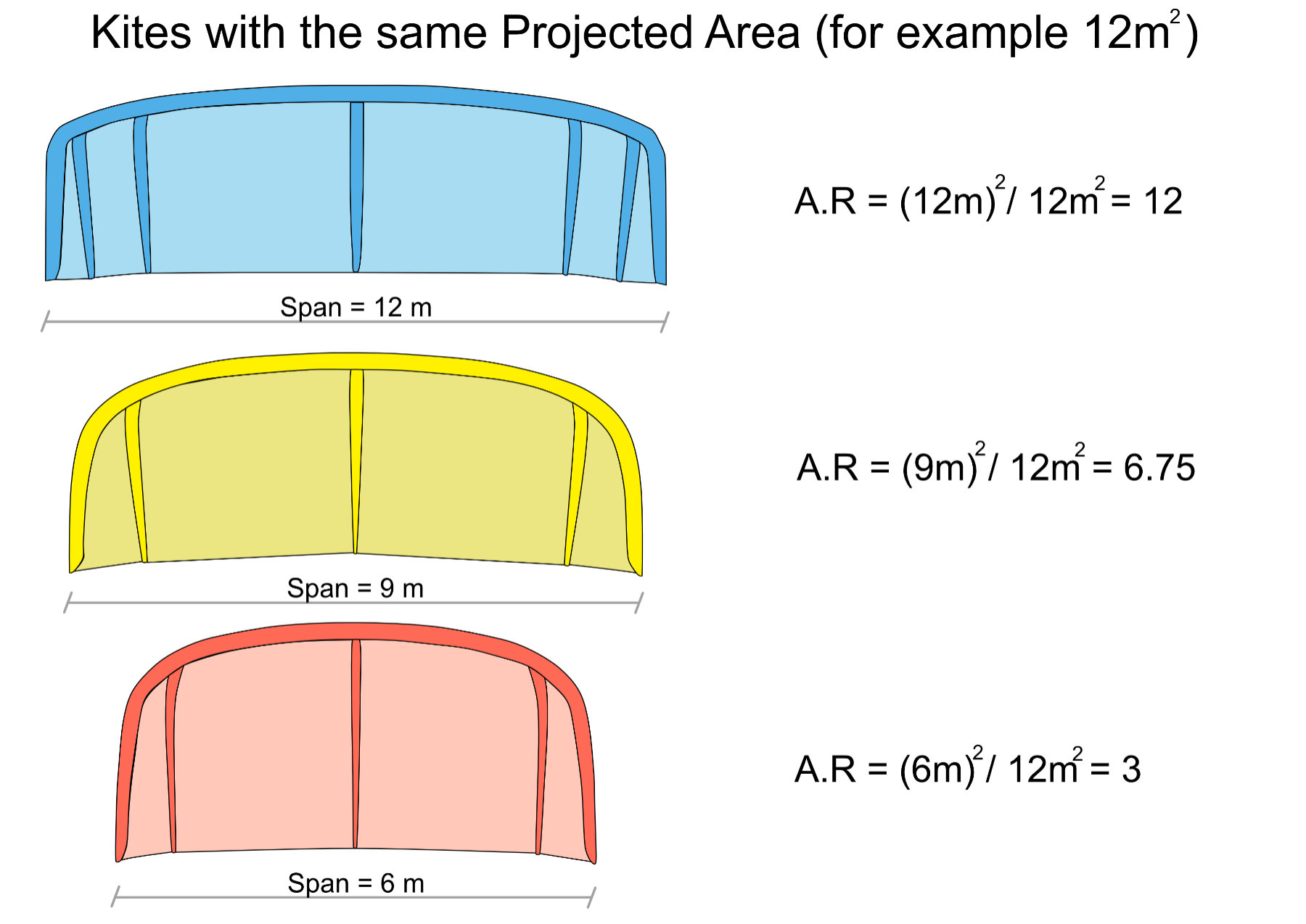 Put it more simplistically, the longer and thinner the kite is the more it has a high aspect ratio. On the contrary the wider section it has in comparison to its length, the lower aspect ratio.
Without deepening in a long theoretical explanation of the why, it is safe to say that high aspect ratio kites tend to be closer in shape to the 'ideal aerodynamic wing', with better performance in terms of lift and low drag in advancing due to minor turbulence creation. These better performances come with the price of an inferior turning speed, nervous behavior in gusty winds, and easier stall tendency in low wind conditions. The opposite of the low aspect ratio kites.
Main effects of the Aspect Ratio:
High Aspect Ratio

High efficiency: more power per square meter when moving. Fly faster, great upwind performance, more lift, glide and float in the air.
Can be very nervous in gusty winds.
Slower in turning and less depower at the bar when powered up.
Harder to relaunch.
Pretty easy to back stall in low winds (for a digression on kite stall check here)
Overall technical and demanding kite

Low Aspect Ratio

Turn quickly, though have less lift and float than high aspect kites.
More depower at the bar.
More stable in gusty winds and drift downwind well.
Easier to relaunch.
Unlikely to reach a back stall.
Overall forgiving kite
In sum, a high aspect ratio kite is more suitable for advanced riders competing in kite race or seeking big airs due to its high performances, while a low aspect ratio kite is more suitable for beginners or wave kiters due to its easy and forgiving behavior in turning, relaunching and gusts handling.
Once again, on the market, we can find any different nuance of aspect ratio between all the kite producers.
How do we choose at this point a kite, considering all the different parameters we have been talking about so far? Maybe a graph, combining these aspects, can help us make the choice clearer: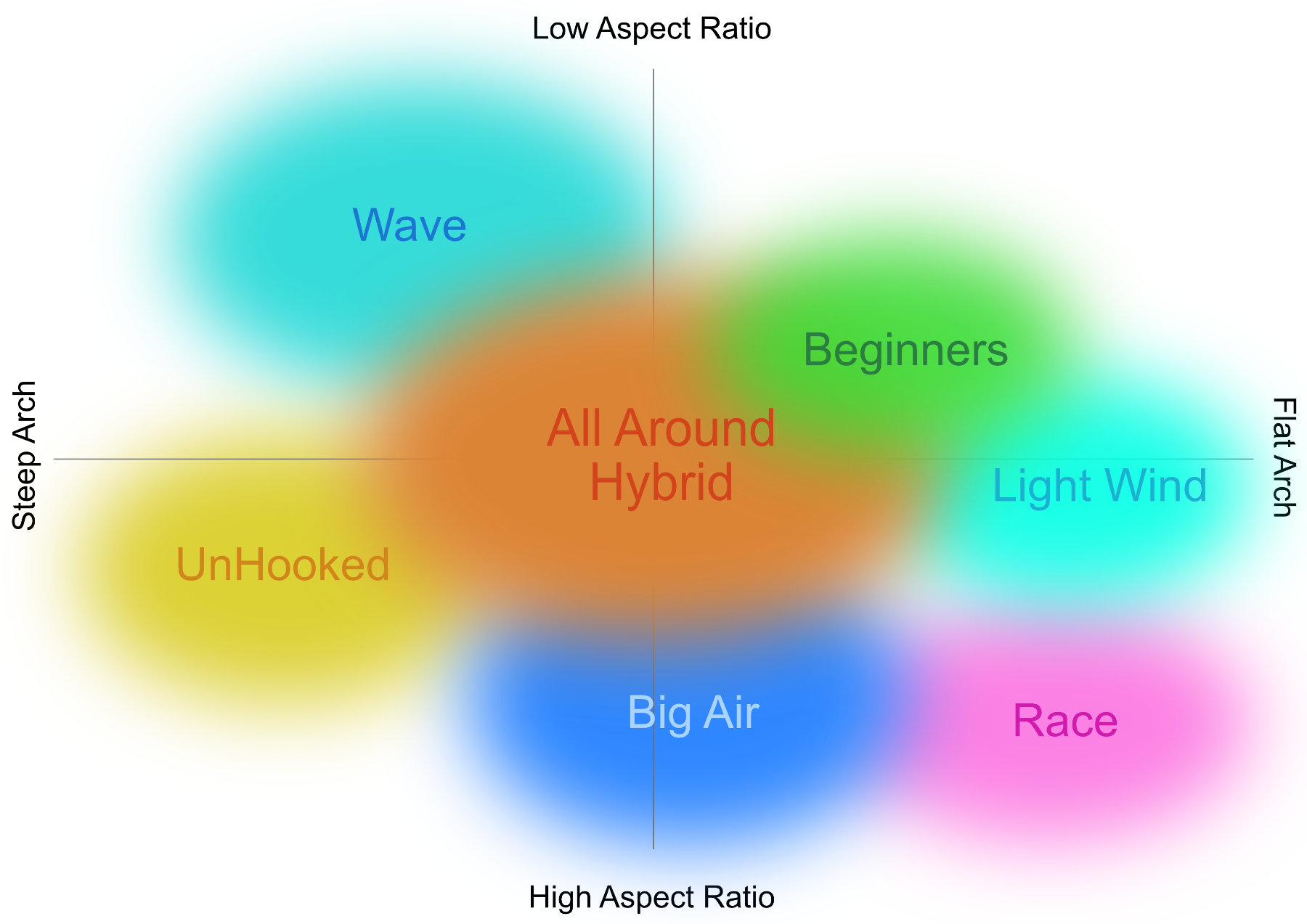 All Around/Hybrid: being in the center of the graph, they are a mid-way in between the main shape features and they are probably the market's best sellers since they address the majority of riders, who want to try different disciplines and like to mix up a bit their riding style.
Beginners: in our opinion, they should head for a mid or low aspect ratio kite, with bigger ease of use, easier relaunch, and forgivingness. Maybe they should also lean to flatter shape kites for better power control and depower capabilities.
Wave: to ride the waves we want to almost forget about the kite at some point, so stability, easy gusts absorption, fast relaunch, and stable drifting are the main characteristic we would want. A low aspect ratio kite with a steeper arch shape seems to better provide this type of behavior.
Big Air: Want to jump high? You need a high-performance wing. That means a high aspect ratio. You might also want it to keep a bit of reactivity and smooth steering. For these characteristics, we would go for a middle arch shape.
Race: it is all about pure performance and power here. High aspect ratio and flat arch it the best combination.
Unhooked/Wake Style: Power, stability, slack behavior and drift control are the requirement here. A steep arch shape (C-shape) is a must. A tendency to high aspect ratio is the ideal, but not as dramatic as for race or big air kites, to avoid back stall in unhooked full-powered tricks.
Wow! That was a pretty long blog post. Let's hope this can help anyone who had the patience to arrive at the end of this reading to be able to choose his/her next kite with more ease and confidence.
UPDATE: After Jame's request in the comments, we added a new graph where we included some of the best brands of kite and models. For sure this is not exhaustive on all what's on the market, it will be a bit provocative and it will raise a lot of comments on what is what, let's see how it will go: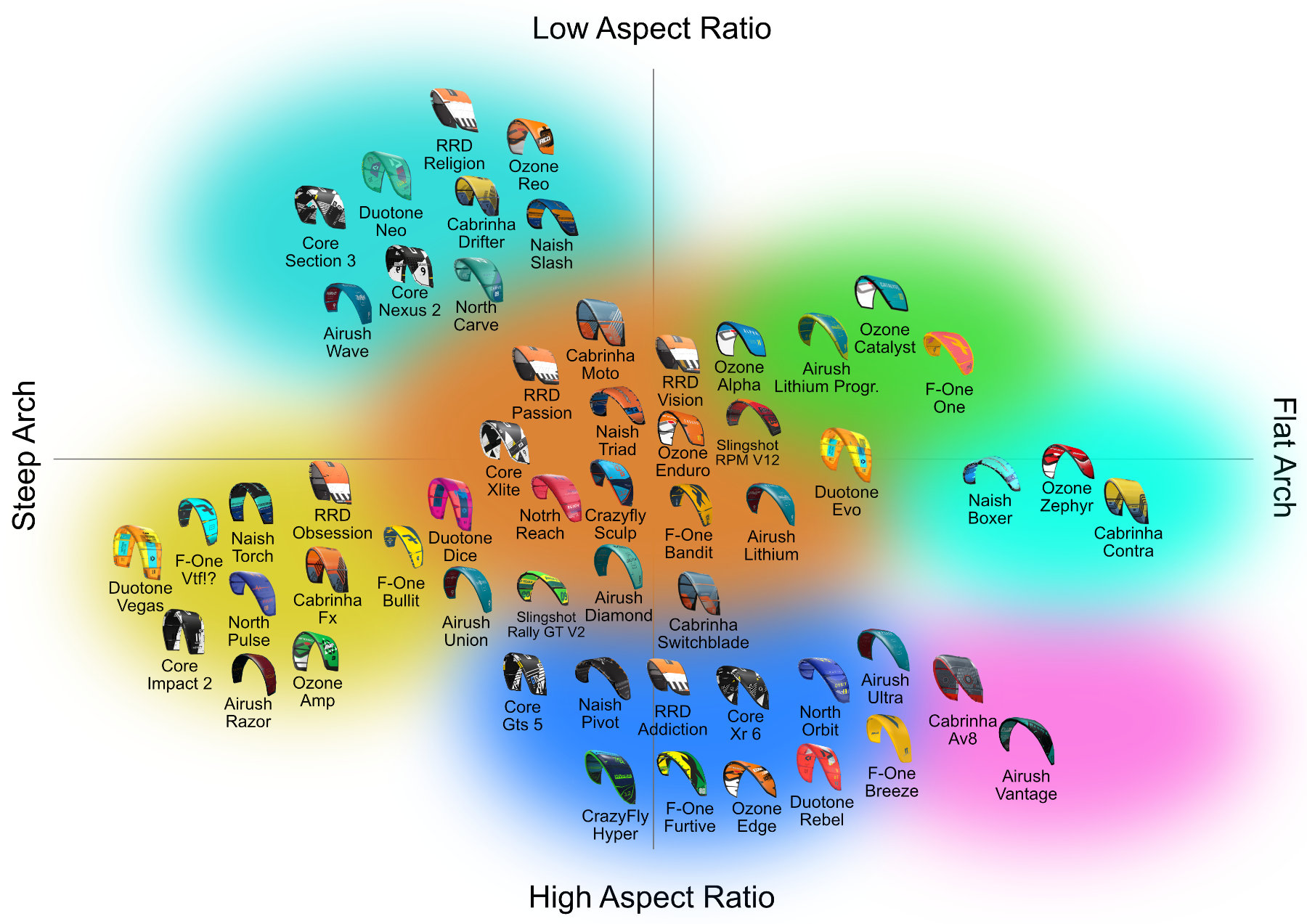 Since many requested a higher resolution of the previous image, I recently created a pdf downloadable document: click here to download it
Another very important quality of the kite is the drift capability, which is drammatically influenced by the shape, as explained in this post.
What do you think about this topic, do you agree with it? Do you have any interesting remarks?
What are your kite's characteristics?
Please let us know in the comments below.