Go kiting to :
Corpus Christi Bay
Description of Corpus Christi Bay (United States Of America)
Corpus Christi is one of the best kitesurfing locations in the US. It actually includes several spots around the huge bay, where you can find the most suitable for your riding style, and it is probably the windiest kite area in the country, according to wind average statistics. Among the countless launching points, the best known are Wildcat Park Portland, probably the windiest one, Grassy Point Corpus Christi with its flatwater channels, and Oso Bay a flatwater spot behind a long sandbank.
Being the area so full of kite spots it would be quite long to quote them all a after way is to check out the following linked google map, kindly shared by Kynan Stevenson: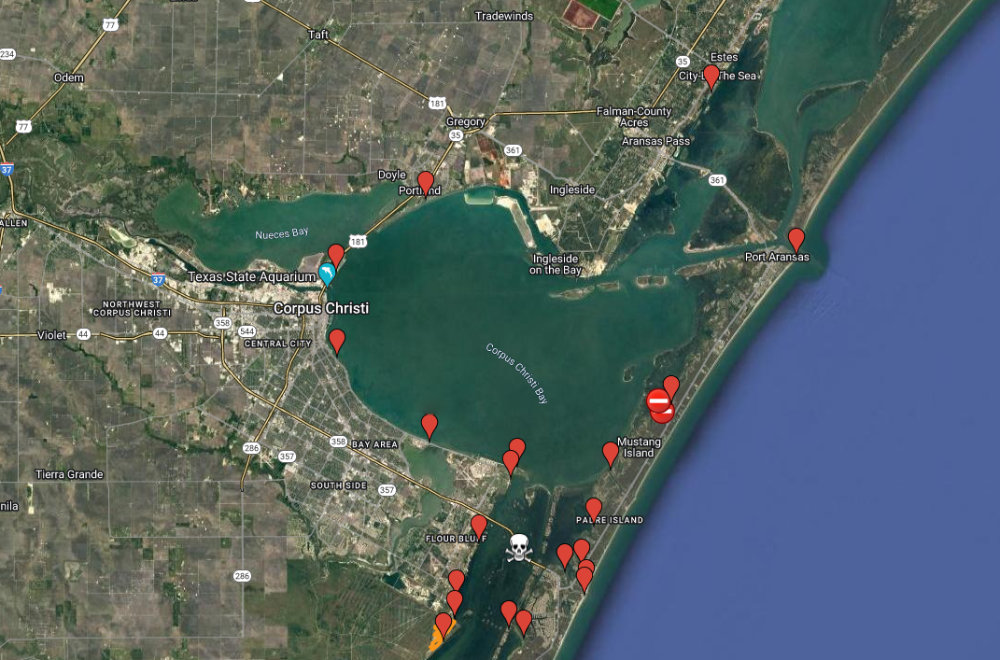 Another great plus, thanks to the myriad of available kite spots in the area, consists in the fact that most of them are completely uncrowded and most of the time you can find yourself in the water with no more than 5-6 kiters.
---
Spot characteristics
Spot Type
Flat
Rider Skill
beginner
Crowd.
Few people on the spot
Beach Type
Sand
Water Quality
Dark - Muddy
Tide Influence
Tide independent
Suggested Equipment
Boots, shoes
Dangers
In many spots the sandy-muddy bottom hides she's, so in waist-high water is best to wear protective boots or shoes
Other info
During the summer season, you can take part in the Fridays' Bay Crossing. It is a great occasion to meet local riders and get precious advice on your stay. The Crossing starts from Wildcat Park in Portland and ends on the other side of the bay to Fajitaville, Corpus Christi. For detailed info on the spots you can check also this link: Corpus Christi spots
---
Location
Closest City
Corpus Christi
How to get There
Car is a must to be able to reach all the best spots
Access
There are several access points around the bay area. Locals can provide great information and best advice according to the wind conditions
---
Wind Conditions
Wind Range
From 12 to 20 Knots
% of Windy days per month
Main wind directions
Forecast on windy.com