It is never repeated enough: a correct behavior during kite sessions makes the environment great for all the riders
It's never enough to remind how much these rules are important. You see a lot of riders, both beginners and experts, ignoring them and creating dangerous or at least unpleasant situations.
With the kitesurfing panorama becoming more and more crowded as the sport becomes so popular, it is really mandatory to well know the basic right way rules in kitesurfing. Here we listed the main ones and some good practices to avoid collisions and accidents on the beach and in the water.
We added some comments to the rule in order to understand the logic and the reasons behind any of them, main guidelines are:
1. Safety;
2. Raesonable behaviors to make everyone's session a pleasant one;
3. Convention following maritime practical rules.
Rule #1
The rider entering the water from the beach has right of way over the incoming rider.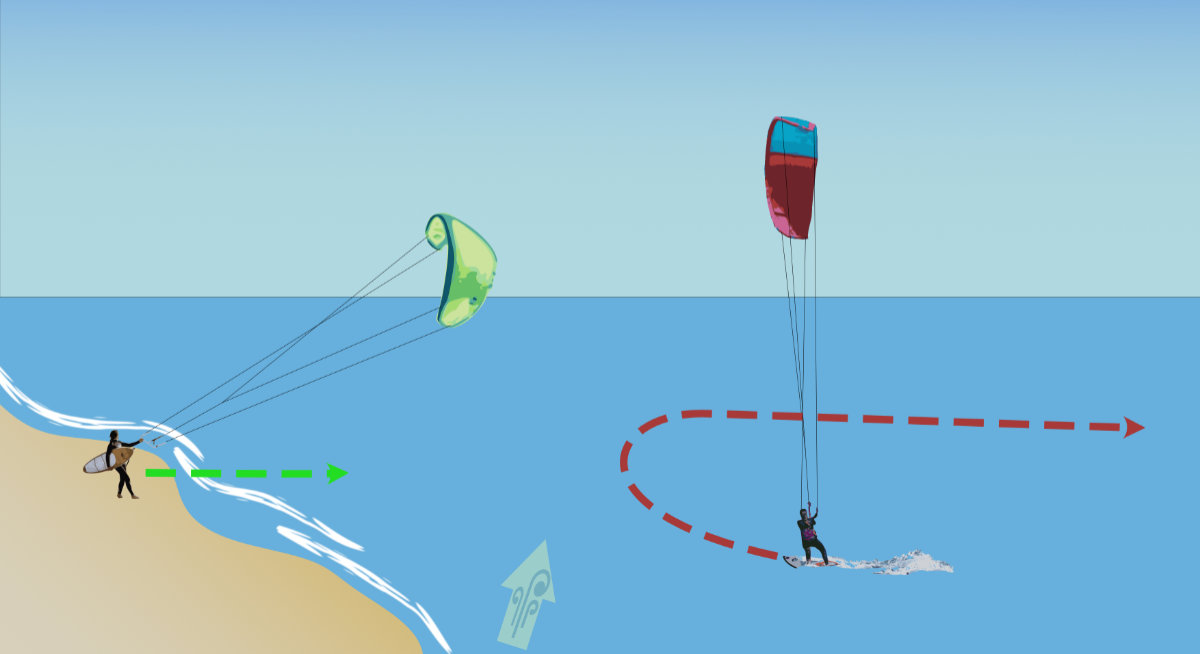 Comment.
The reason of this rule it is quite straight forward: safety. The kiter on the beach is the one in more risk since he is closer to solid obstacles and often to other beach users. He should be allowed to enter in the water as soon as possible. The kiter in the water is safely riding in the sea and can take his time to get out of the water, being in a safer position for the moment.
Rule #2
Starboard* rider (kite on the right-hand side) has priority over oncoming rider and should keep his course and pass upwind with the kite higher.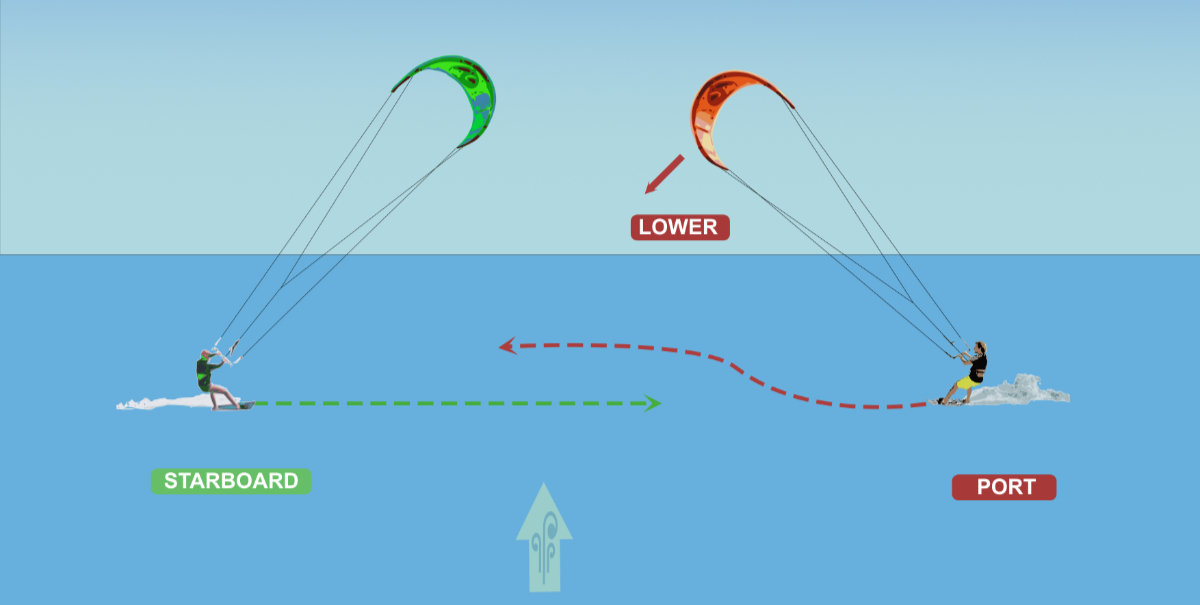 Comment.
The reason of this rule it is coming from a sea rule: starboard has normally the right way and as kitesurfers we keep the same convention.
*Starboard. How to know if you are in this position: when you ride and the kite is on the right side of the flying window (your right basically) you are in starboard. Another way to know it is, on heel-side stance, your right shoulder should be in the direction you are riding.
Rule #3
When two riders are traveling in the same direction, the faster rider coming up from behind must give way to the slower rider in front.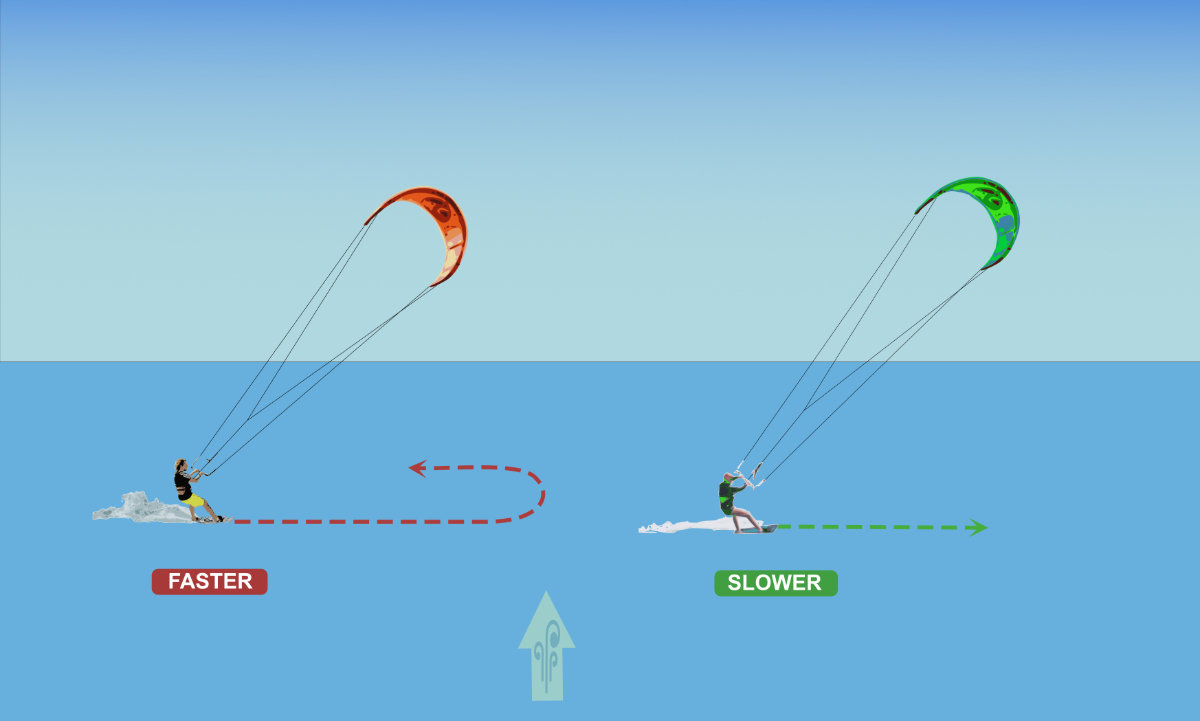 Comment.
The reason of this rule is safety: the slower kiter isn't in a position where che can easily spot the following rider. He might turn suddenly and create a collision possibility and if he rides slowly he might also be a beginner or less skilled rider than the aggressive fast one. Better to avoid risky position for both.
Rule #4 -
The rider surfing a wave has priority over the one who is jumping or going in the opposite direction.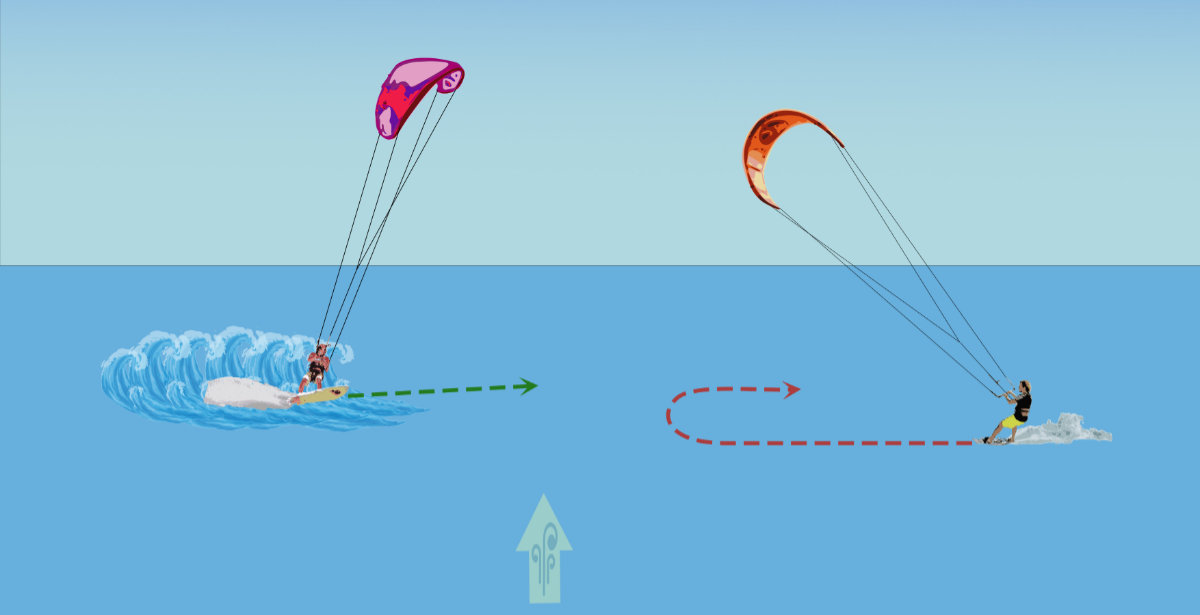 Comment.
The reason of this rule is safety and having a reasonable and respectful behavior for everyone's fun. The rider on the wave is in a more precarious balance condition than the free rider, so the second should avoid being in the way. Also, catching a good wave and have to interrupt surfing it is quite unpleasant and could lead to futile and unuseful arguments when back on the beach.
Rule #5 -
Right of way must be given to other ocean and beach users. Kiteboarders must travel downwind to them or possibly change direction to avoid collision.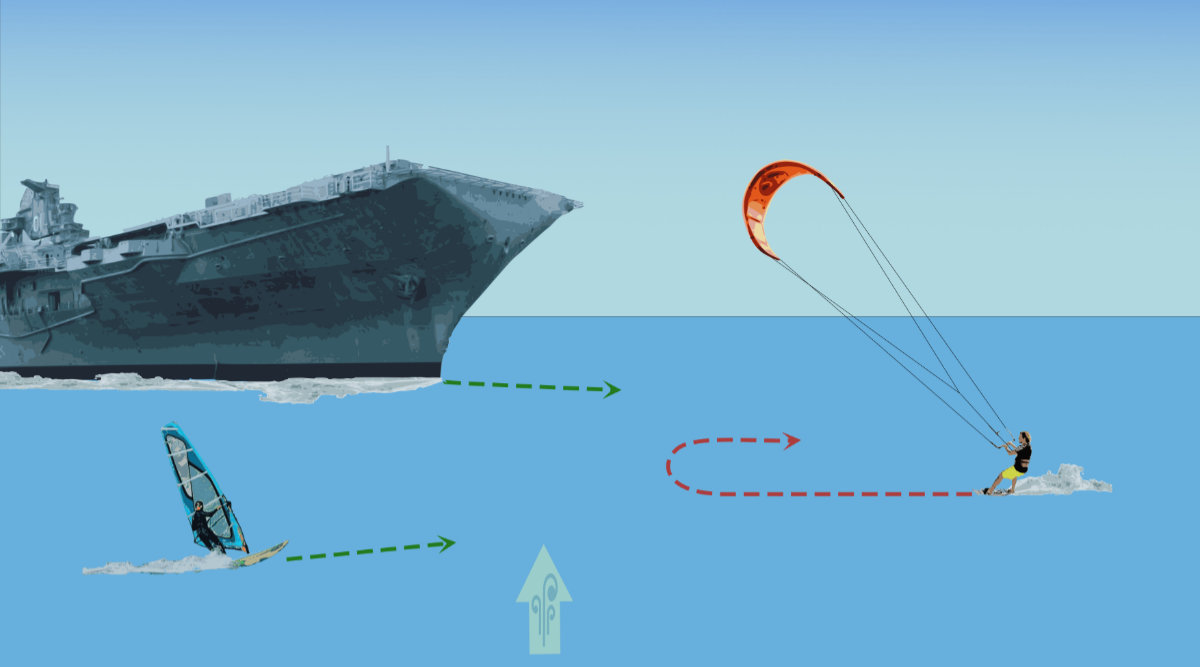 Comment.
Ok Air Carrier is maybe a bit exaggerated, but gives the idea: we, kitesurfers, are the coolest, fastest and quickest in maneuvering in the water than the majority of the other sea/lake subjects, we normally have faster response in dynamic situations. It is a good practice to expect slower response from others, so we need to act preventively and avoid unnecessary dangerous situations.
Rule #6
In order to perform a safe jump, a rider must have a clear danger zone of 50m downwind and 30m upwind.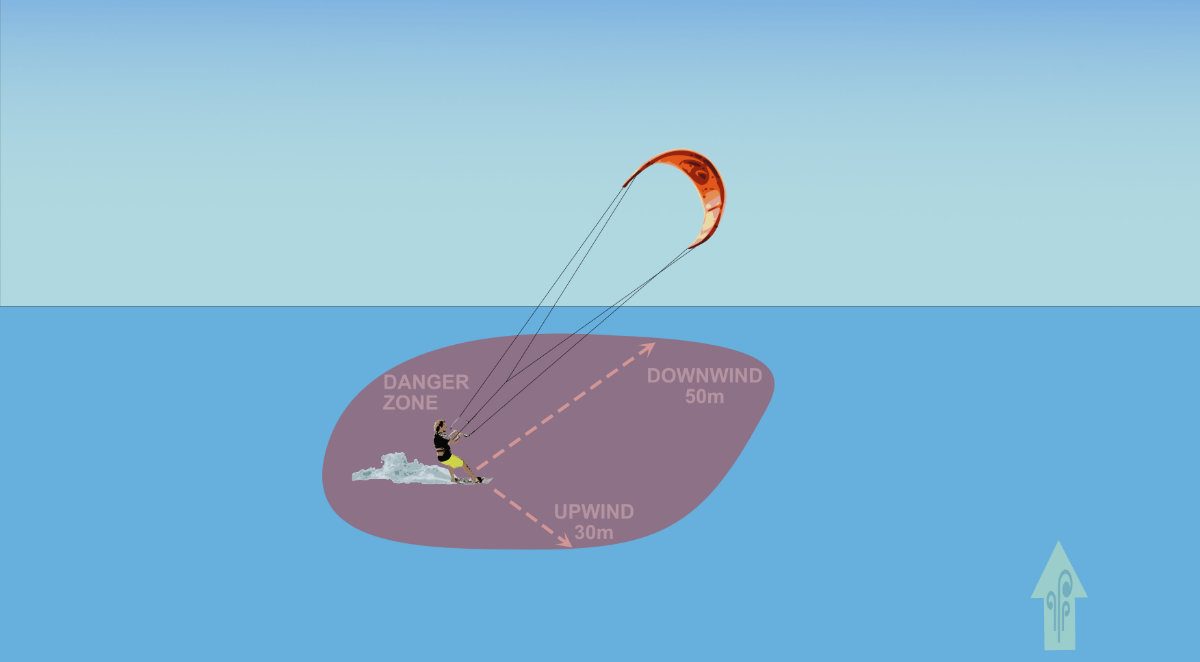 Comment.
Before jumping we must be really careful we have enough space downwind to land and enough space up wind not to have our kite to intercept other kiters' ones. It is a very good practice to check also behind us in case no kitesurfer forgot to follow the RULE #3.
Rule #7
Give the right way to all the riders taking kiting lessons or to unexperienced riders with no consistent upwind capabilities.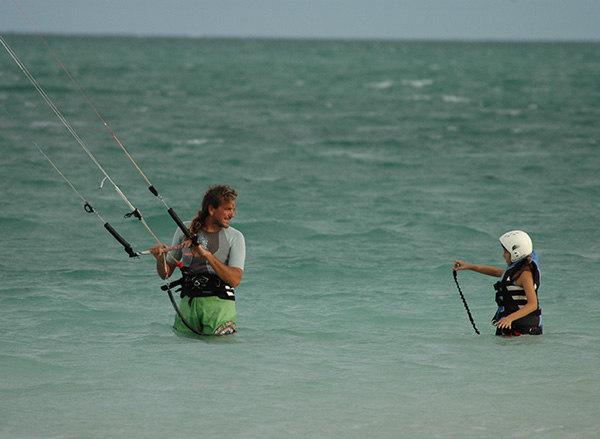 Comment.
This follow again a basic safety principle: the slower and less skilled should have the right way, to avoid uncontrolled kite movements due to inexperience or sudden panic situations. Remember: we have all been beginners and we would have loved to have the same treatment.
Rule #8
Body drag kiters have the right way over riding ones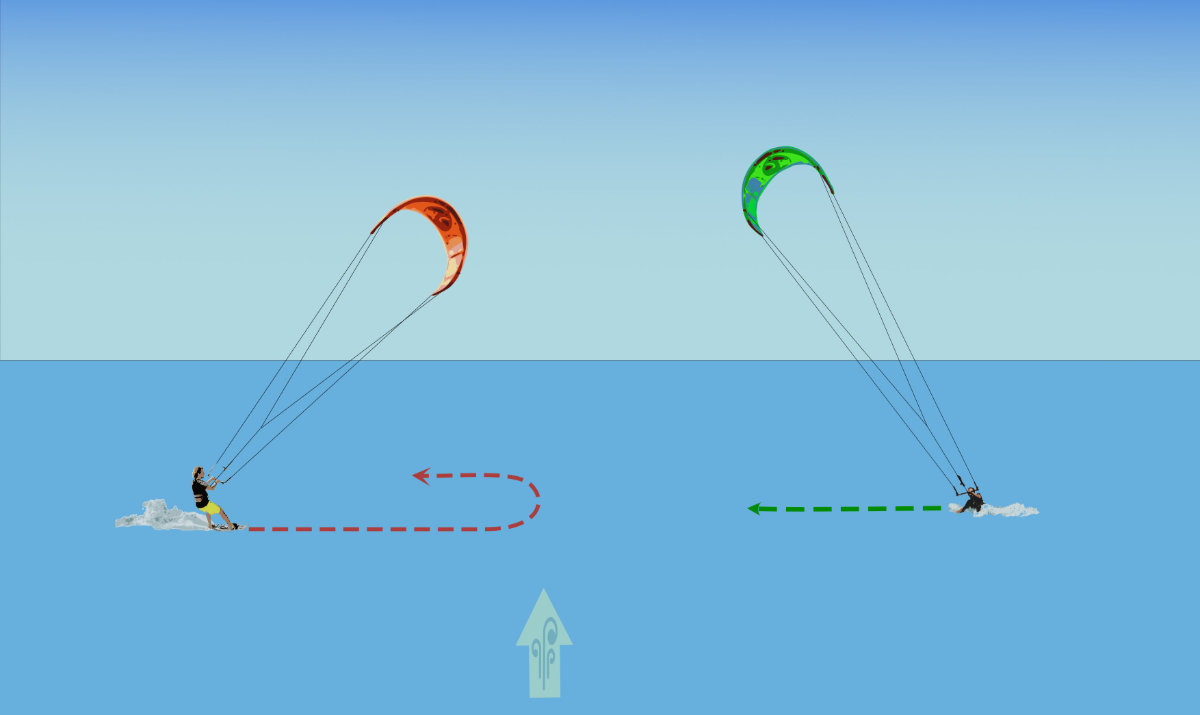 Comment.
Same logic as the previous rules: a body dragging kiter is slower, maybe in difficult and for sure with a more limited view range. He is in a more difficult situation than being on the board, so we need to avoid to add further pressure on him/her.
GOLDEN RULE !
If you are passing upwind, bring your kite UP. If you are passing downwind, bring your kite DOWN.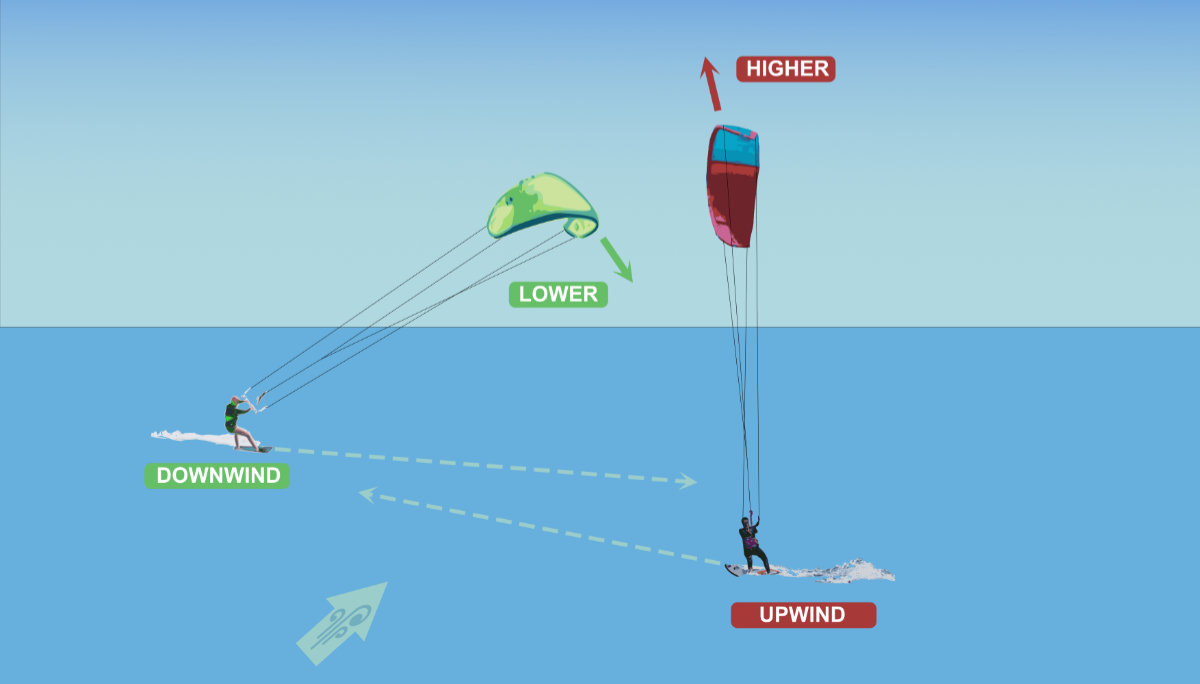 Comment.
This is pretty self-explanatory, try to do the opposite if you can!
Common sense Rule
Remember to use common sense in applying the rules (if someone doesn't comply to them, It's not a good excuse to crash into him): keep a good safe distance from other riders, whenever possible !
Hopping this sum on right way rules and suggested good practices will help to better everyone's kitesurf experience. If you have suggestion or different opinion on some of the rules above, please, don't hesitate to let us know in the comments below. We will be more than happy to include and good point.