Kitesurfing in Ometepe: an Epic Kite Trip to Nicaragua
Uncover a new tropical spot for adventure junkies! Escape the mainstream destinations and immerse yourself in this hidden kitesurfing paradise.
Thinking about your next winter destination? If you are ready to embark on the ultimate kitesurfing adventure look no further than the magnificent island of Ometepe in Nicaragua. This hidden, laid-back paradise, located in Lake Nicaragua, offers a perfect blend of stunning natural beauty, consistent winds, and a vibrant local culture that will make your kitesurf trip an unforgettable experience.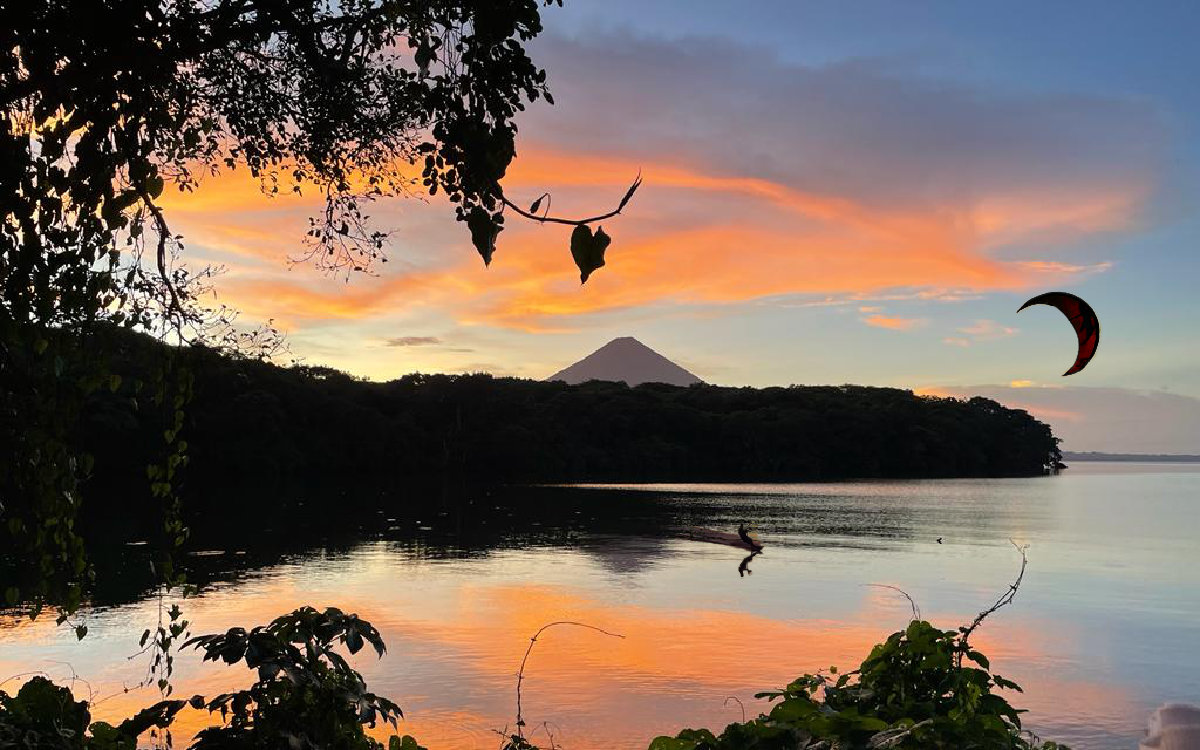 As you step foot on Ometepe, you'll be immediately captivated by its charm. It is a volcanic island that offers a diverse ecosystem and breathtaking scenery, with two majestic volcanoes, Concepción and Maderas, dominating the landscape. Ometepe is not just a kitesurfing destination; it's a paradise for nature lovers and adventure seekers alike.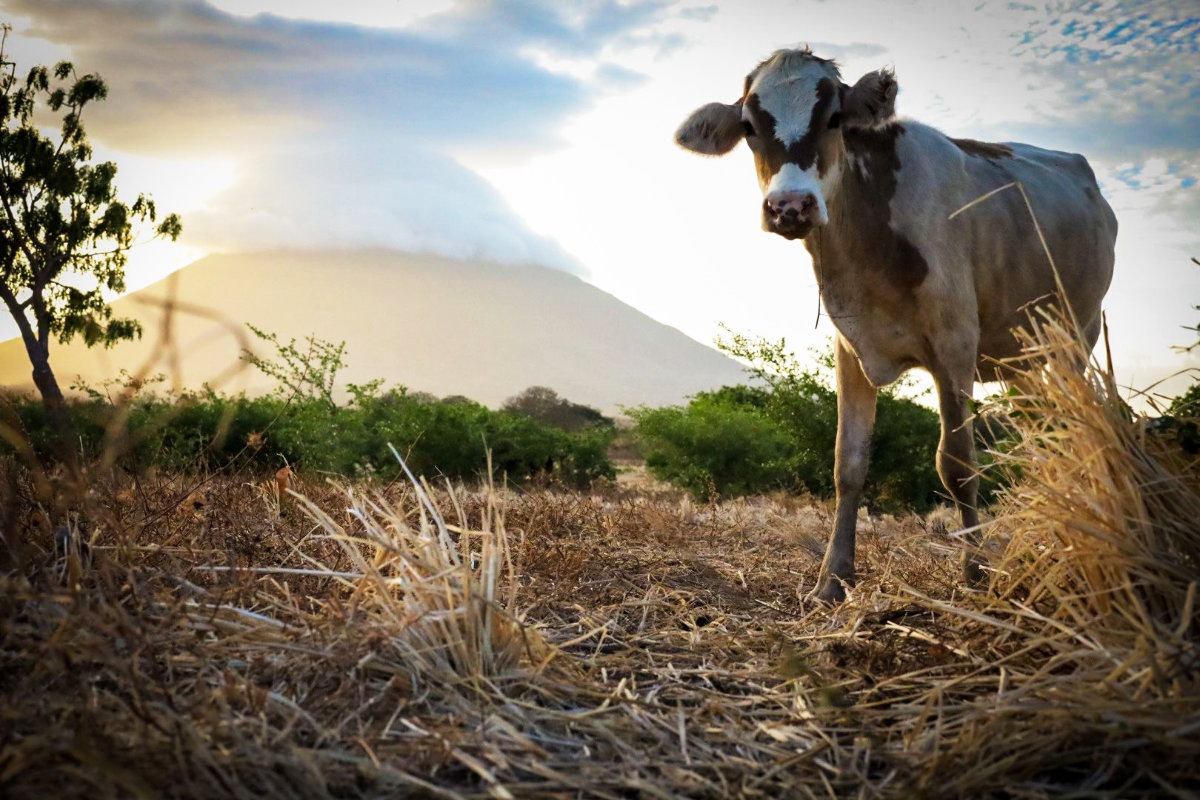 The island's rich cultural heritage adds another layer of enchantment to your kitesurfing trip. The locals, known for their friendliness and warmth, are deeply connected to the lake and take great pride in their island. As you interact with the locals, you'll quickly realize that Ometepe is not just a place to visit; it's a place to connect with the indigenous culture and create lasting memories.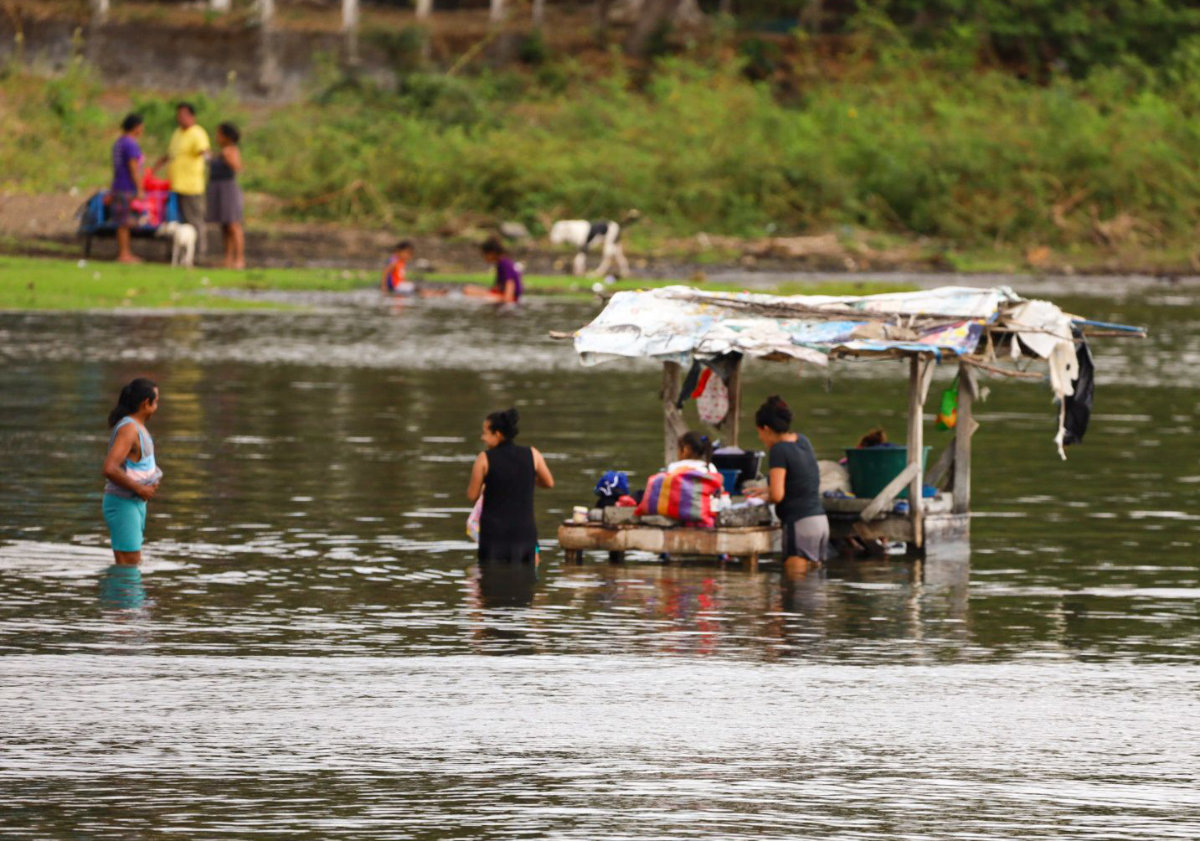 To reach this tropical gem, you can hop on a ferry from San Jorge in Rivas. The ferries operate hourly, ensuring convenient access to the island for kitesurfing enthusiasts like yourself. The journey itself is an experience, as you ride across the crystal-clear waters of Lake Nicaragua, surrounded by stunning 'vistas'.
Playa Santa Cruz is where you want to go kiting. The spot offers consistent winds, a huge empty beach, and uncrowded nature. It is the perfect playground for kiters of all levels, whether you're a seasoned pro or a beginner looking to learn.
The spot offers ideal kitesurfing conditions, thanks to its combination of a large sandy beach, and excellent and stable wind that blows in from the open lake. The wind direction, which is side onshore, works great for beginners, providing a safe and enjoyable learning environment. What's more, the beach offers ample space for a lot of potential kitesurfers, yet you'll often find only a few riders sharing the spot, giving you the freedom to enjoy the wind with no limitations.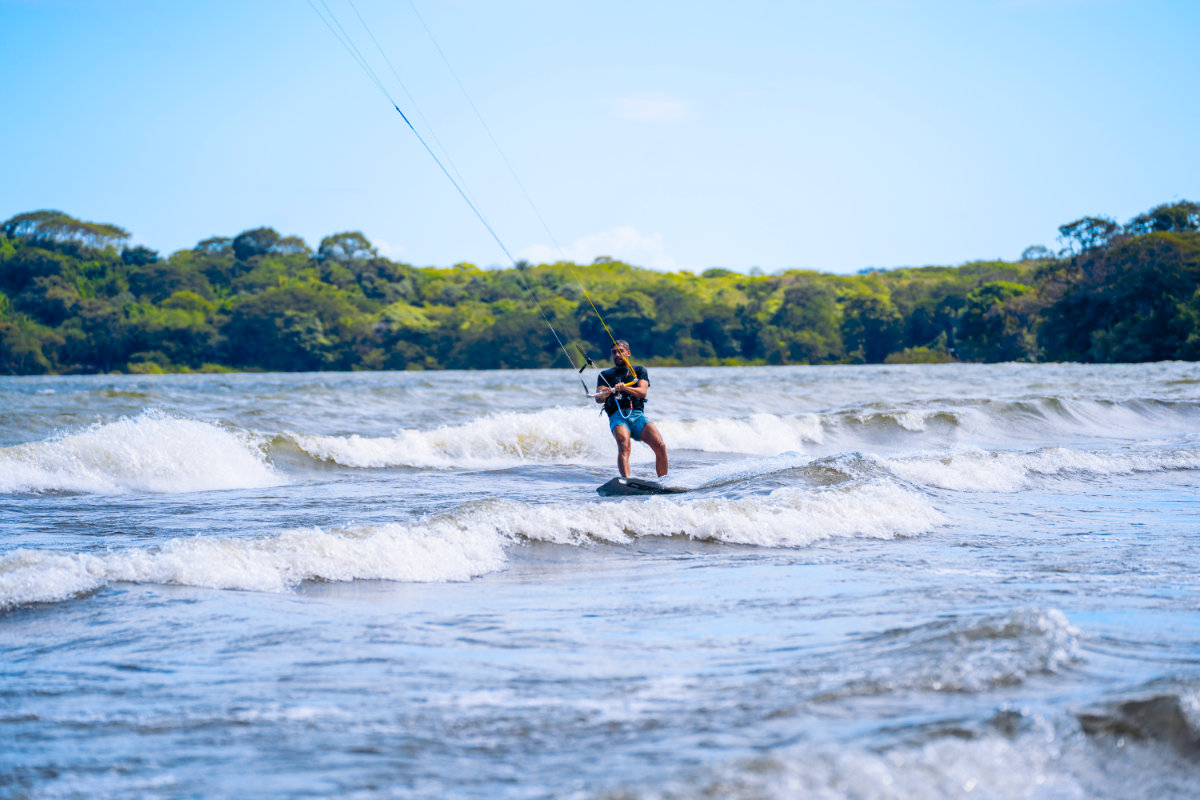 As you glide through the water, you'll be mesmerized by the backdrop of the Maderas Volcano and the lush vegetation that lines the beach. It's a sight that will take your breath away and make your kitesurfing sessions truly unforgettable. In the meanwhile, keep an eye out for the occasional groups of horses that come to drink from the lake – it's a magical and amusing sight that adds to the unique charm of Playa Santa Cruz.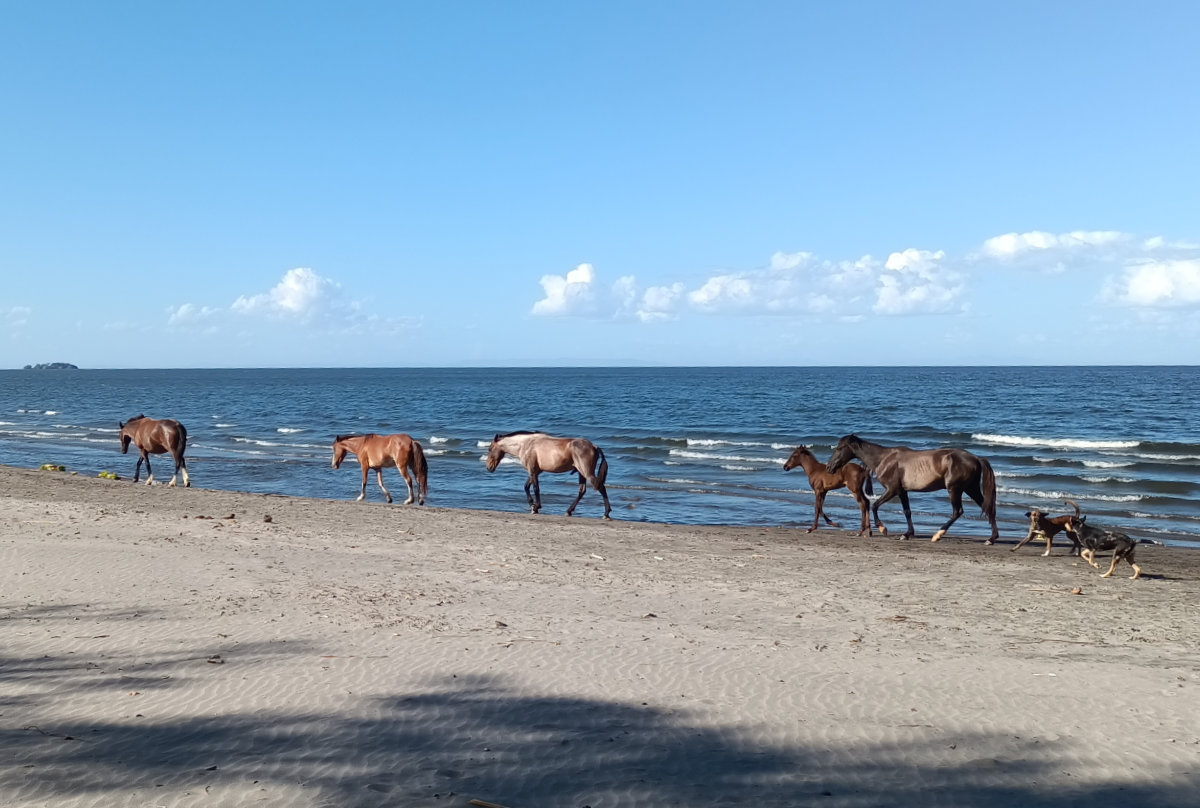 When is the best time for a kite trip? Playa Santa Cruz benefits from consistent and reliable winds throughout the year, with both high and low seasons. The best time to plan your kitesurf trip is from November to May when you can expect many days of wind blowing at an average of 20 knots or more. The wind is remarkably stable, creating an ideal environment for kitesurfing. During the peak season in January and February, the wind blows almost every day, and all day and night, providing ample opportunities to go kiting.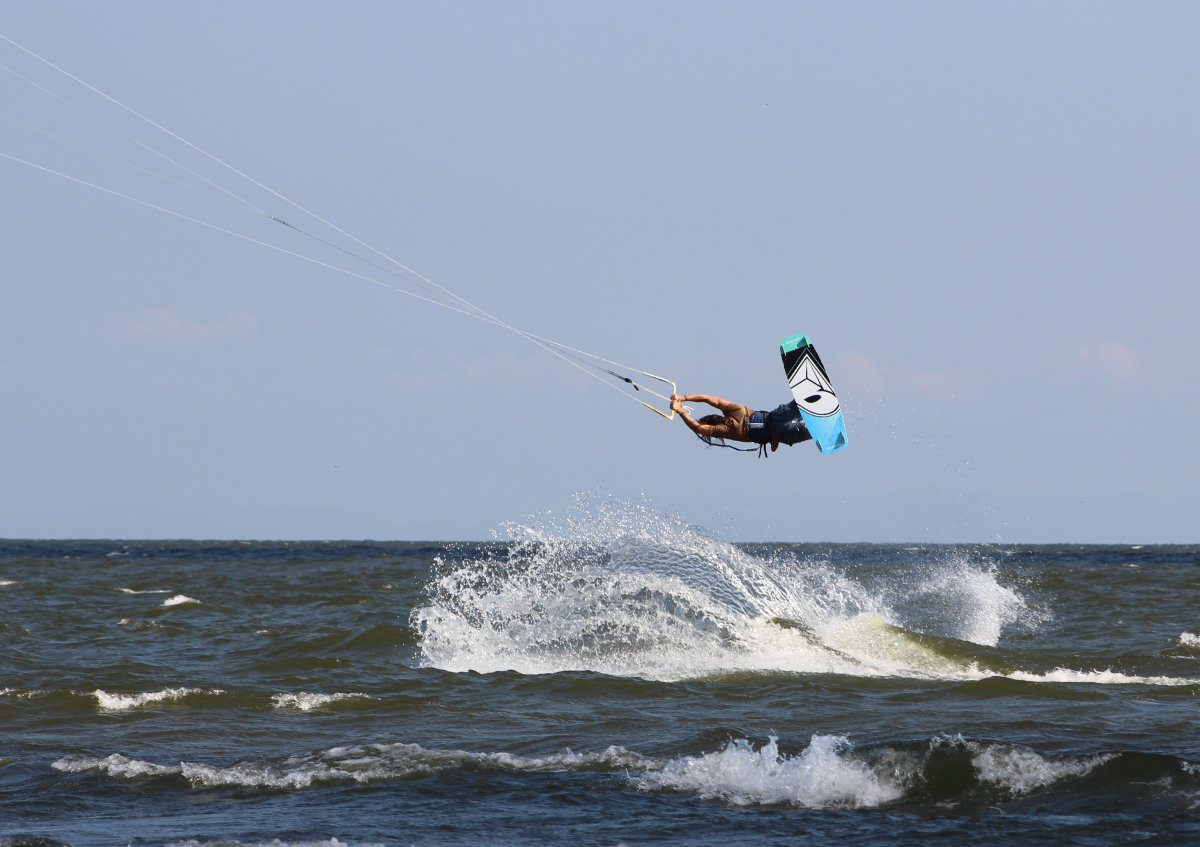 The water conditions at Playa Santa Cruz vary depending on the day. Most days, you'll encounter choppy water. However, on days with stronger winds, you may also encounter waves, offering some wave-riding opportunities.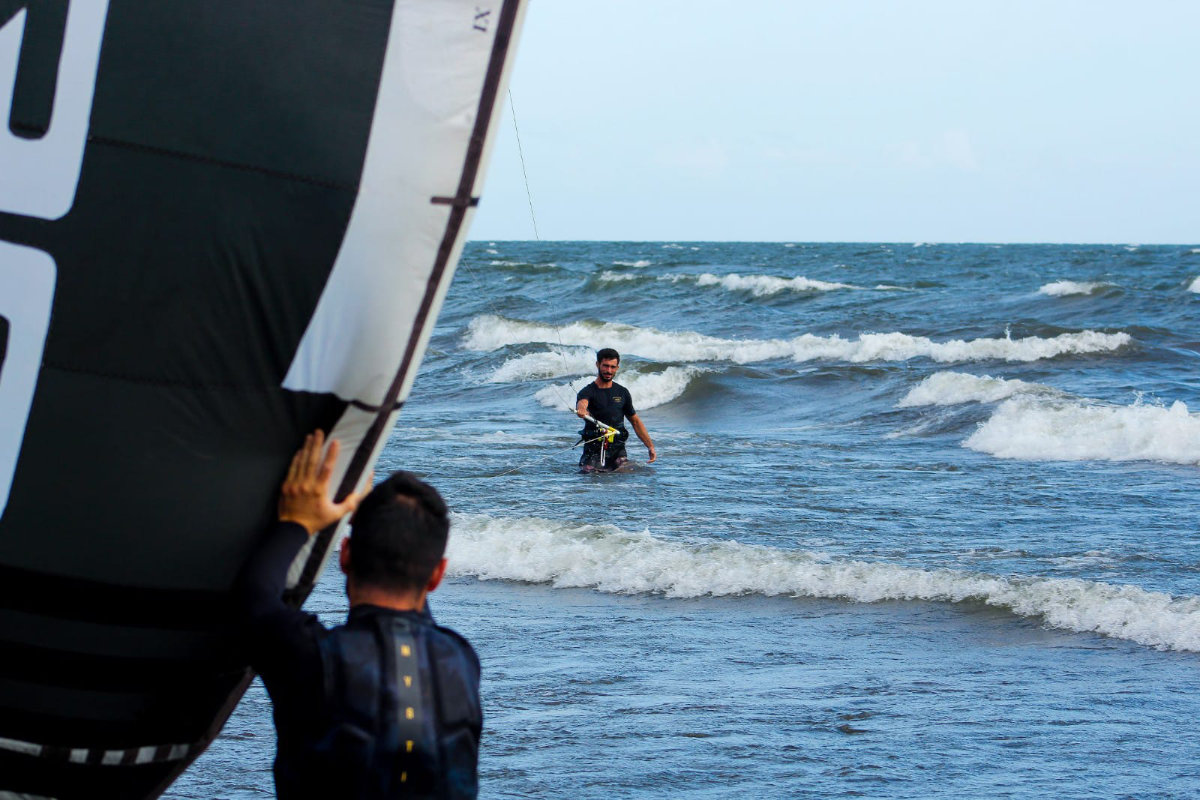 Now, let's talk about where you can get started with kitesurfing on the island. Look no further than the "Ometepe Kite Center" (link to the school website) The kite school provides lessons for all levels, from beginners to experienced riders looking to improve their skills and learn new tricks. The center is staffed with professional and experienced instructors that prioritize your safety and proper learning. Naveh, the responsible, and his team offer courses for beginners, personalized lessons for experienced riders, and organize kitesurfing camps and trips around the island. Plus, you can rest assured that you'll be equipped with the best and safest kitesurfing equipment available.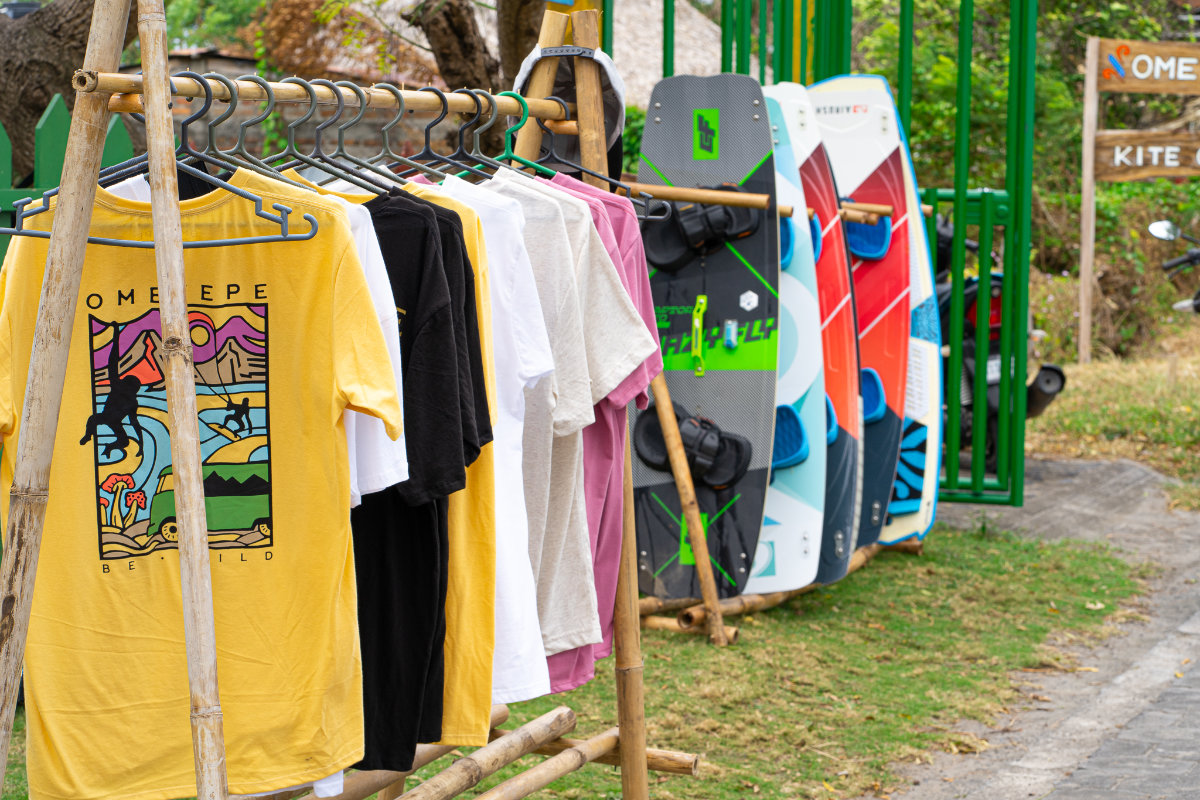 When you're not out on the water, there's plenty to explore on Ometepe. Beyond kitesurfing, the island offers a range of attractions and activities to make your trip even more memorable. For those who love hiking, conquering the Concepción and Maderas volcanoes is a must-do. These challenging hikes reward you with panoramic views of the island and the surrounding lake. The natural reserves and wildlife sanctuaries on the island provide a haven for nature enthusiasts, offering opportunities to witness the rich biodiversity that thrives in this tropical paradise.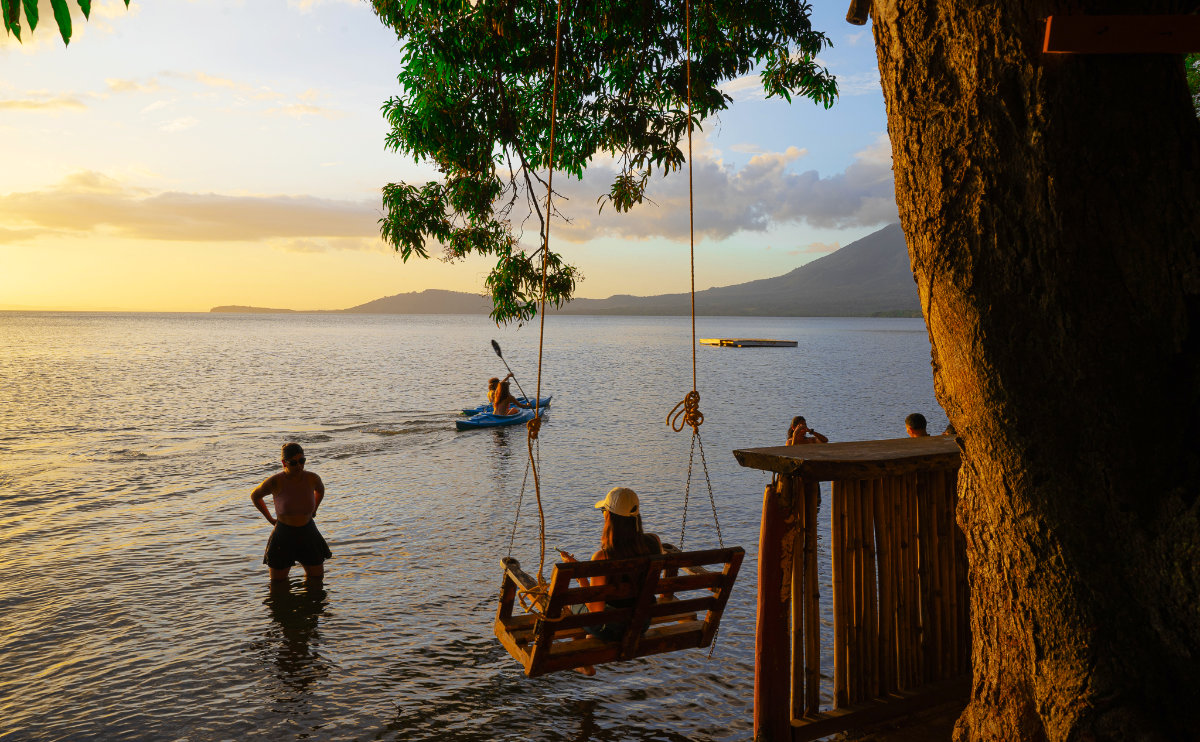 If you're want to stick to water-based activities to complement your kitesurfing experience, Ometepe has got you covered. Paddleboarding, kayaking, and fishing are popular options that allow you to explore the island from a different perspective. Imagine watching a breathtaking sunset as you kayak through a nature reserve teeming with birds and water turtles – it's an experience that will stay with you long after you've left the island.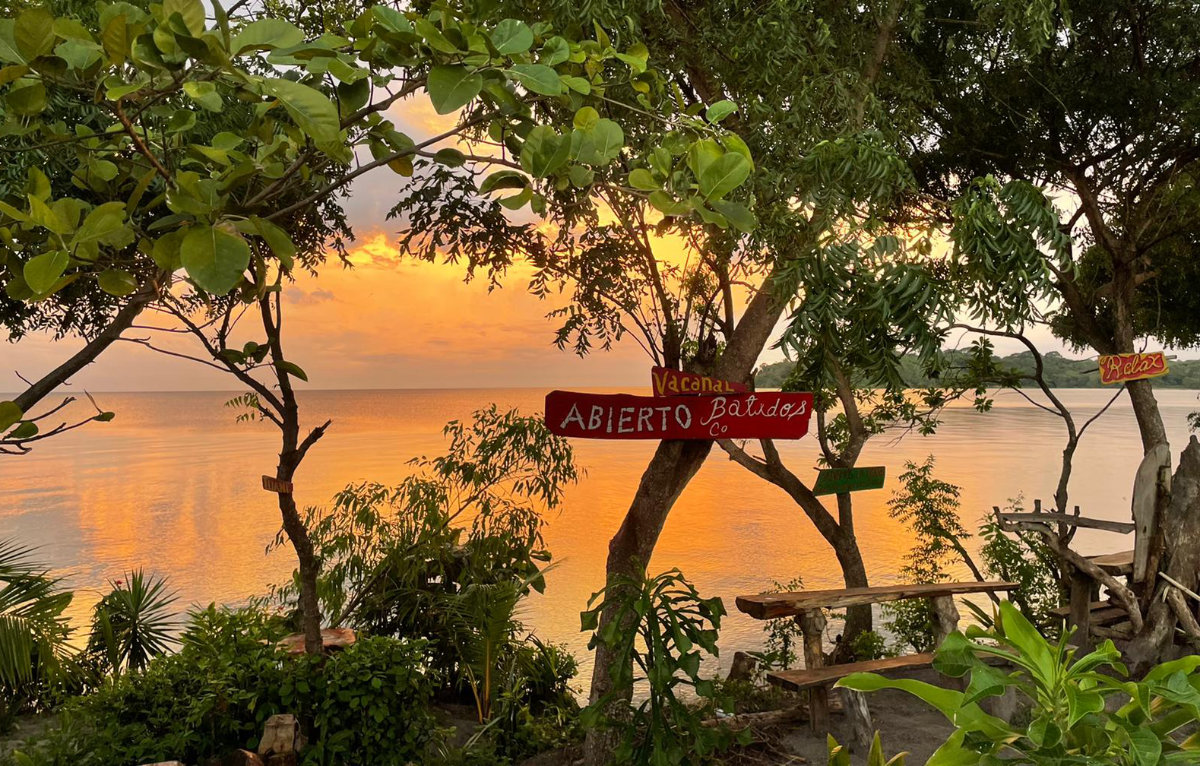 As for accommodations, Ometepe caters to various budgets and preferences. Whether you're looking for a cozy guesthouse, a beachfront villa, or an eco-friendly resort, you'll find options that suit your needs. Prices per person per night typically range from 8 to 20 dollars, depending on the type of room and amenities you choose. And when hunger strikes after an exhilarating day of kitesurfing, indulge in the local cuisine. Traditional dishes bursting with flavors await you, and you'll find a range of local restaurants where you can sample Nicaraguan delights such as Gallo Pinto, Nacatamales, or 'el Quesillo'.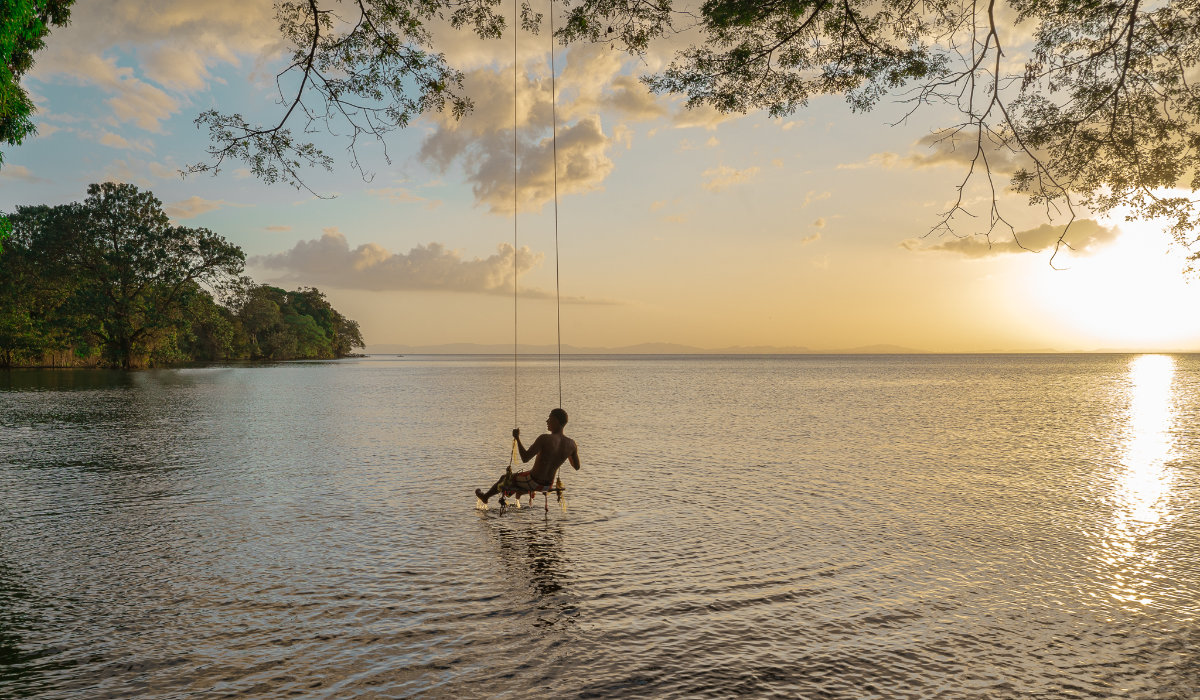 Beyond the kitesurfing sessions, take the time to immerse yourself in the local culture. Interact with the friendly locals, who are always eager to share stories and anecdotes about their island. Embrace the vibrant Nicaraguan culture, traditions, and folklore that you'll encounter during your stay. From lively festivals to colorful handicrafts, Ometepe offers a glimpse into the heart and soul of Nicaragua.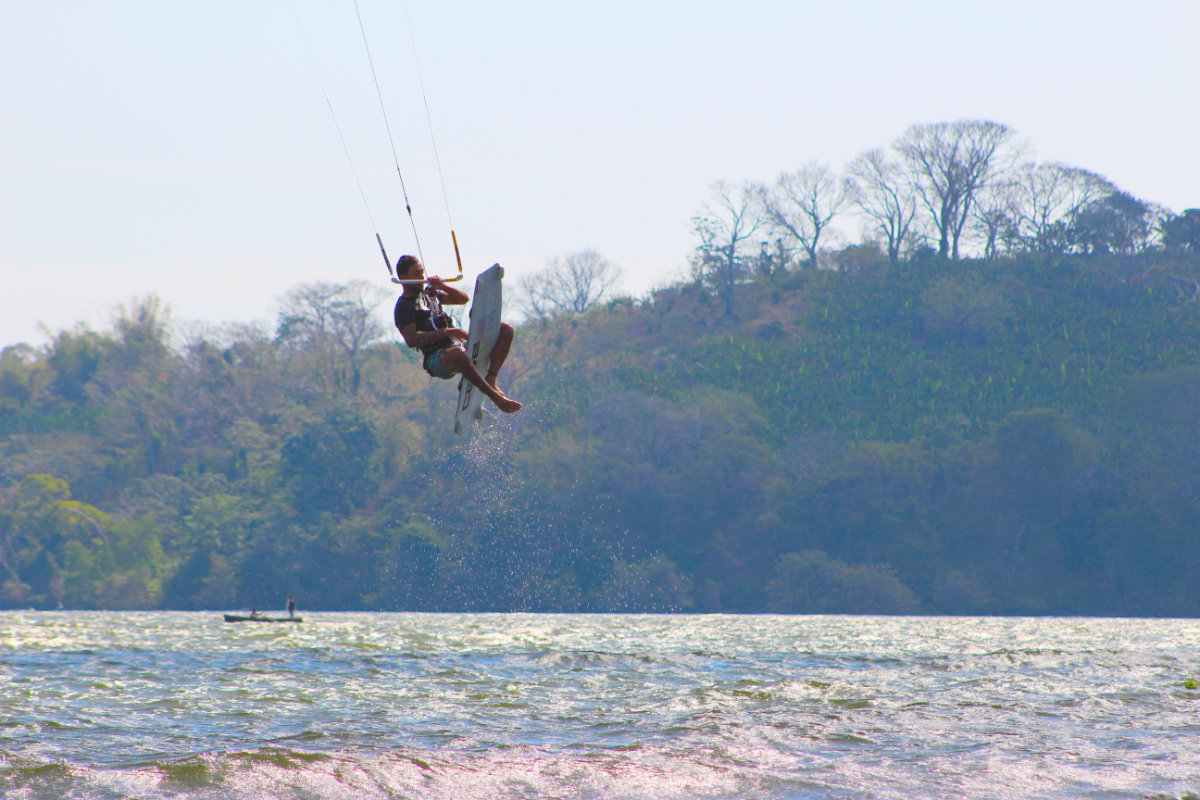 So pack your bags, grab your kite gear, and get ready for an epic kitesurfing trip to Ometepe. This tropical paradise is waiting to welcome you with open arms and great wind conditions. Go kiting, explore the island, and create your own unforgettable adventure!

Share the love for Kitesurfing...
Mouse pad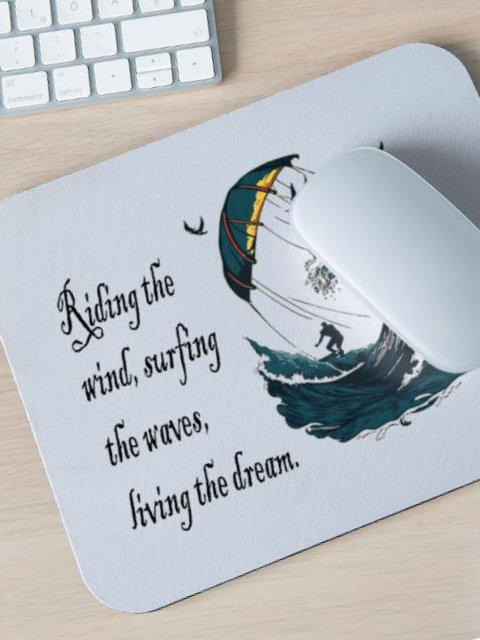 Logo: Riding the wind surfing the waves
Promote your Kite School for free!
Index your Kite School in our database.
You will get free lifetime visibility on Kitesurf Culture website.
If you have a website, it will provide precious backlinks to improve your SEO ranking
Steel Water Bottle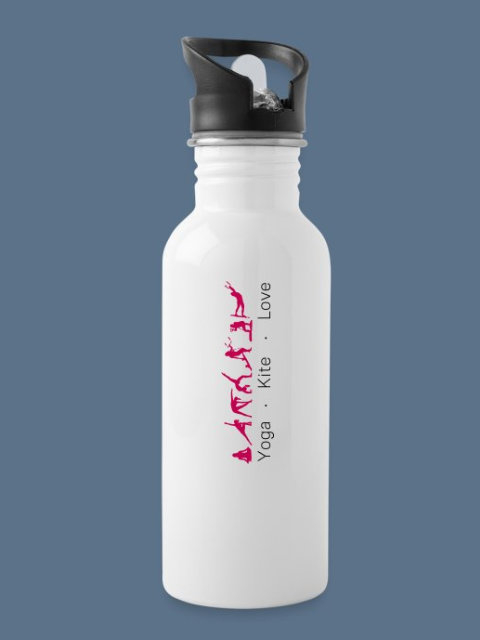 Logo: Yoga Kite Love
Promote your Kite School for free!
Index your Kite School in our database.
You will get free lifetime visibility on Kitesurf Culture website.
If you have a website, it will provide precious backlinks to improve your SEO ranking
Relevant Posts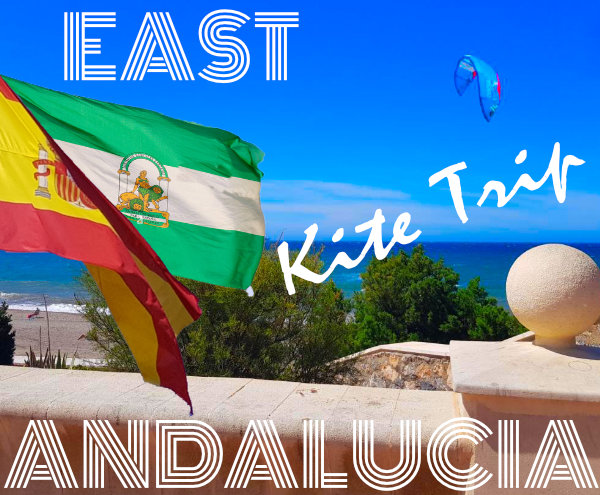 Kitesurfing Spring in Andalucia: Unexpectedly Great!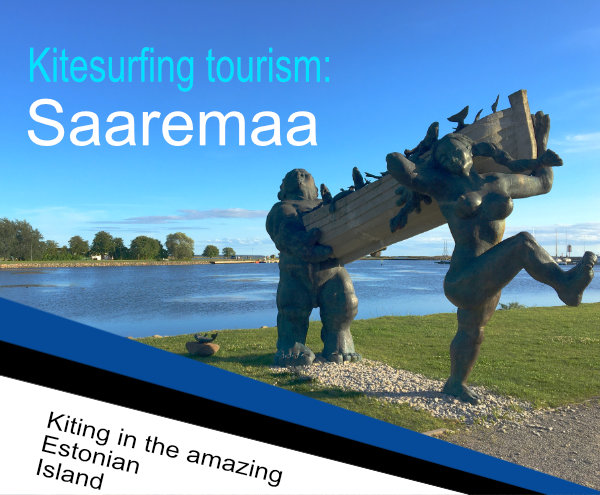 Saaremaa: go kiting in the amazing Estonian Island.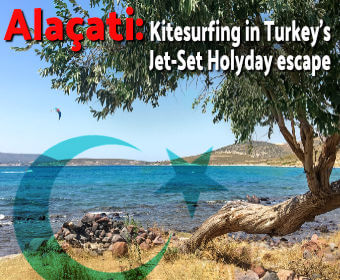 Alaçati: kitesurfing in Turkey's Jet-Set holiday escape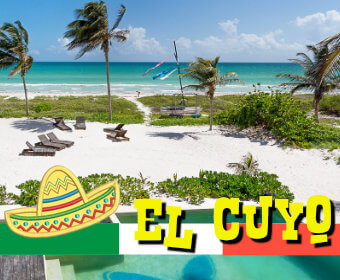 El Cuyo: the new Kite Mecca to go kiting in the Yucatan Peninsula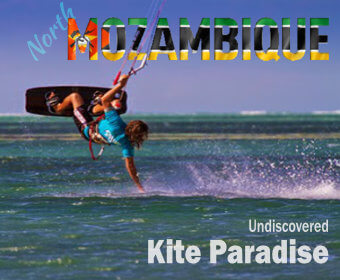 North Mozambique: the Undiscovered Kite Paradise
Toddler Premium T-Shirt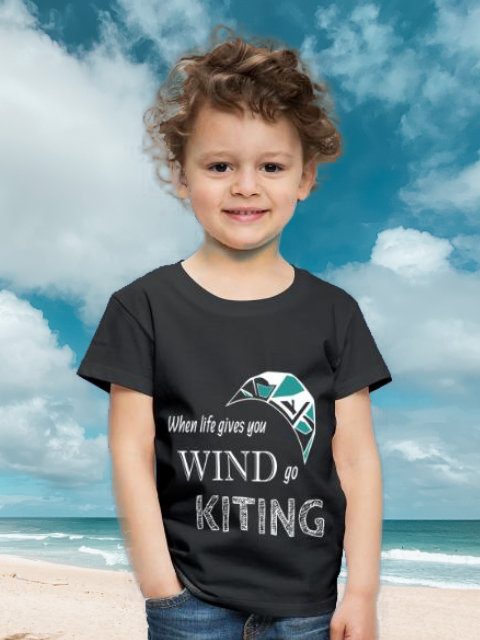 Logo: When life gives you wind go kiting
Latest Posts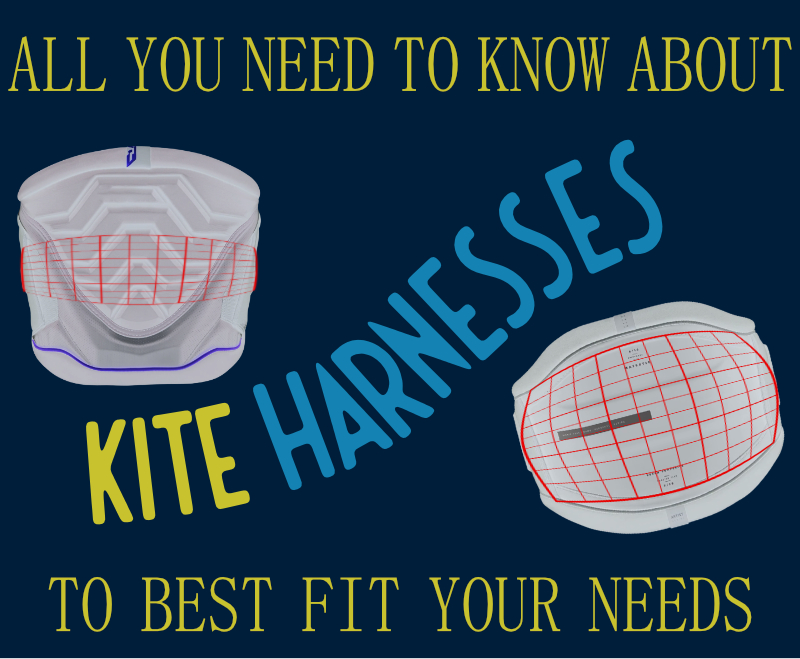 All that you wanted to know before purchasing a kite harness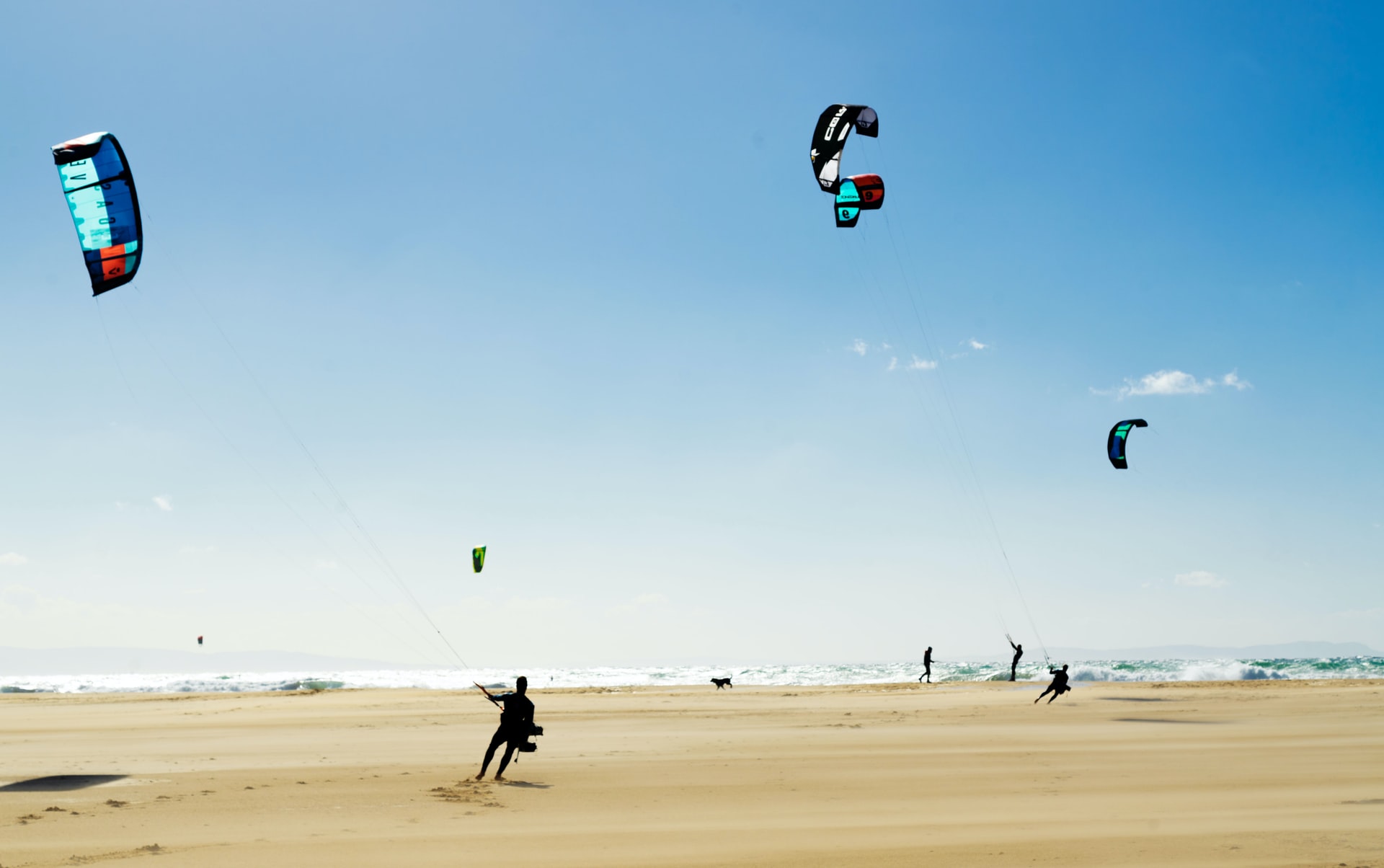 What you need to know before going kiting to Tarifa.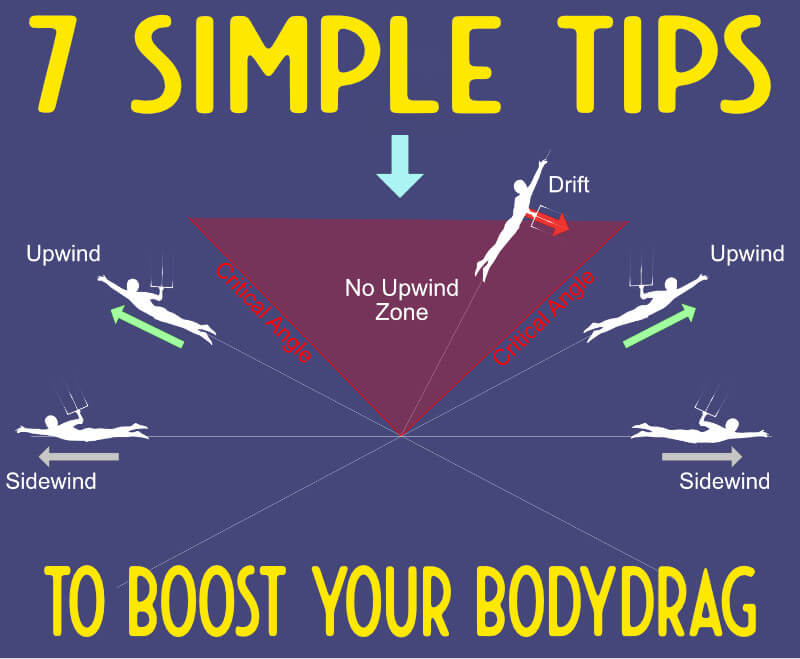 7 tips to boost your body drag upwind skills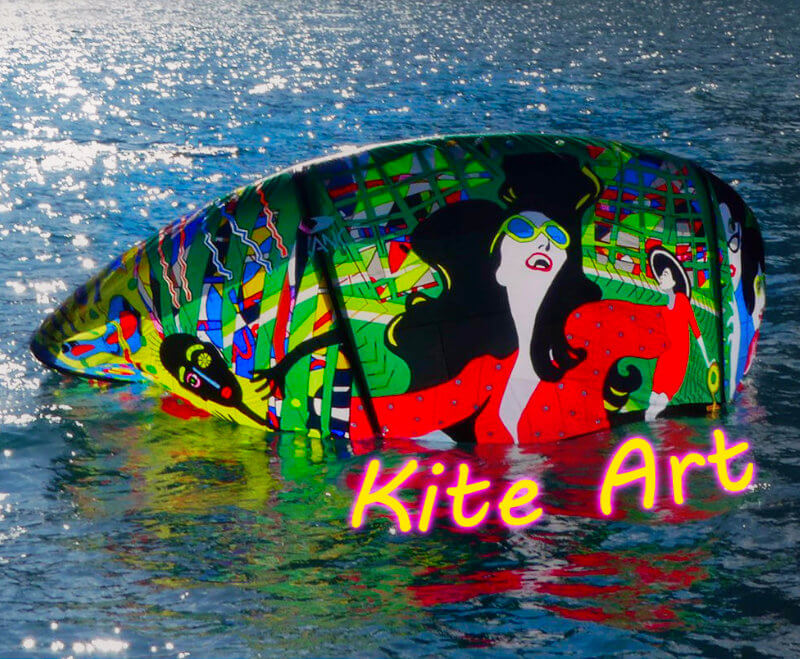 When your kite becomes a flying piece of art
Blog Categories