When your kite becomes a flying piece of art
Italian creativity, art knowledge, combined with years of experience in shaping kitesurfing kites, can produce something unique - something, you can actually ride with.
Francesco Ponti is a 6 times Italian snow kite champion and 7 times Italian kite buggy champion, snow kite instructor since 1999 and kitesurf instructor since 2001 in Italy, Morocco, Egypt and Kenya. He has also been a professional kite shaper for Advance, an Italian kitesurfing brand. His curriculum and experience in the kitesurfing and snowkiting world, together with his easy-going attitude, make him one of the coolest characters in the Italian kitesurfing landscape to hang out with.
Above all, Francesco is a pioneer and his interest in arts led him to experiment with something new mixing it with something he knew very well, creating one-of-a-kind kites with an original artistic touch.
From this idea 'Kite Art' was born. Since then, numerous kiters have ridden with real pieces of art made by Francesco.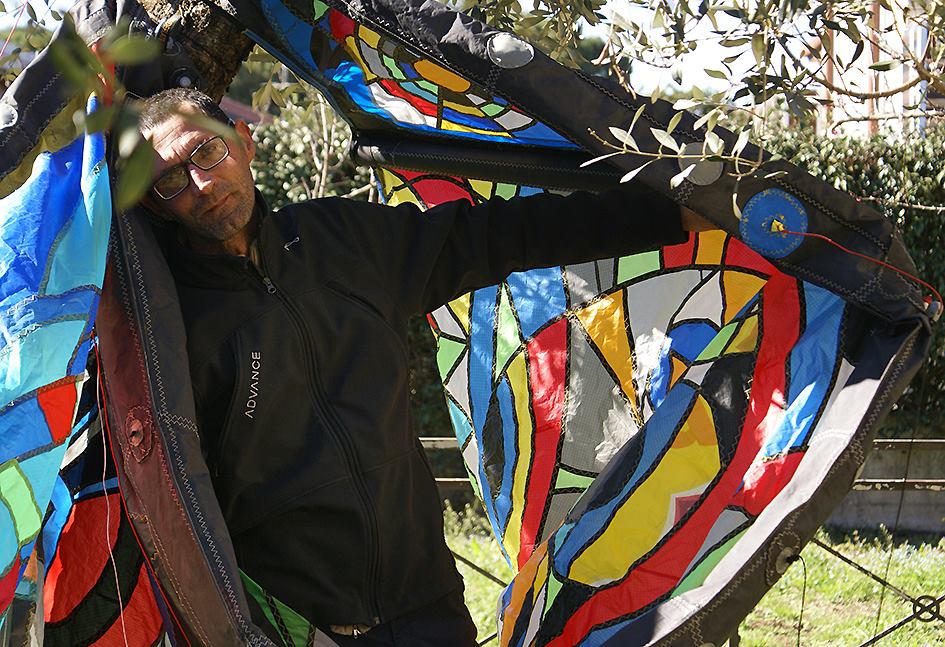 He is a true Kite Artist, with broad interests in many fields of art and to build his creations he gets inspiration from famous painters, musicians, and movies… He then translates his feelings and ideas into real kites. Each of them has been handcrafted by Francesco and required hundreds of hours of work. You won't get these from any kite dealer or see them anywhere else other than his Facebook page.

Francesco's collection of fine kitesurfing art is broad and the following examples show some of his inspiring creations of the last few years. They come with his personal notes, describing the emotions, inspiration, and the hidden meaning of his art pieces.
1. "PAROLE AL VENTO" (Words in the Wind) - advance Kaiman 10mt
"Seeing my favorite authors gathered together on this kite intent on marking the immortal lines is a pleasure that has no equal. It is a strong message: The game played of written words, of immortal stories that allow themselves a bit of apparent lightness."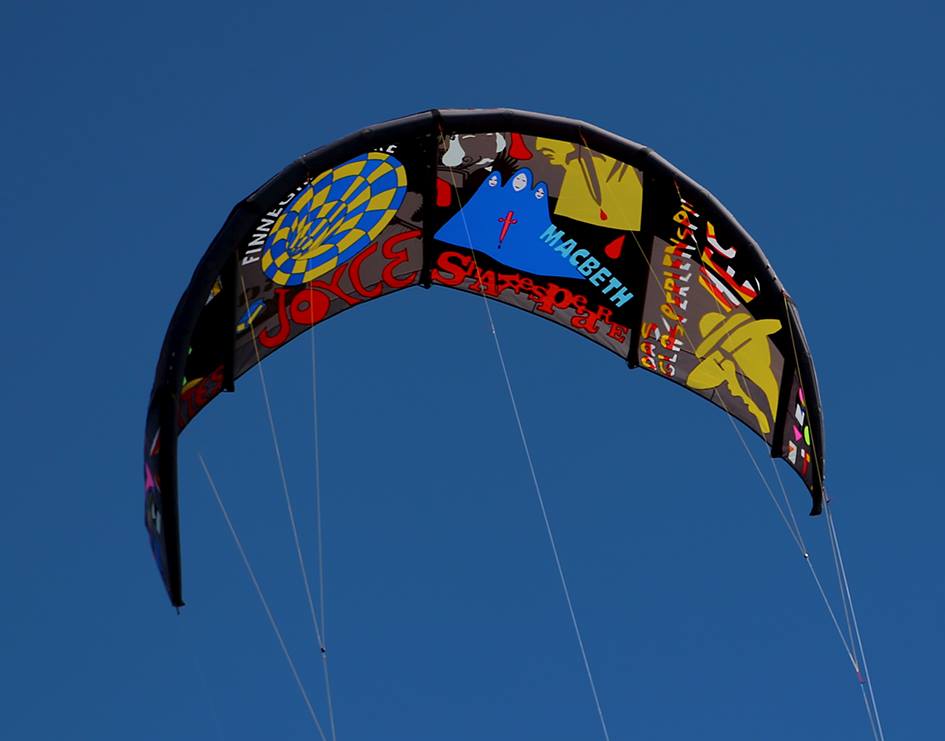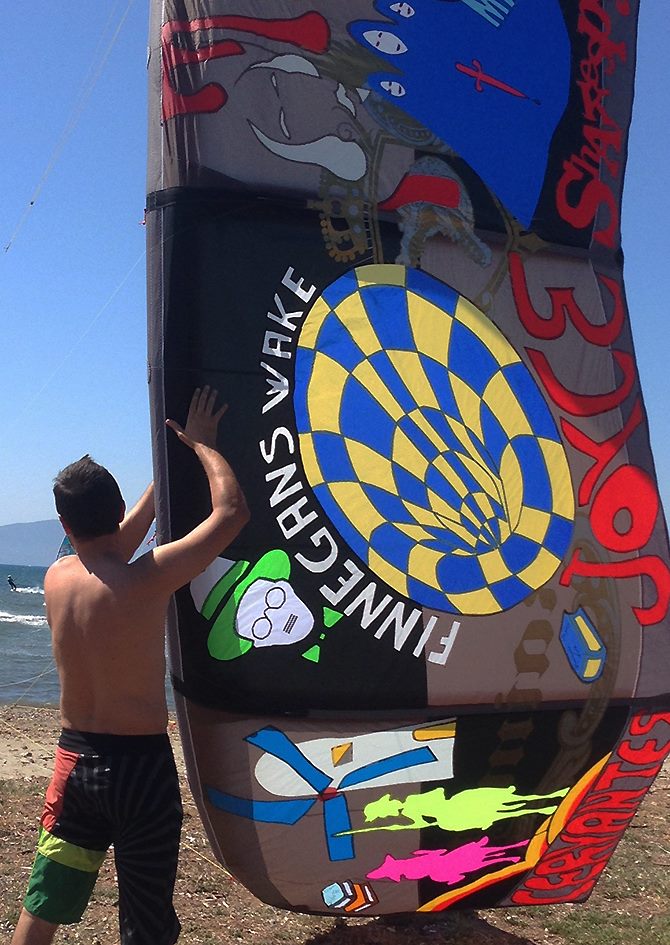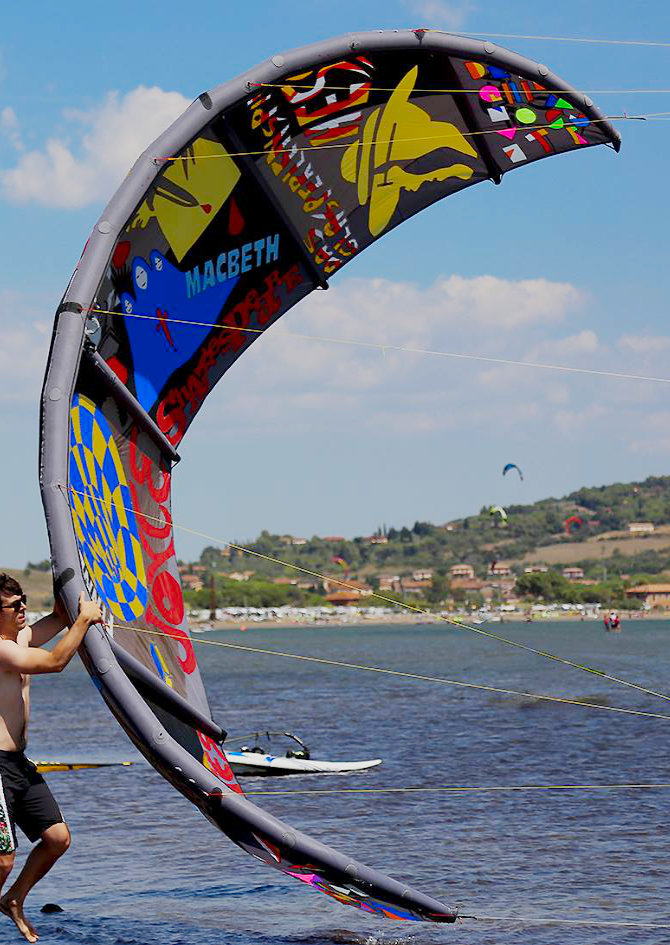 James Joyce, Finnegans Wake.
William Shakespeare, Macbeth.
Hermann Hesse, Das Glasperlenspiel
Miguel de Cervantes, El Ingenioso Hidalgo Don Quijote de la Mancha.
2. "PICASSO" - Advance Kaiman 10mt
"In a confrontation with Pablo Picasso you will inevitably be defeated, we can only pay tribute to him. Three masterpieces out of his works cover the kite: from the left 'Femme assise dans un fauteuil rouge' from 1931, on the right 'Two girls reading' from 1934, and 'The Dove of Peace' from '49. Centrally 'Guernica' (1937). In addition, a portrait in white on a black background is kind of a 'retaliation' for having used color in 'Guernica'. Last but not least, the resumption of Picasso's signature to seal (if necessary) the belonging of the works".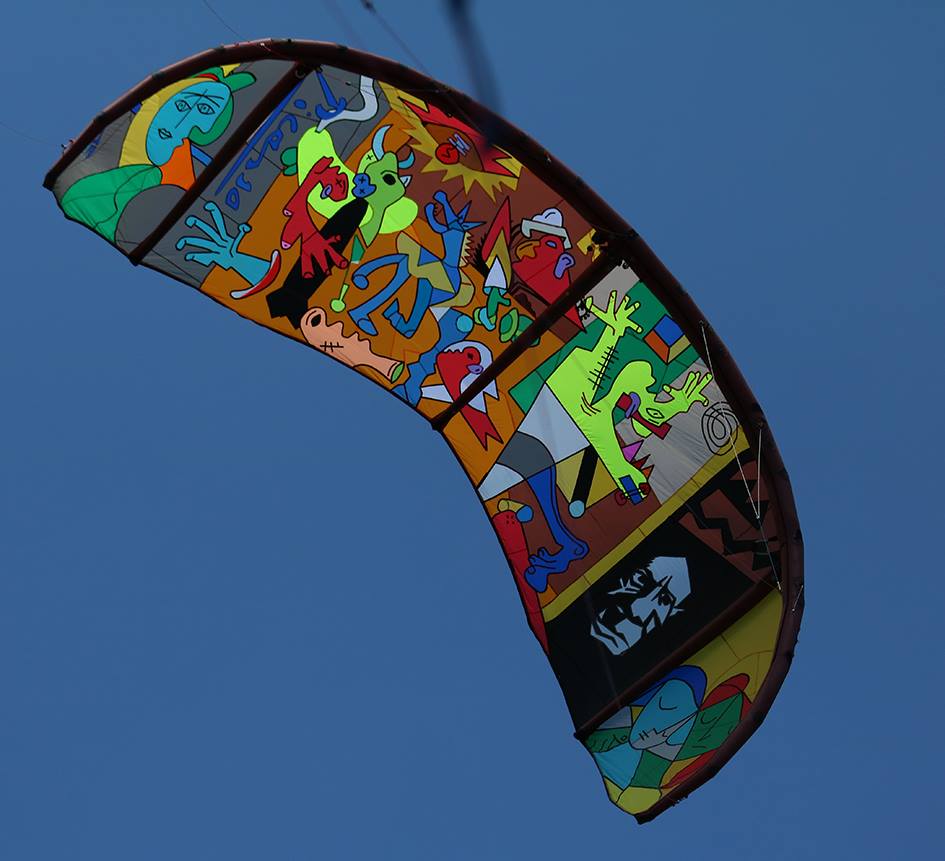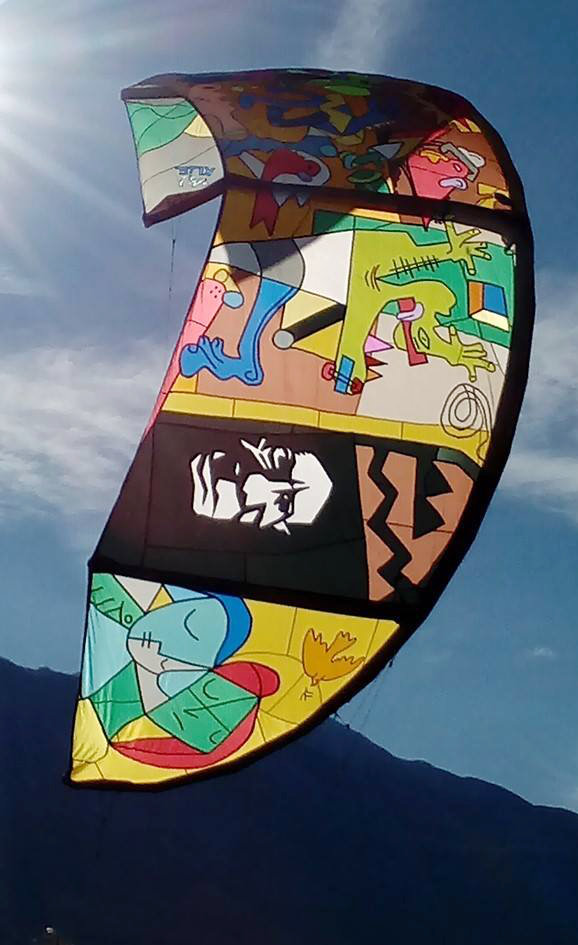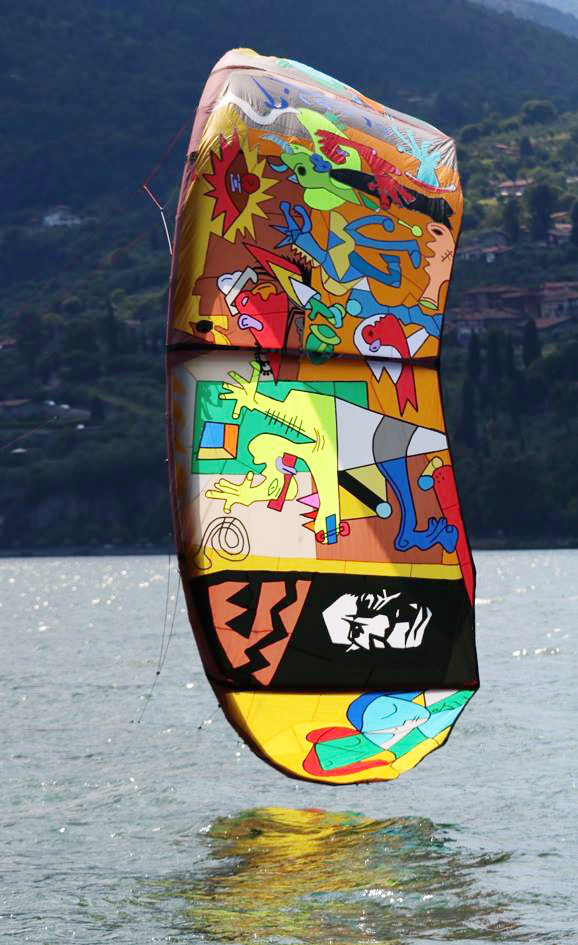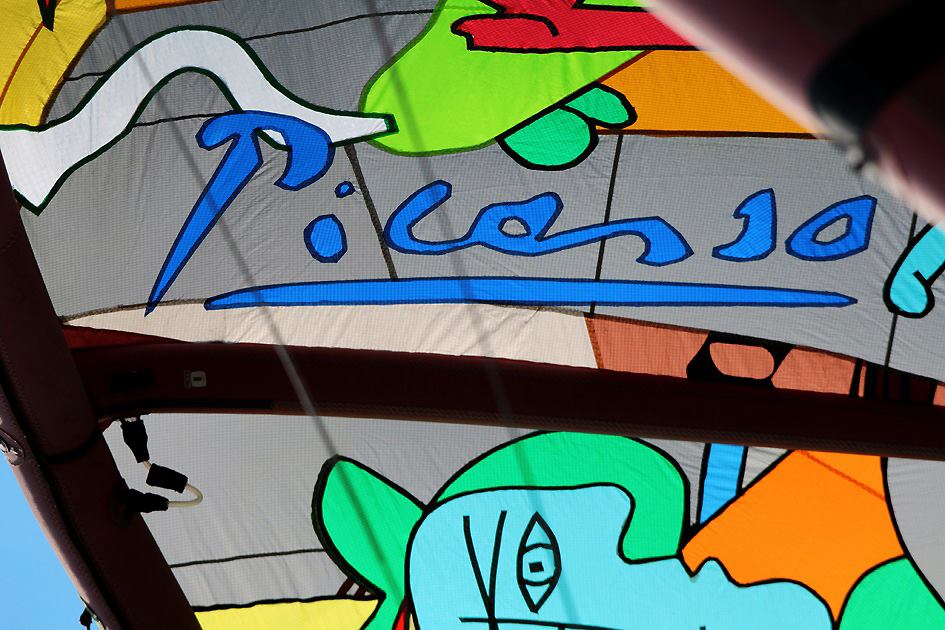 3. "LE CITTA' INVISIBILI" (The Invisible Cities) - Advance Kaiman 10mt
"Italo Calvino (1923–1985) one of the greatest writers of the twentieth century inspired this kite with his novel 'The Invisible Cities.' The choice of representing Zoe, Octavia, Anastasia, and Valdrada with fantasy drawings, mixed with Paul Klee's 'Castle and Sun' was made to give body to my personal attraction to the four cities and the painting. A tribute to the great literature. Thinking the words in flight, by means of a kite, gives the observer a message of total freedom".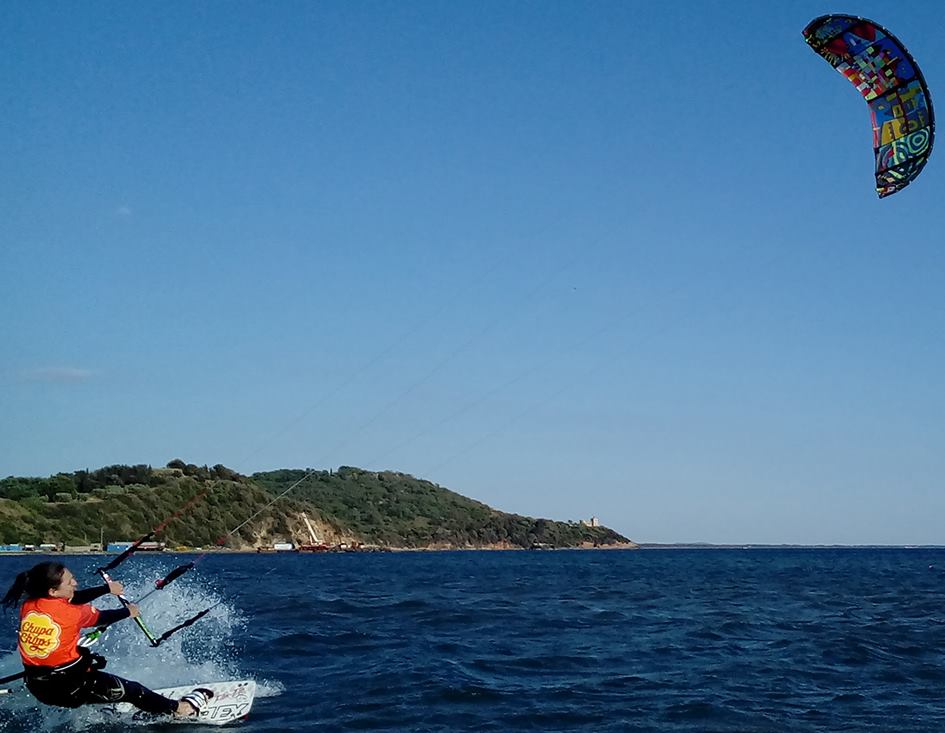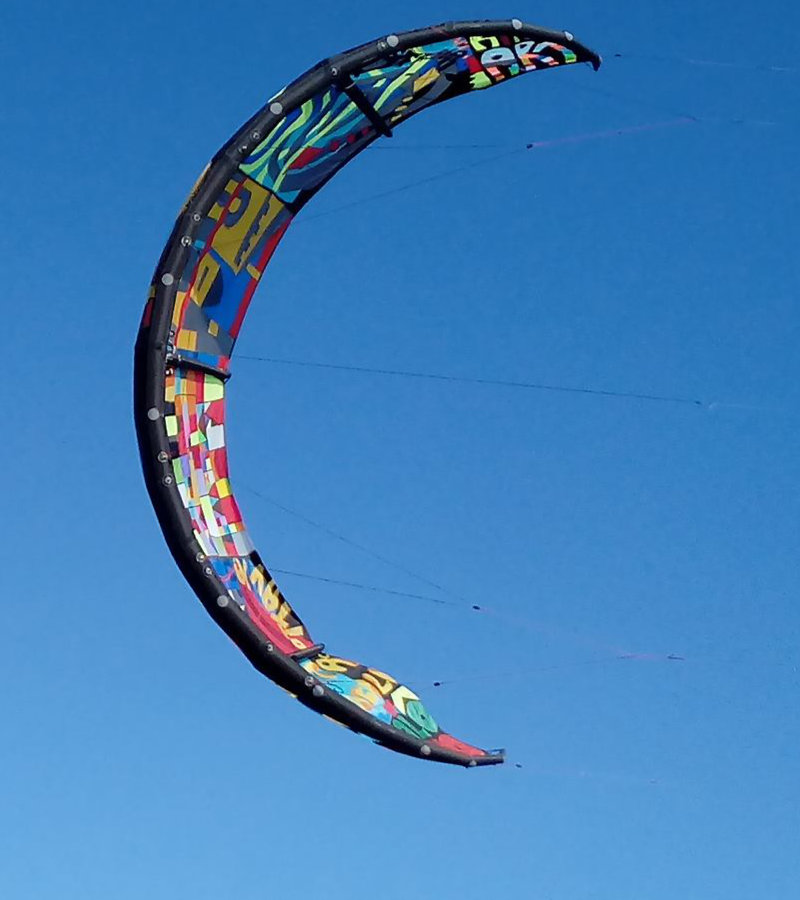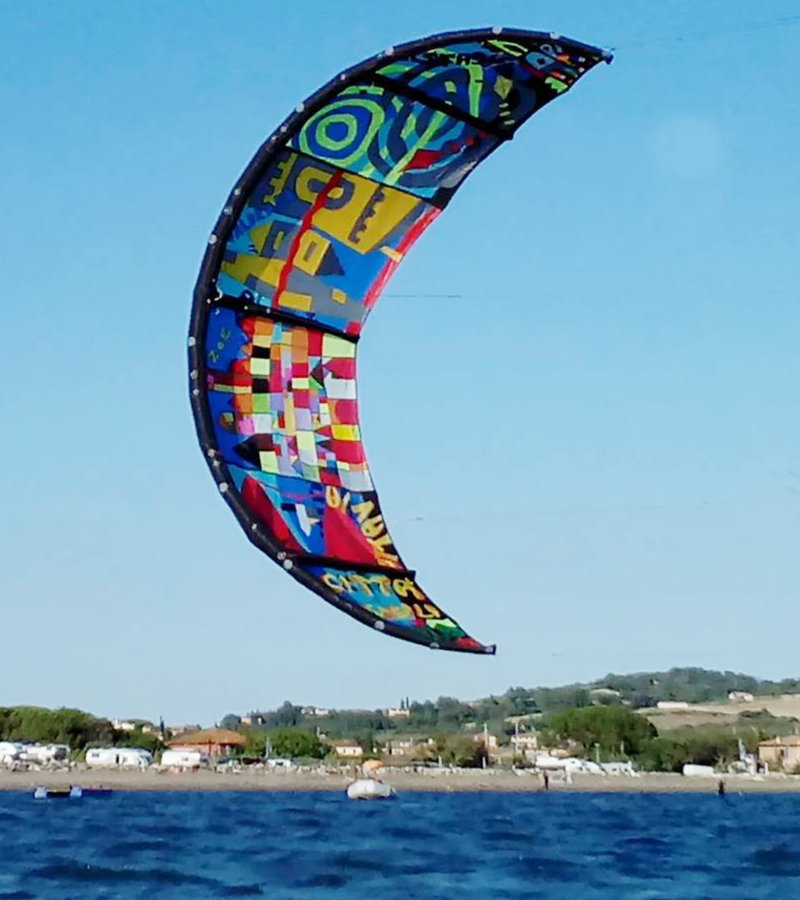 4. "LES YEUX FLOTTANTES" - -Advance Ikarus 14mt
"When the art of trompe-l'œil is combined with the 'quasi-minimal' for this red tone kite"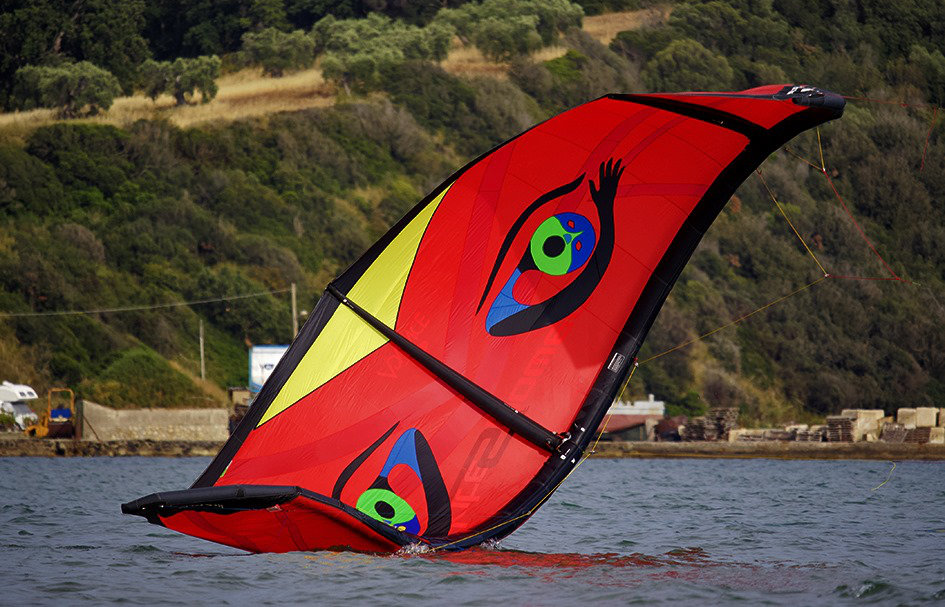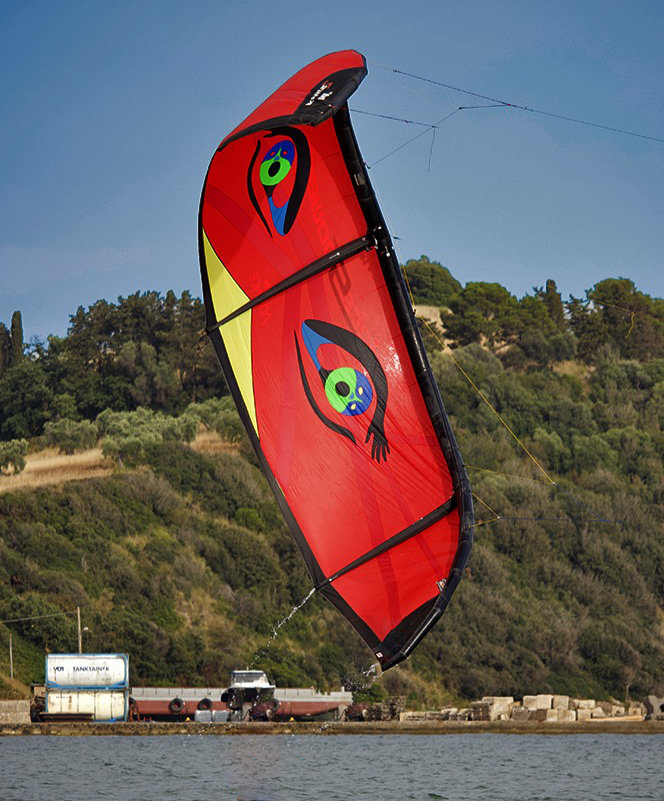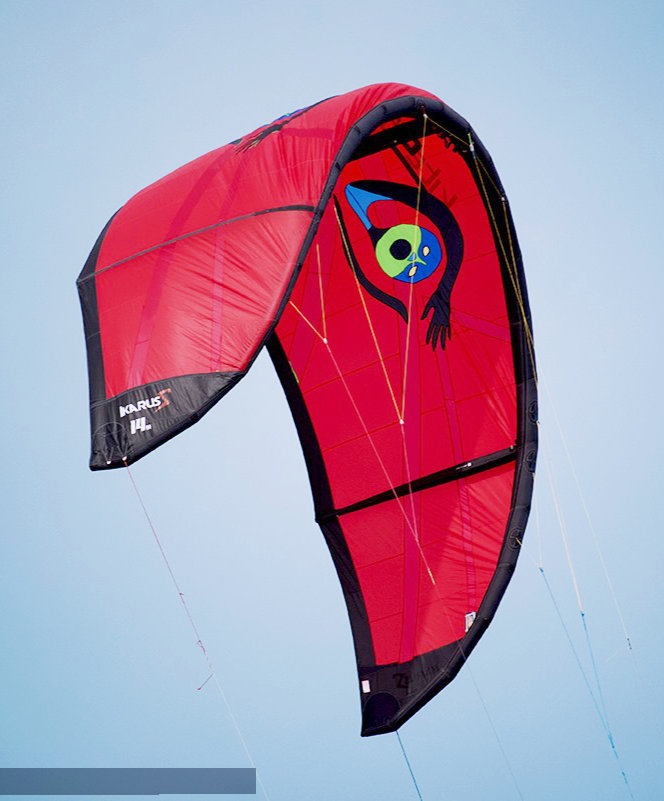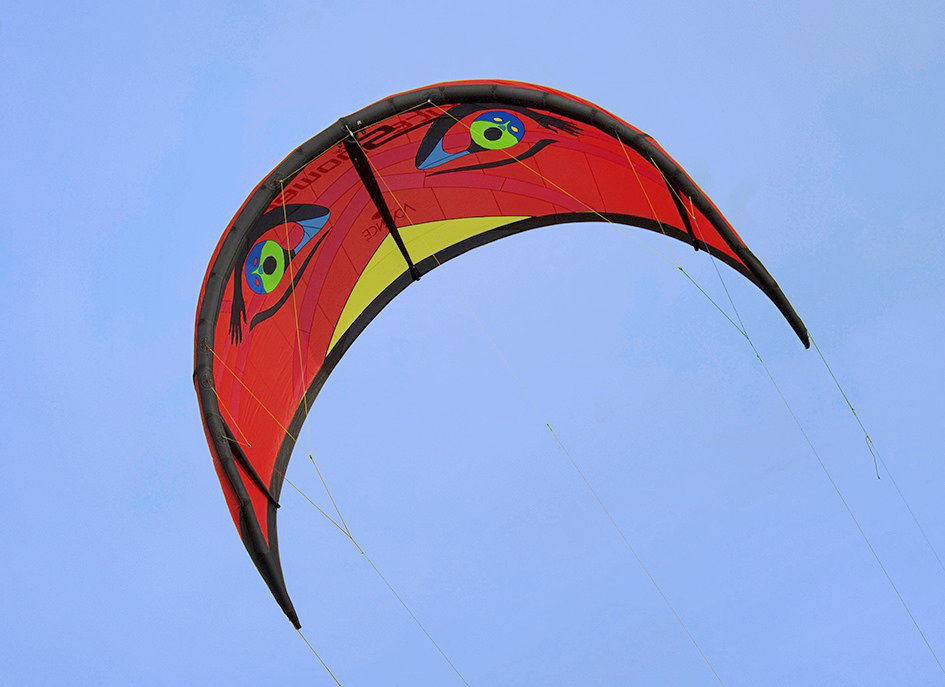 5. Haring - Advance Kaiman 10mt
"Instead of walls, the sky. Seeing his works in motion, charged with energy and strength is my tribute to a such a giant as Keith Haring (1958-1990). A kite that was designed as a laboratory. Bridles, graphics, structure, and profile modified to achieve a surprising sail. Cleaning in the flight and the possibility of optimizing the response in every situation make it an object as interesting ... almost as beautiful as the drawings reproduced."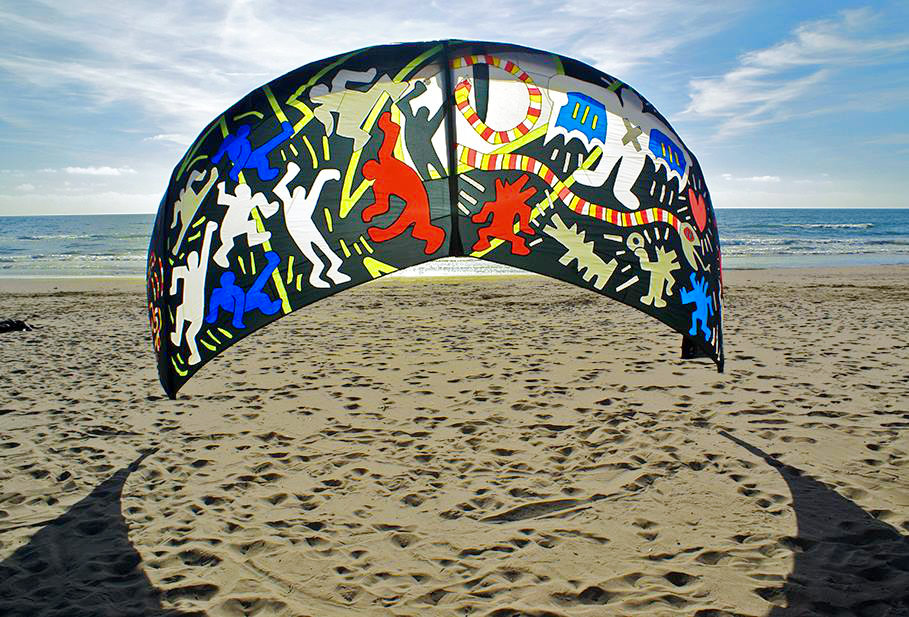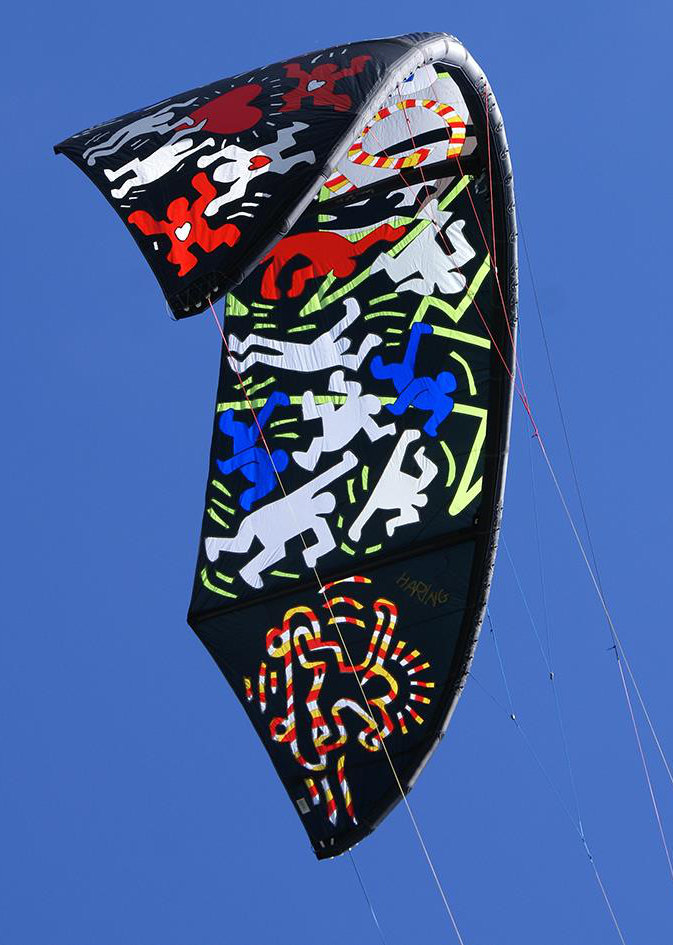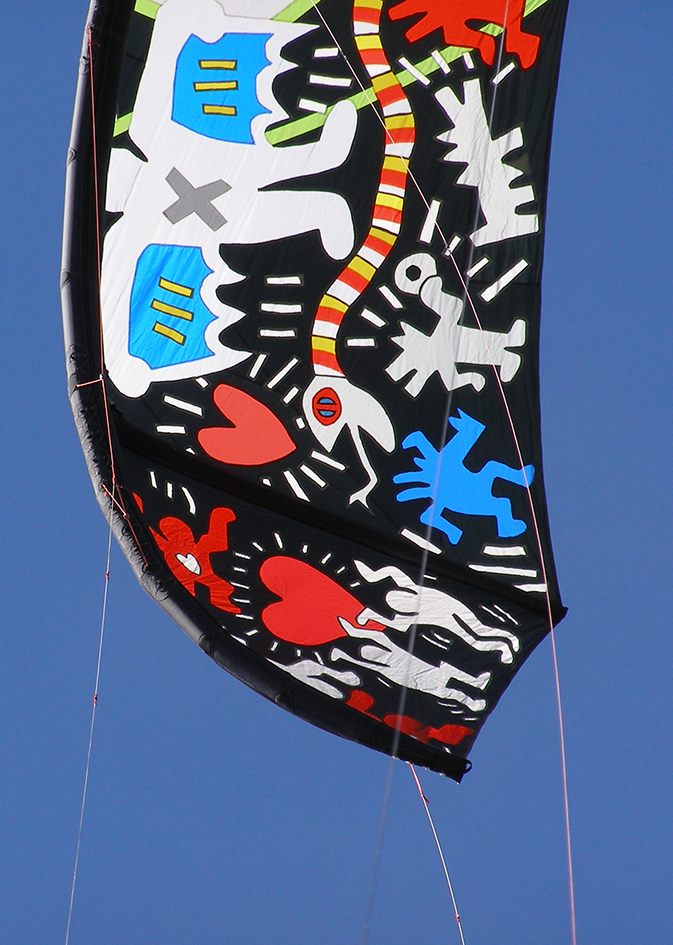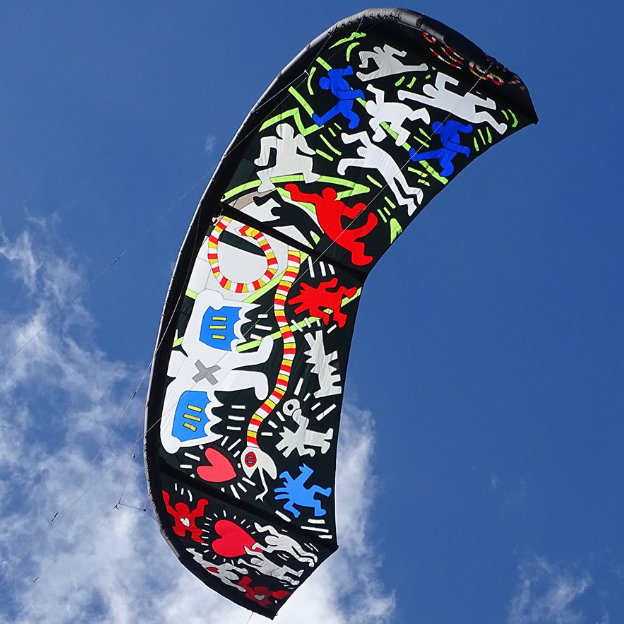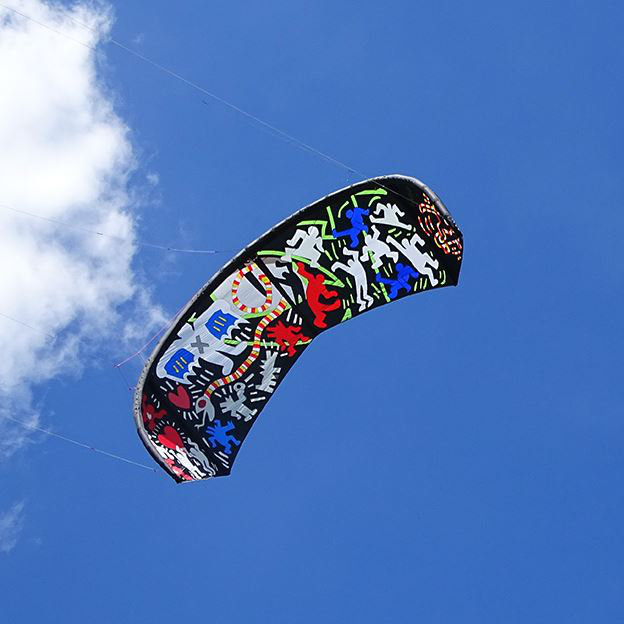 6. JAZZ - Kaiman 10mt
"Music to fly. It is done with a jazz ensemble including piano, bass, electric bass, two trumpets, sax, guitar, clarinet, voice, and drums. Strictly in silhouette. And if the wind makes the cables whistle, then it's a suite!"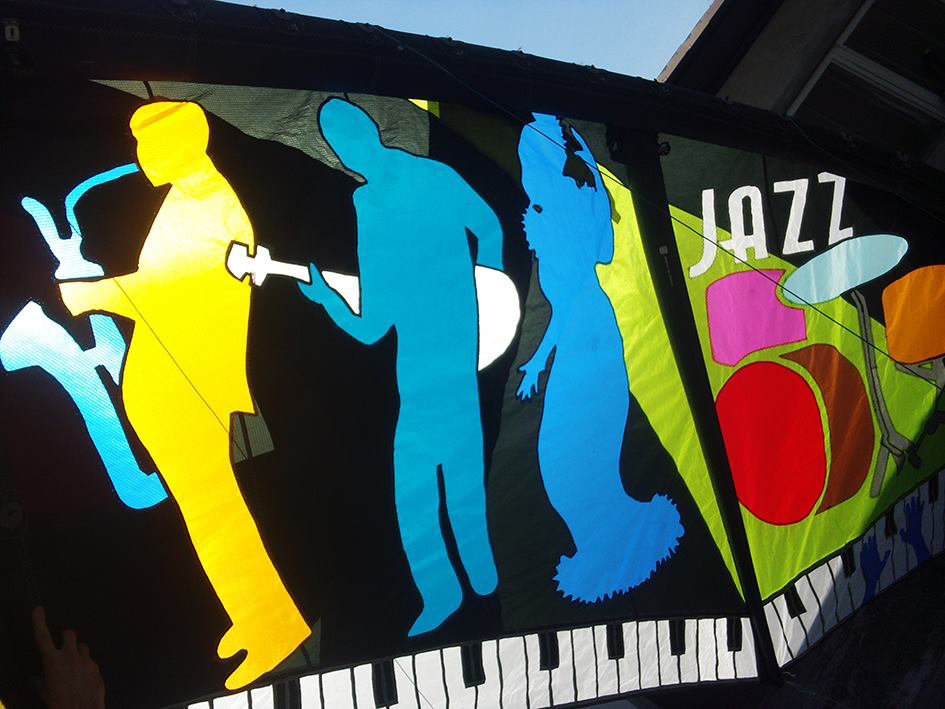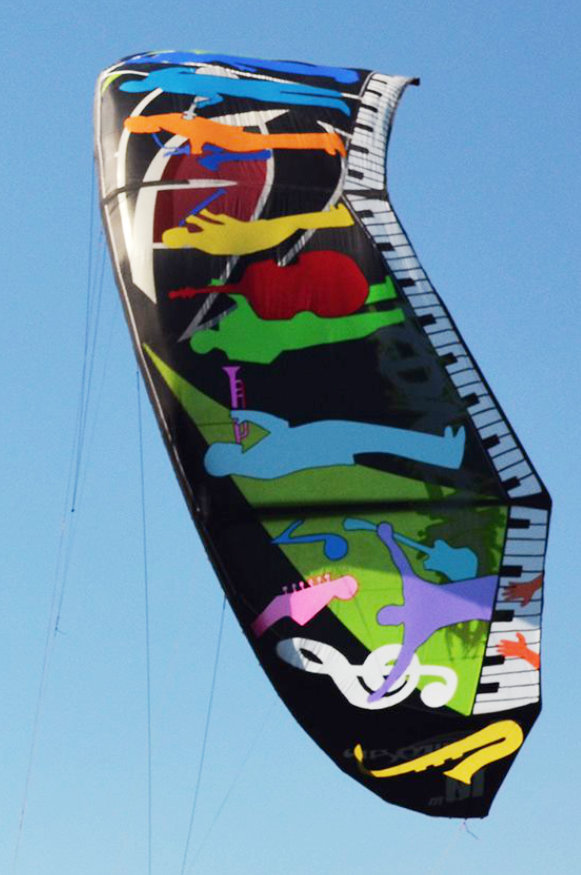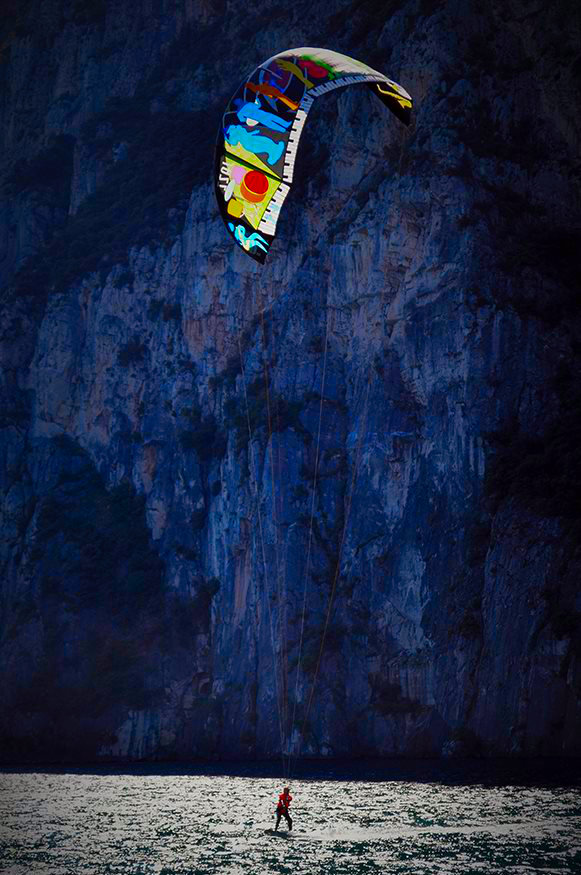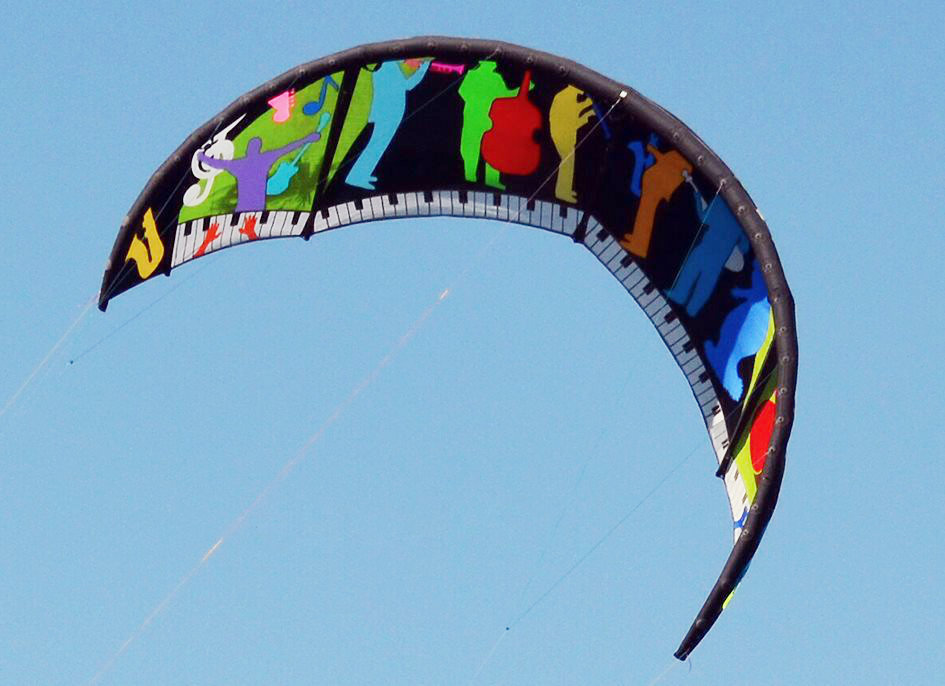 7. "MIRÒ EN AFRIQUE" (Mirò in Africa) - Advance Kaiman 12mt
"Mirò once said: 'A painting never ends, it doesn't even begin. A painting is like the wind: something that always walks without rest'. From his sentence comes the story of this kite in which I imagined Joan Mirò on a hypothetical trip to Africa. It is a mix between his dreamlike figures and mine, stylized and abstract, of native animals and other more symbolic ones."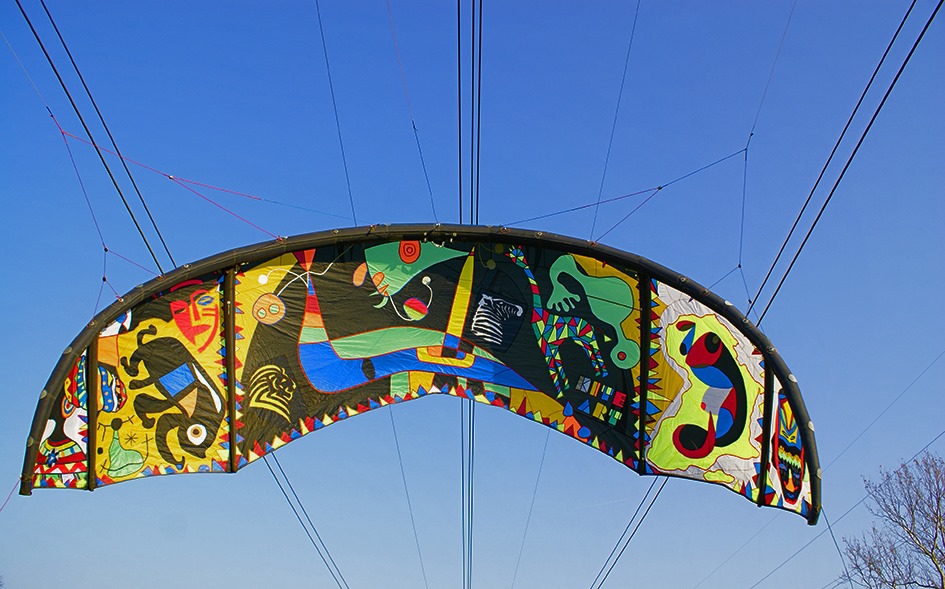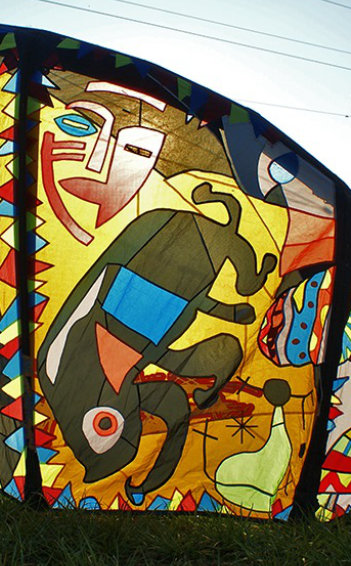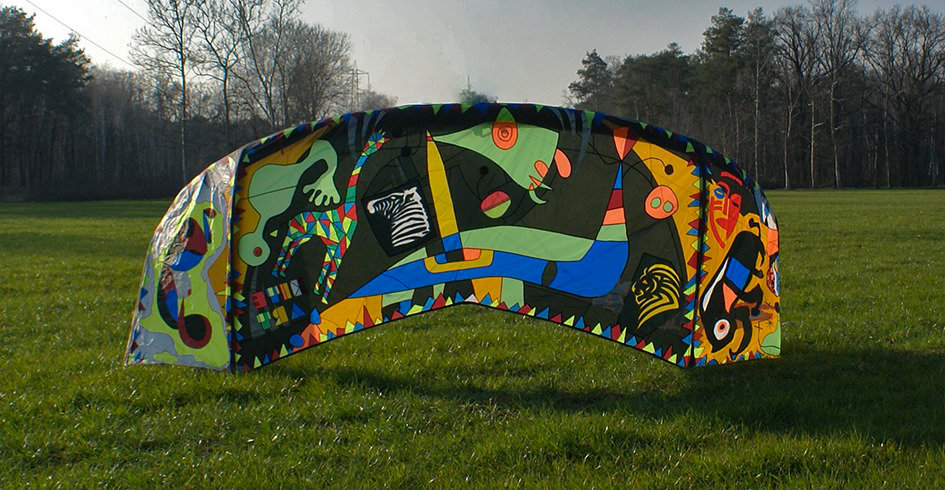 8. DEPERO - Advance Kaiman 8,5mt
"The brilliant Fortunato Depero (1892-1960) gave inspiration for the reproduction of some of his works in this kite which, in addition to being lightened, adopts a customized bridle system."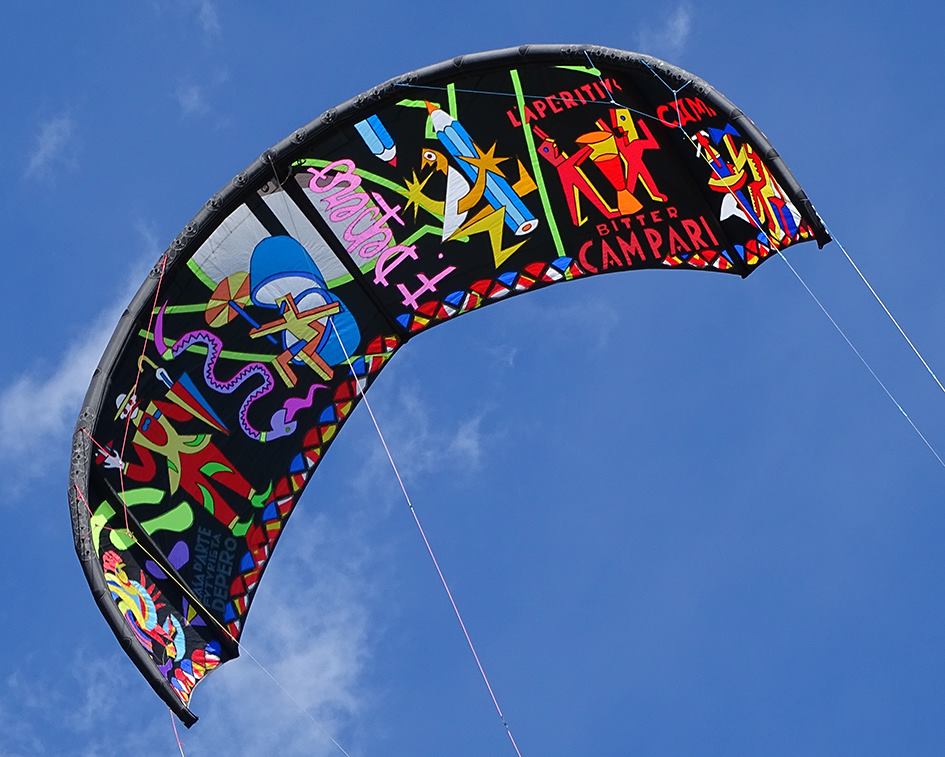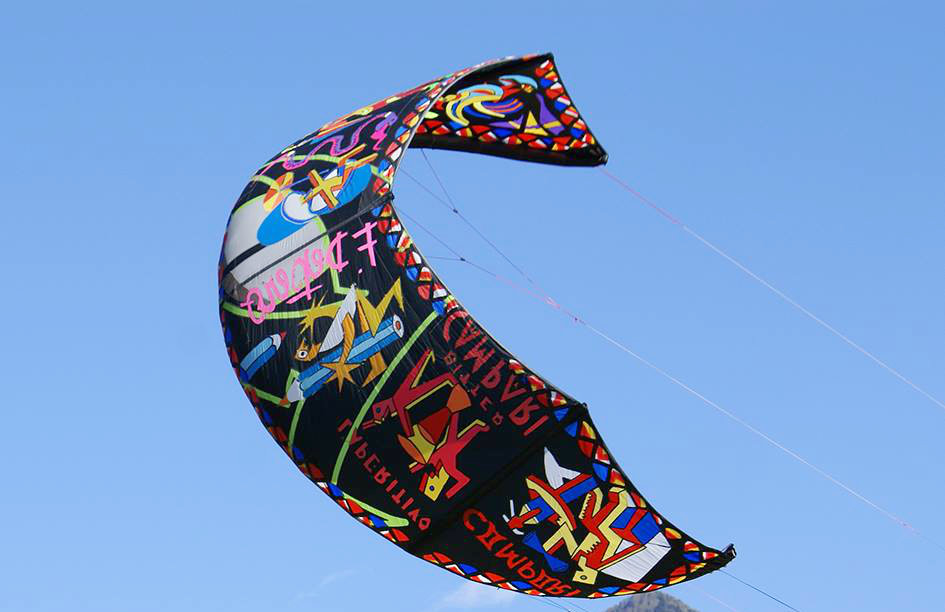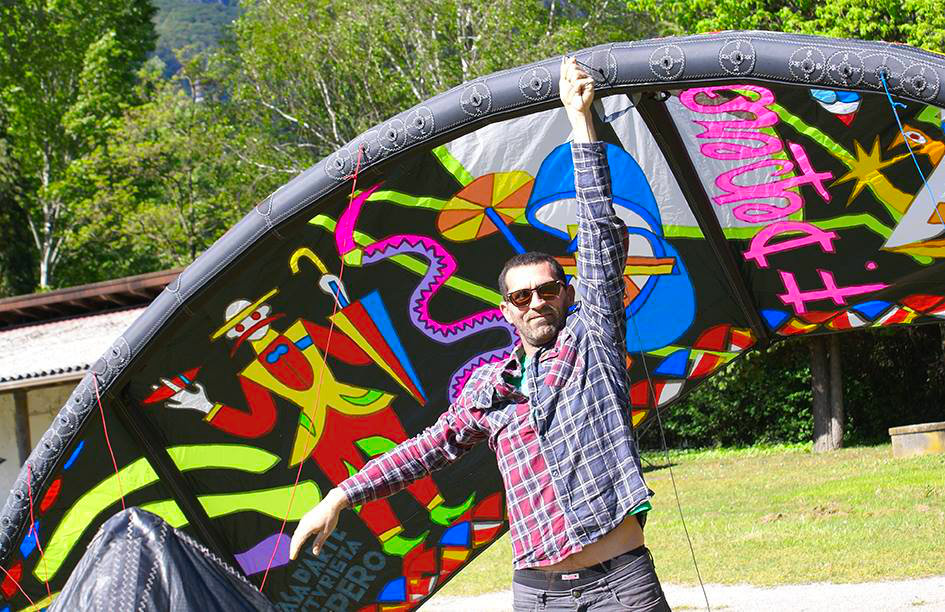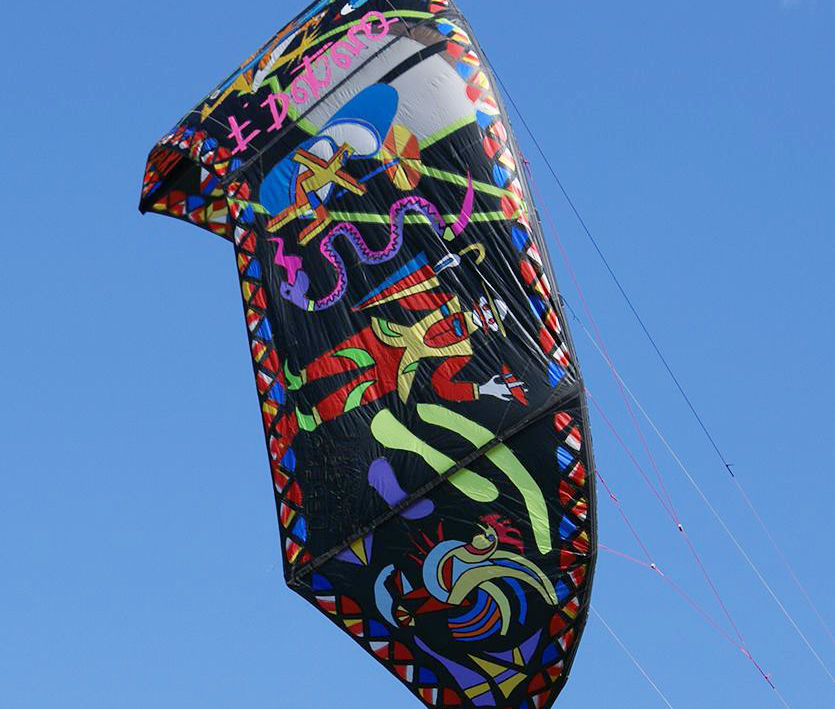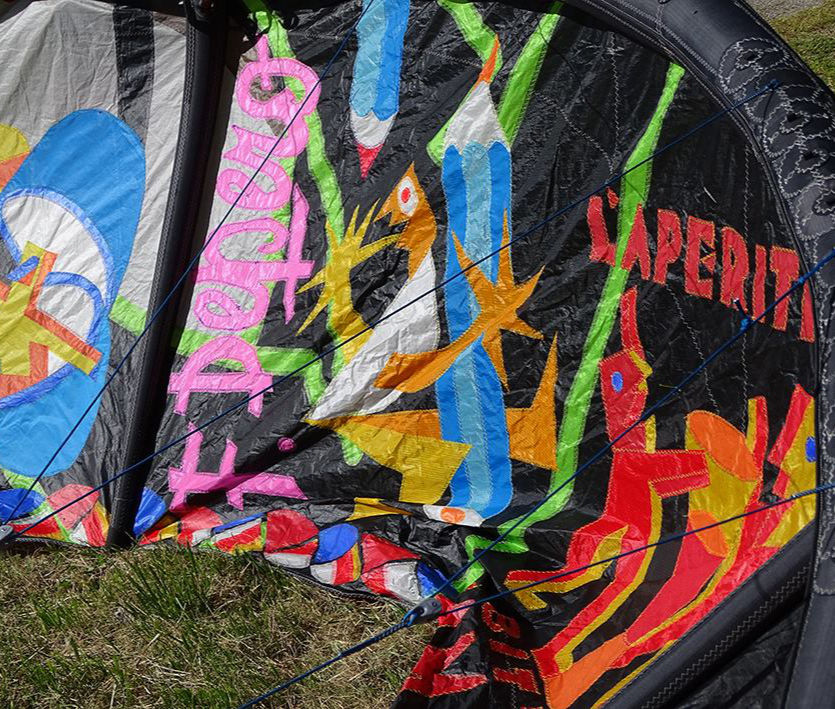 9. SOFIA - Advance Kaiman 8,5mt
"Lace underwear. That's how I like to define this elegant kite. White/black graphics with a red and yellow dot. Designed as a material test, lightened, and reinforced. To be used for representative kitesurfing sessions."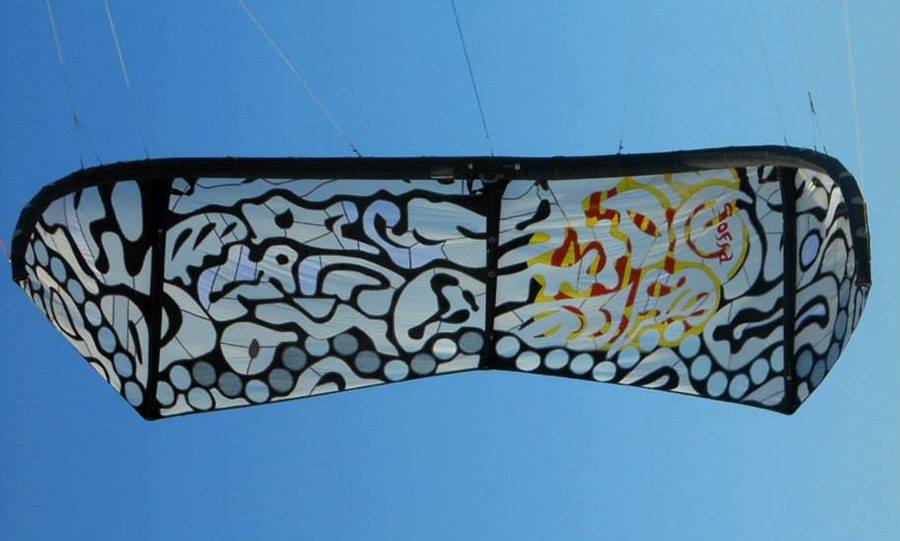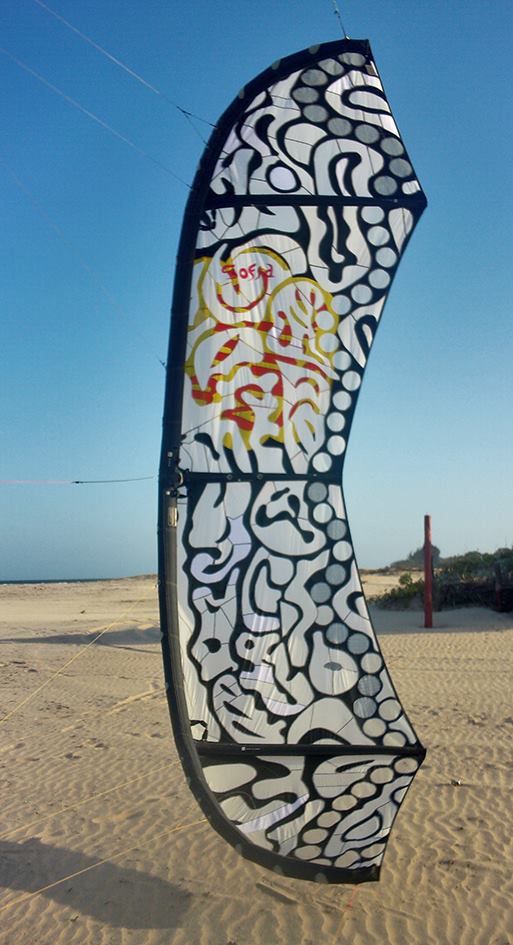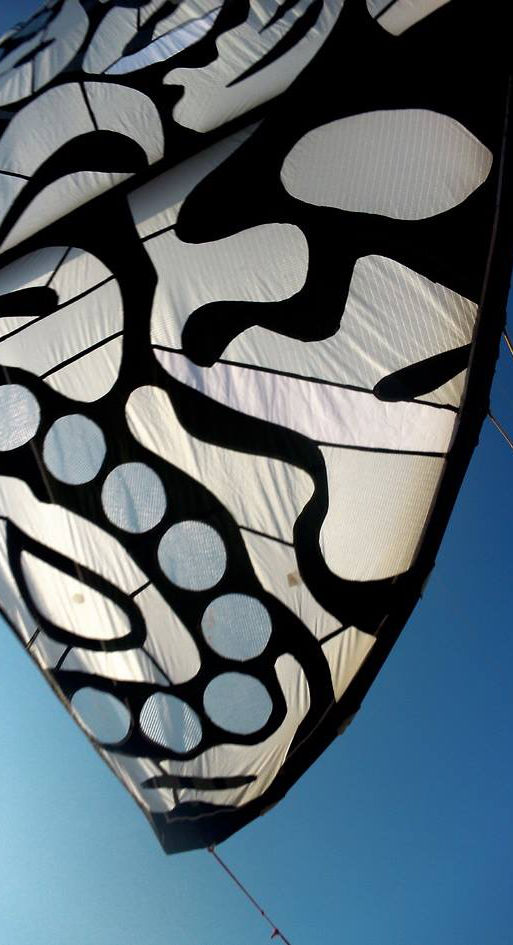 10. 6 - Slingshot Rev 11mt
"Finished on the rocks and mangled by the waves, it was in disastrous condition. A long work of recomposing the fabric has given a second chance to this kite which still flies a few years after the accident."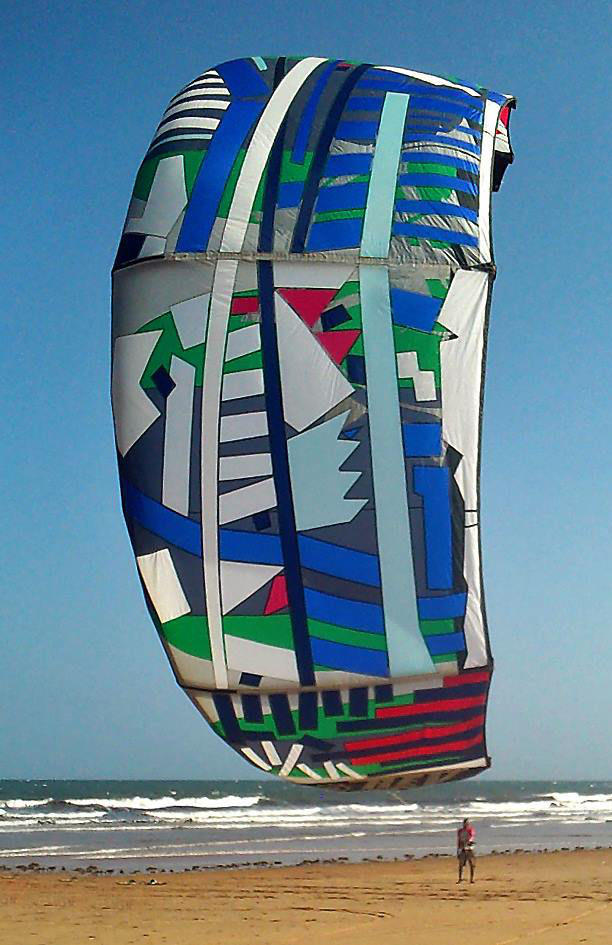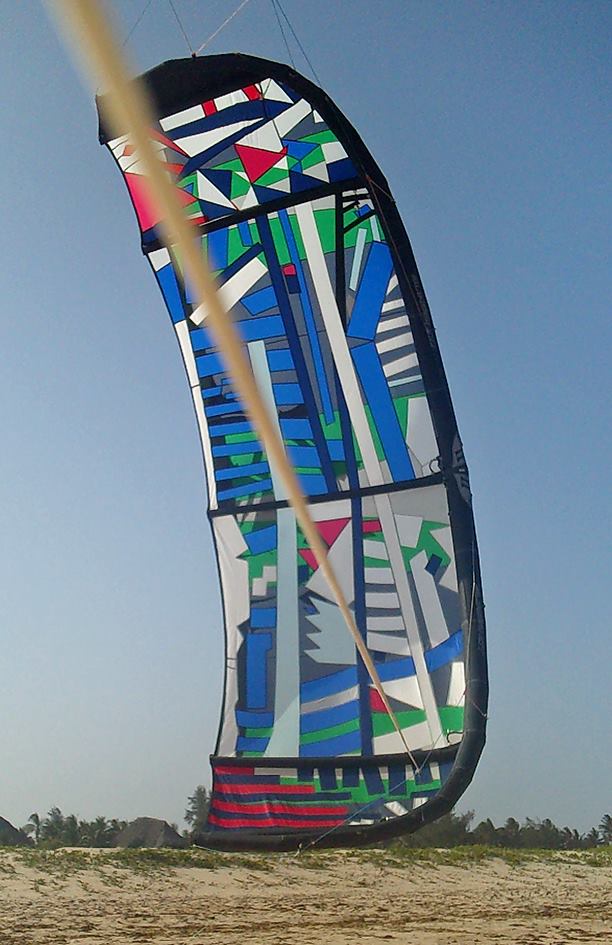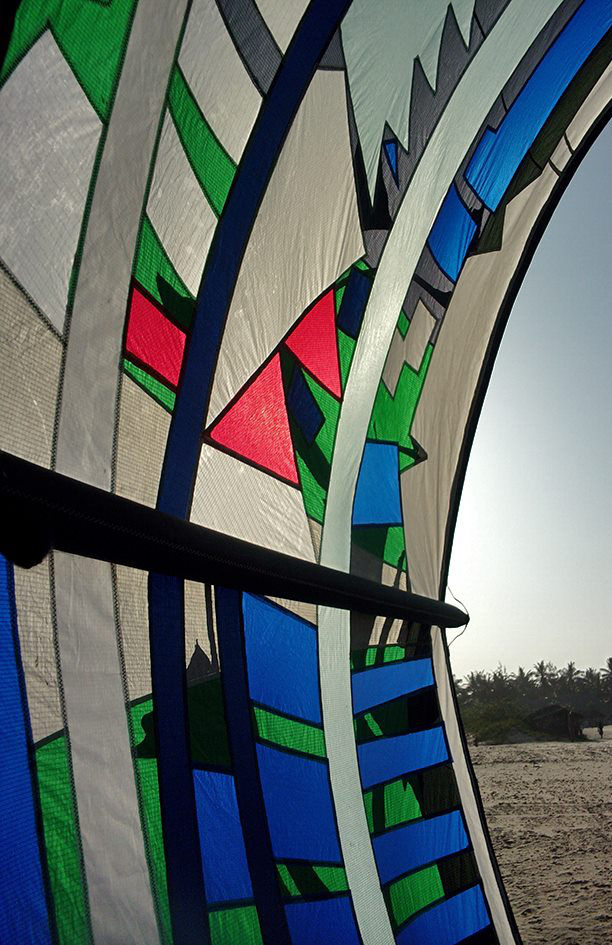 11. "Merlino" (Merlin) - Advance Ikarus Plus 10mt
"Merlino is the cat who chose me and to pay homage to him here is this kite. It is a graphic operation with important changes compared to the previous works: in the leading edge, you can see silhouettes that appear only in transparency as well as, in some figures, the eyes of the cats are transparent so as to create particular effects. To Elisa, who helped me in the composition, the pleasure of owning it and making it fly."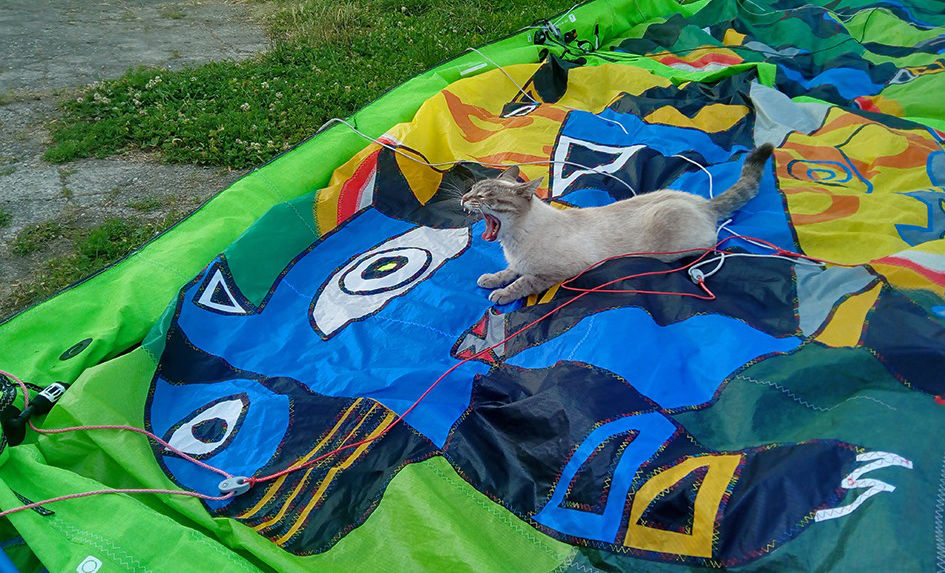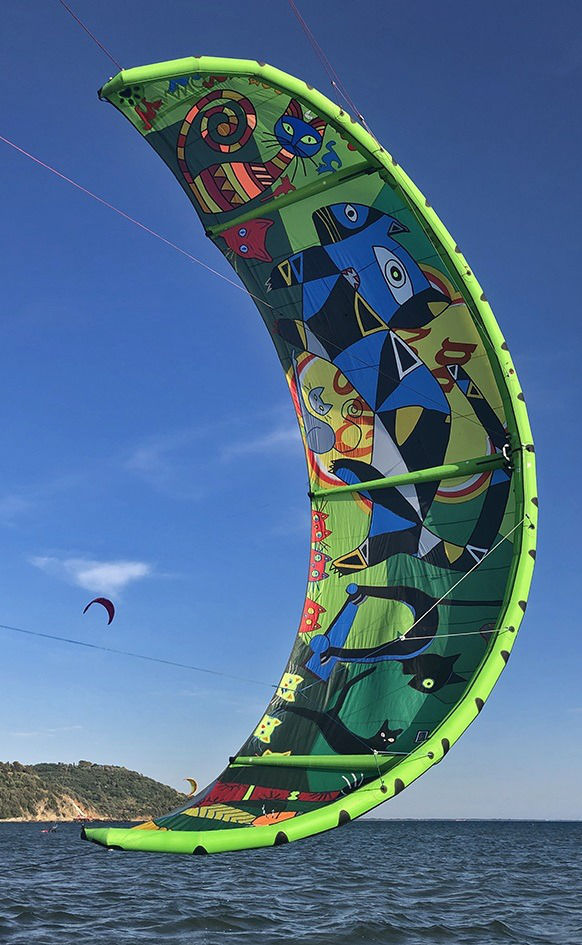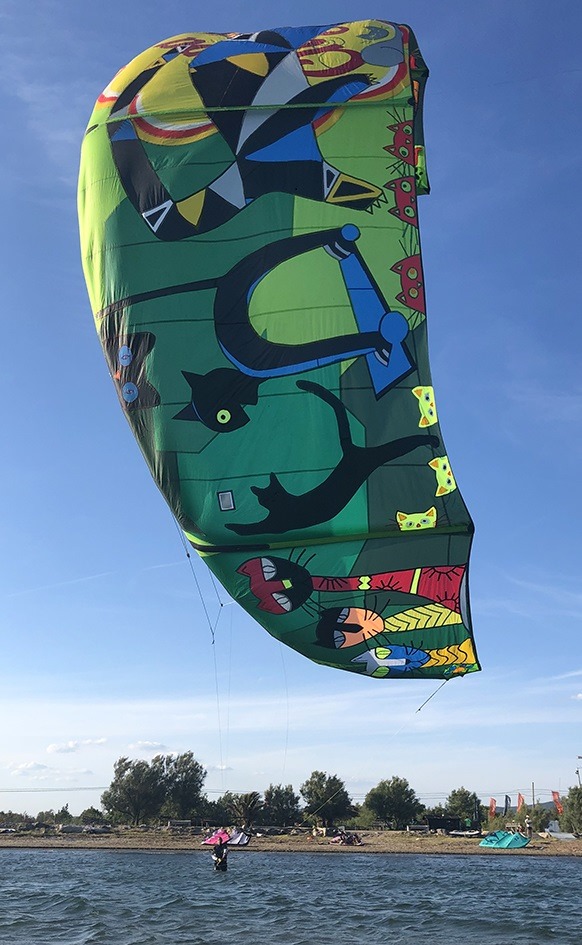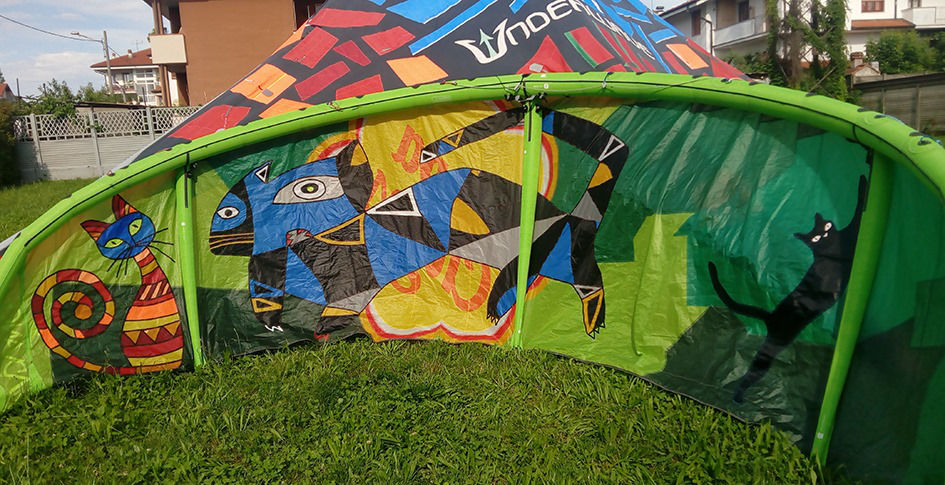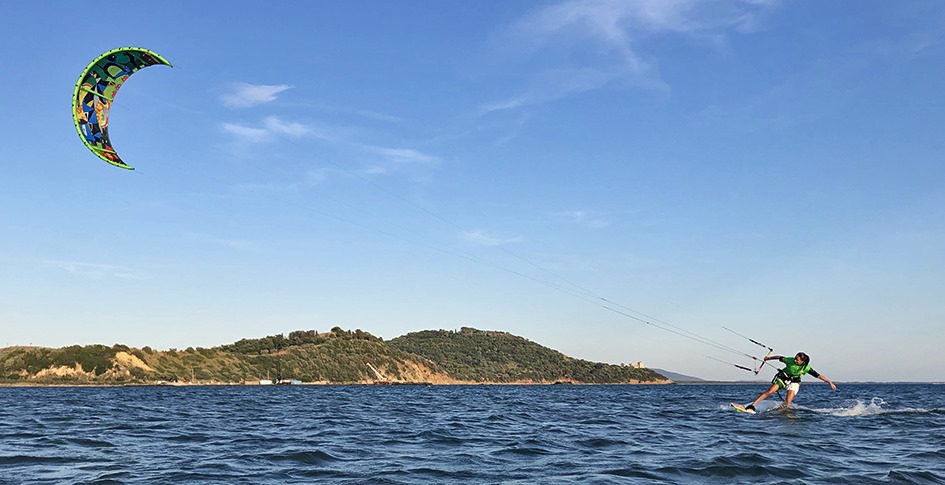 12. "AMBITION" - Advance Kaiman 10
"Ambition remains in line with the original idea of the Kaiman sail, with the addition of the perspective where the vanishing point is identified with the precise center of the sail which together with elements of "anomaly" (almost all transparent) give the kite a decidedly strong character. The combination of colors creates a kaleidoscopic effect, in a continuous variation of shades depending on the direction from which the light comes."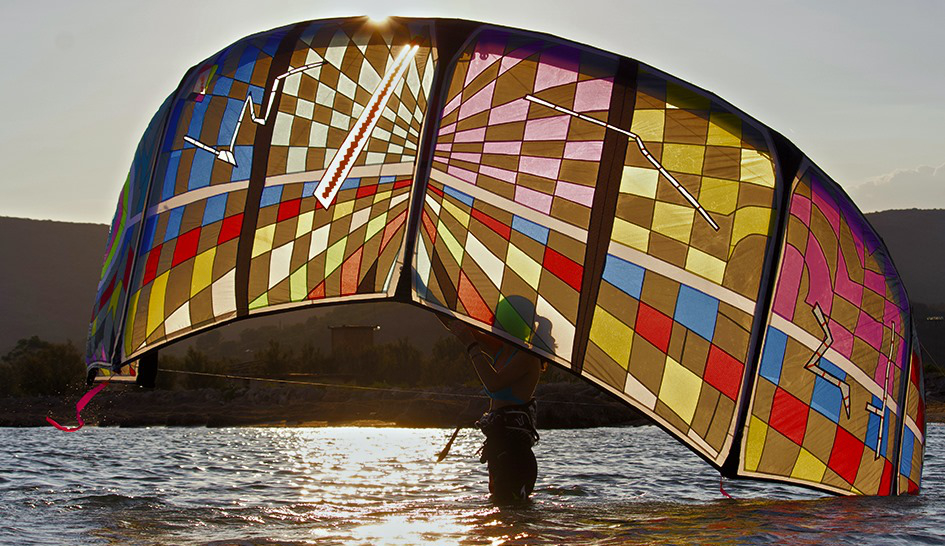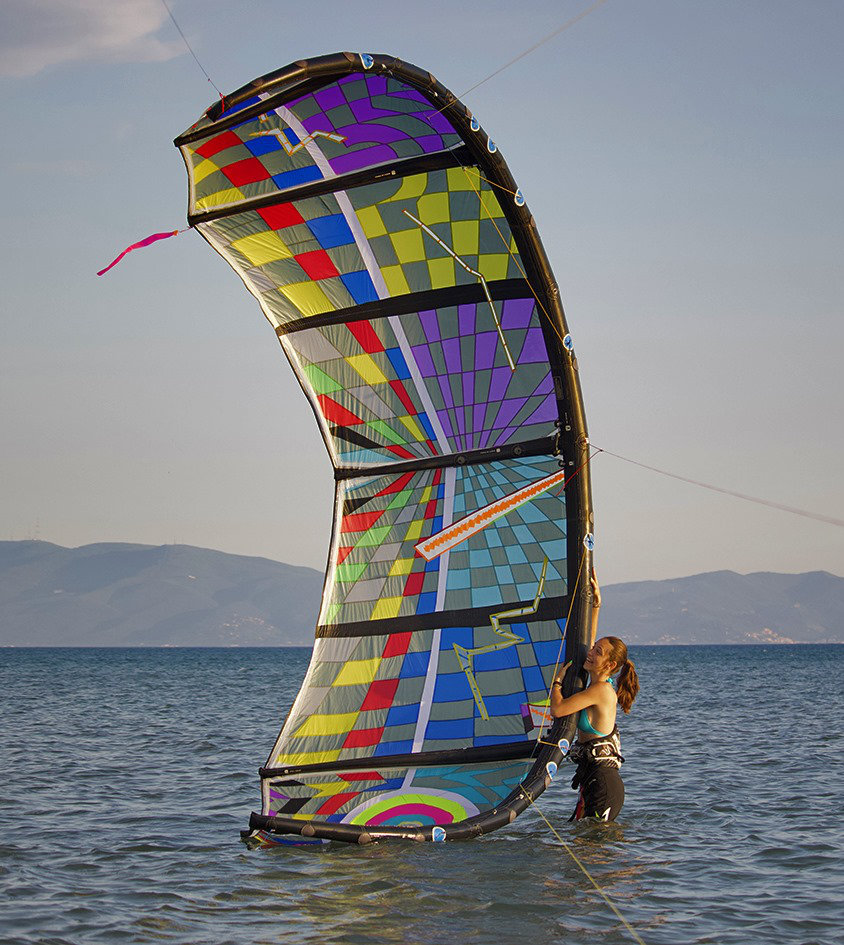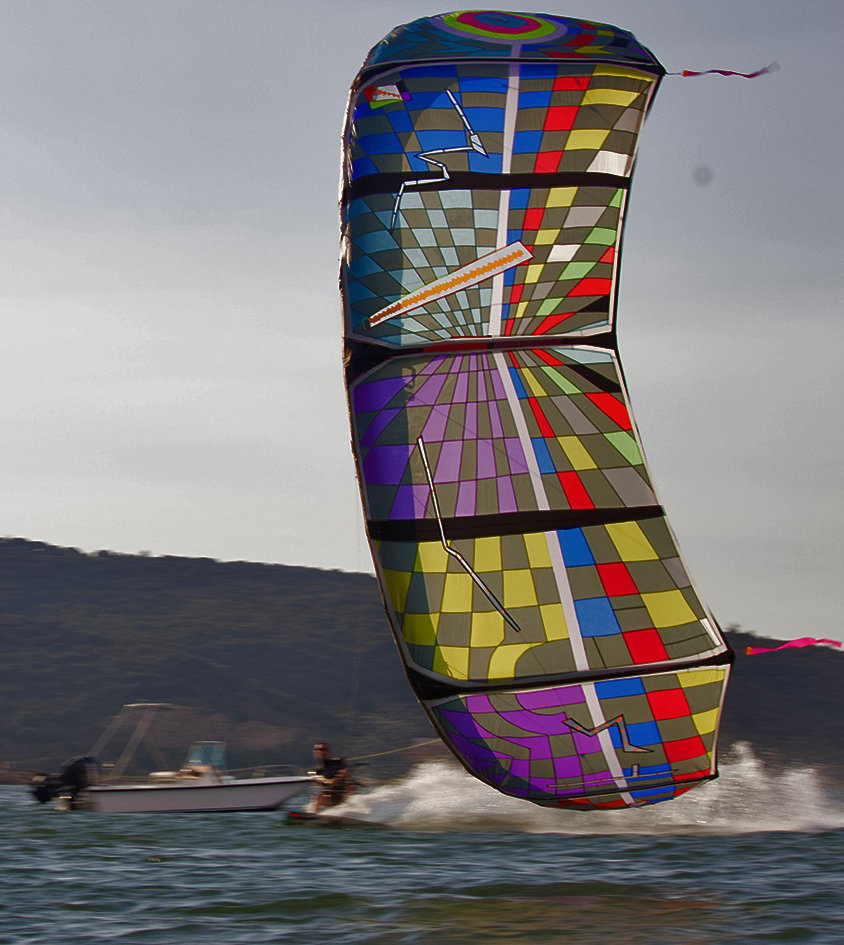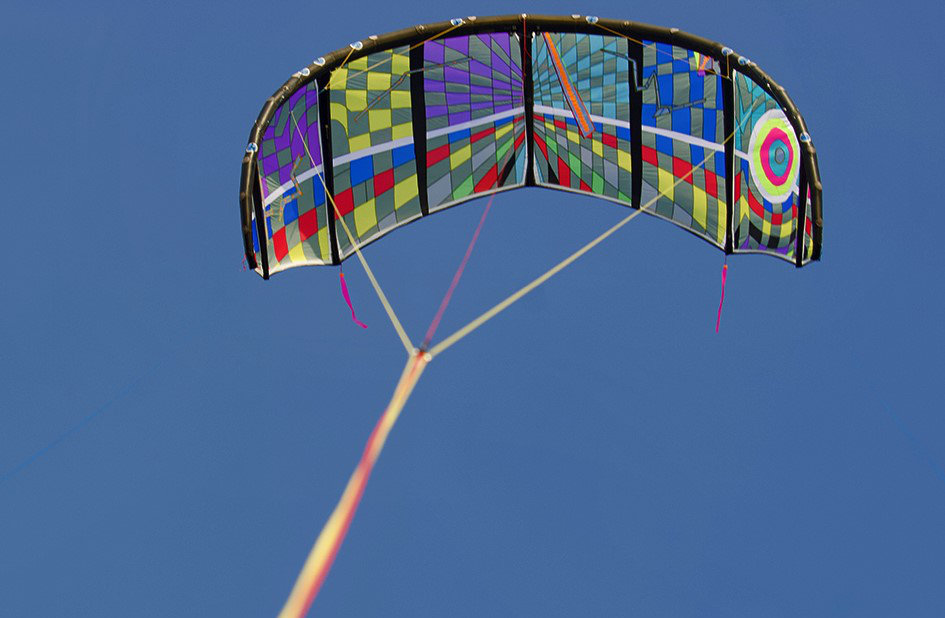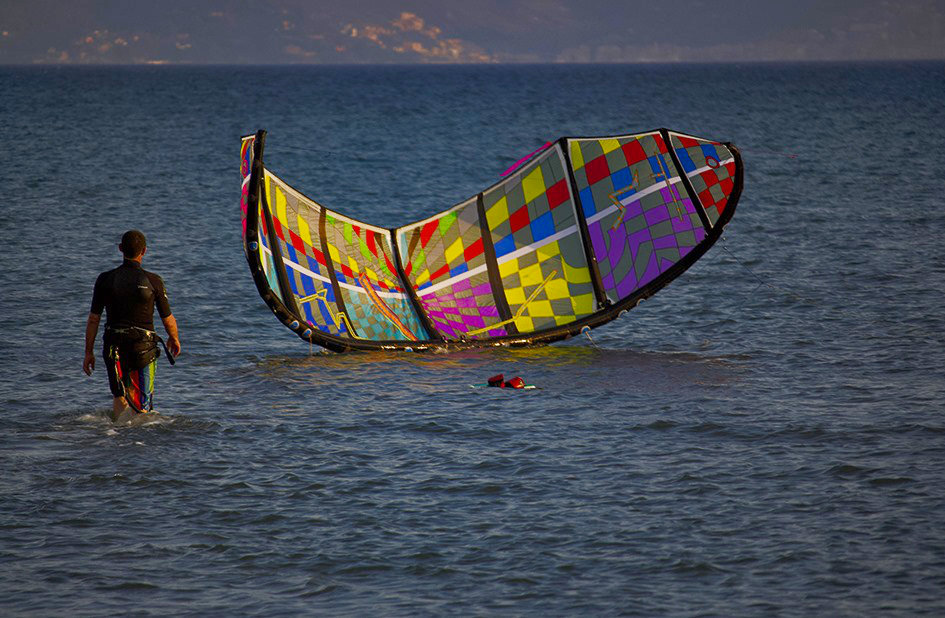 13. ELISA - Advance Kaiman S 8,5mt
"A kaleidoscope of colors to be observed from the intrados and extrados in equal measure to be able to grasp the nuances and contrasts that vary repeatedly according to the angle of the light."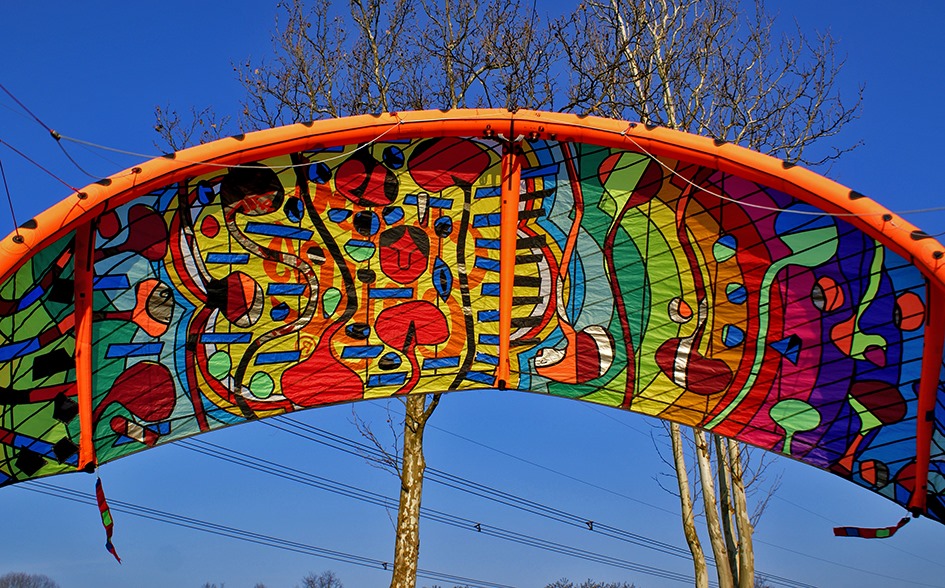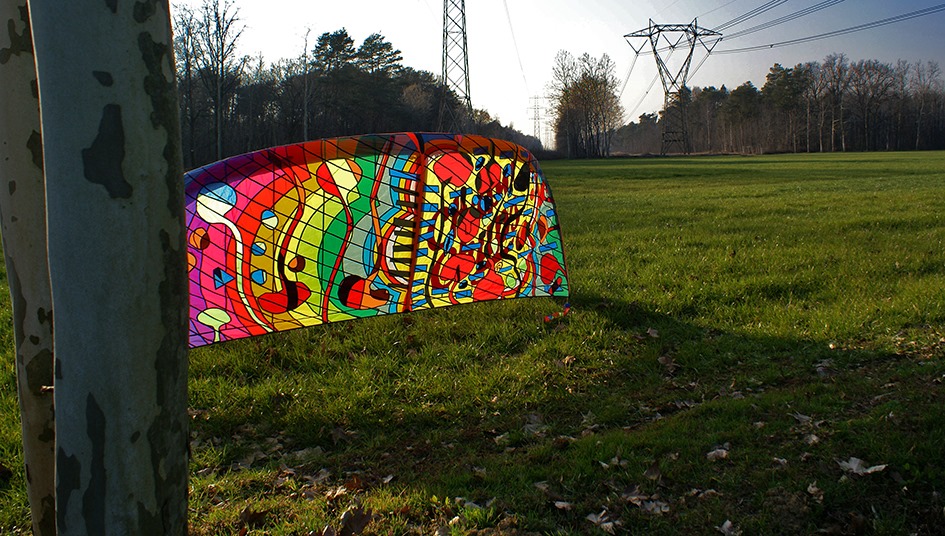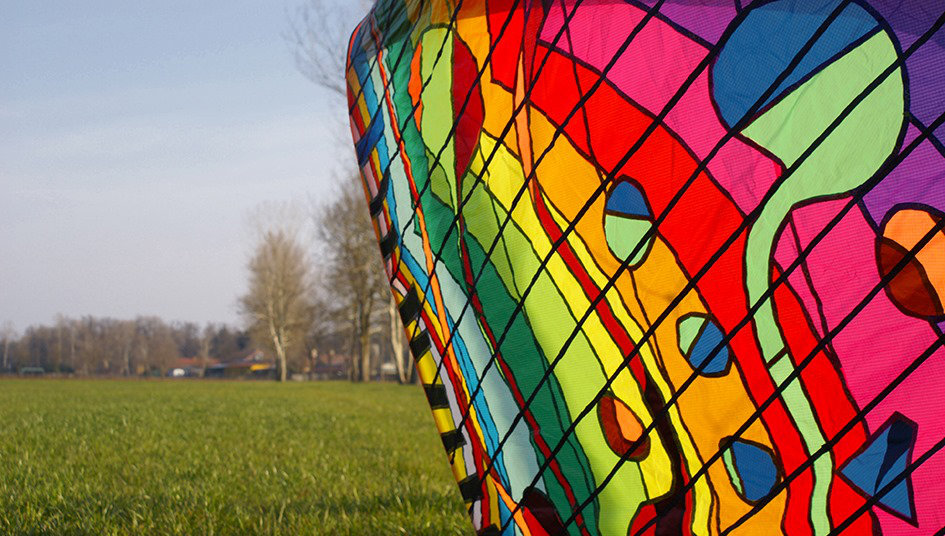 14. KUMI - Advance Kaiman 10 mt
"Kumi means '10' in Swahili language. A graphic work in which a circle and a trapezoid appear in the two central panels. The black side inserts and the red-yellow-white 'whiskers' create a sharp detachment from the red/blue background. Finally, the two green points depict two eyes intent on observing."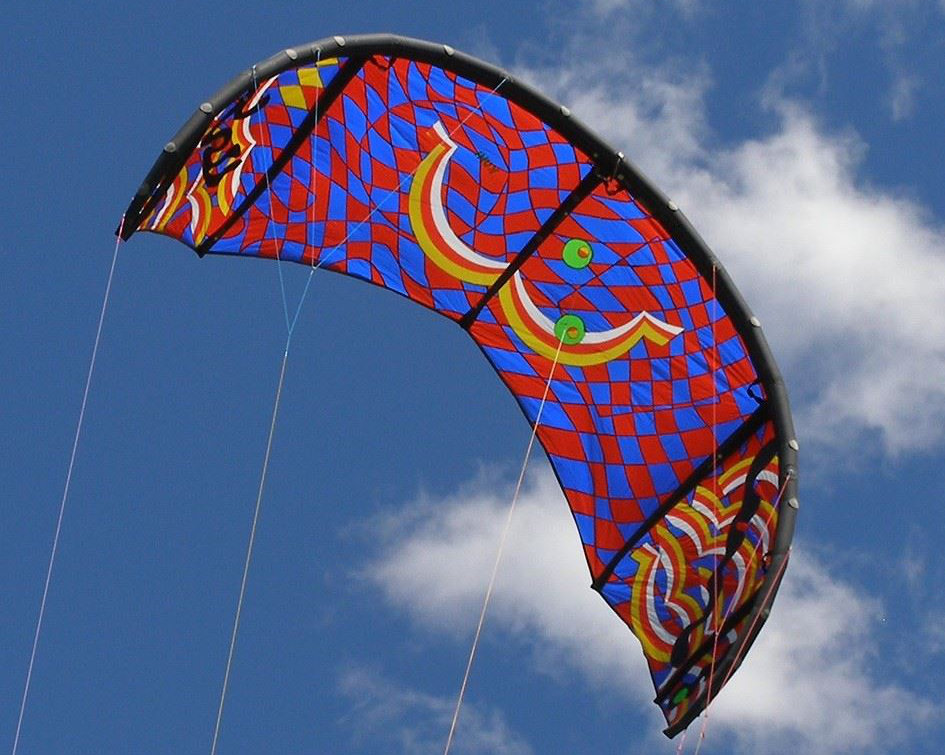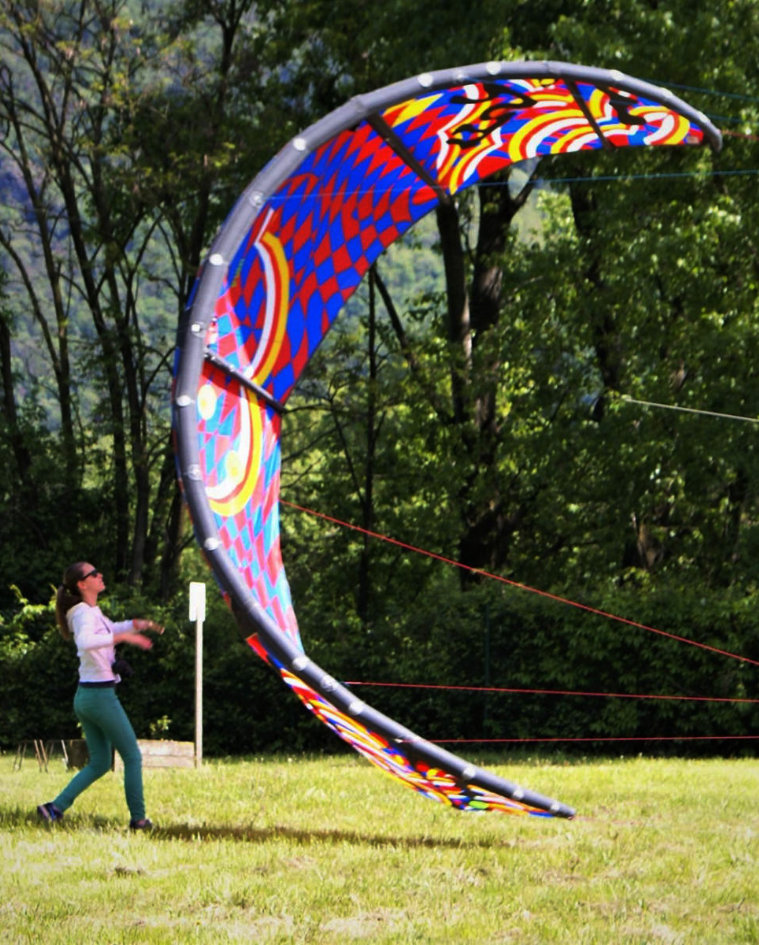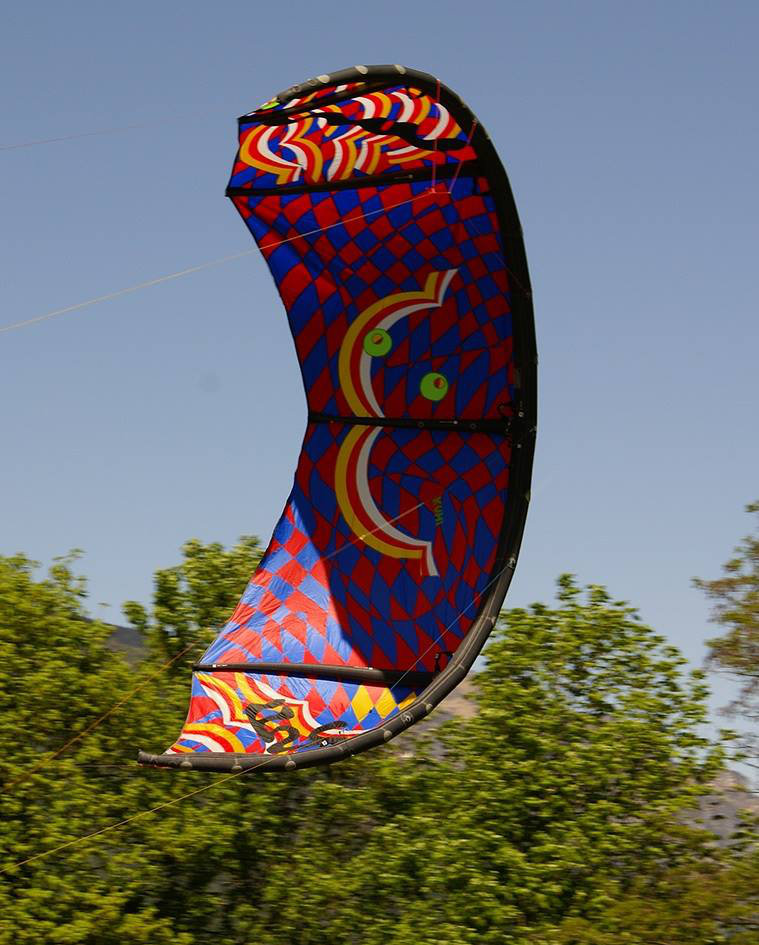 15. LES VAGUES - Advance Kaiman S 8,5mt, 10mt, and RRD Religion 8mt
"Surreal, hypnotic and colorful waves for these three kites who will sail the sky in distant places and most likely will never meet again except through photographs."



16. Marlena - North "Rebel" 10mt
"Trompe-l'œil with a pinch of Ligurian kisses and lots of Rome."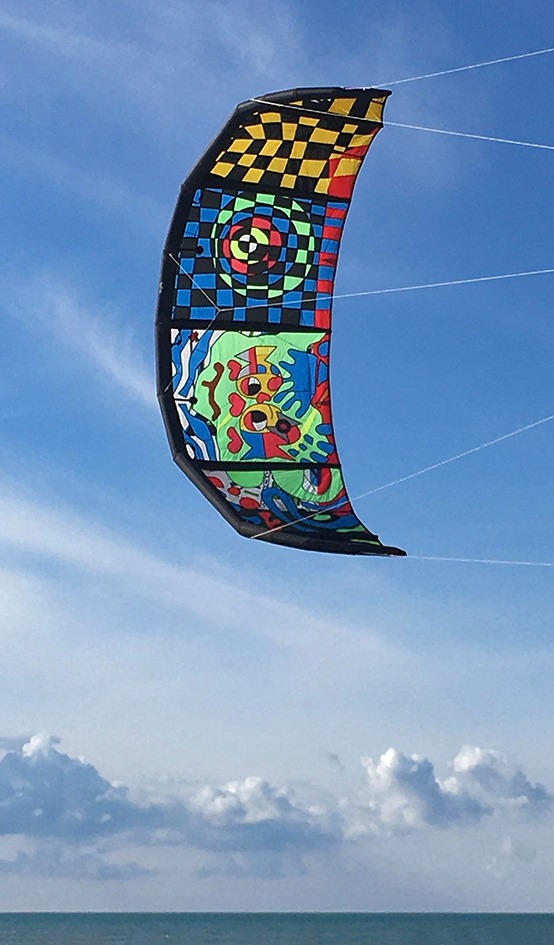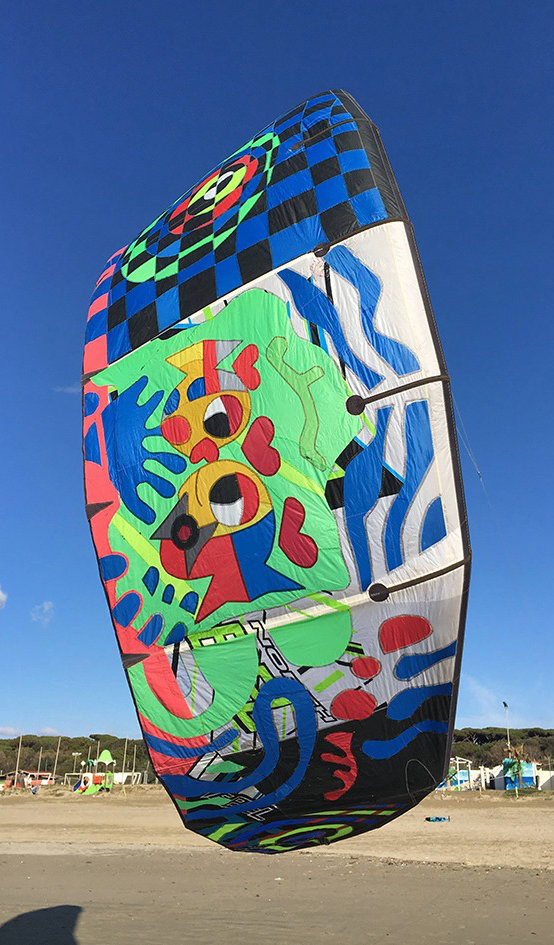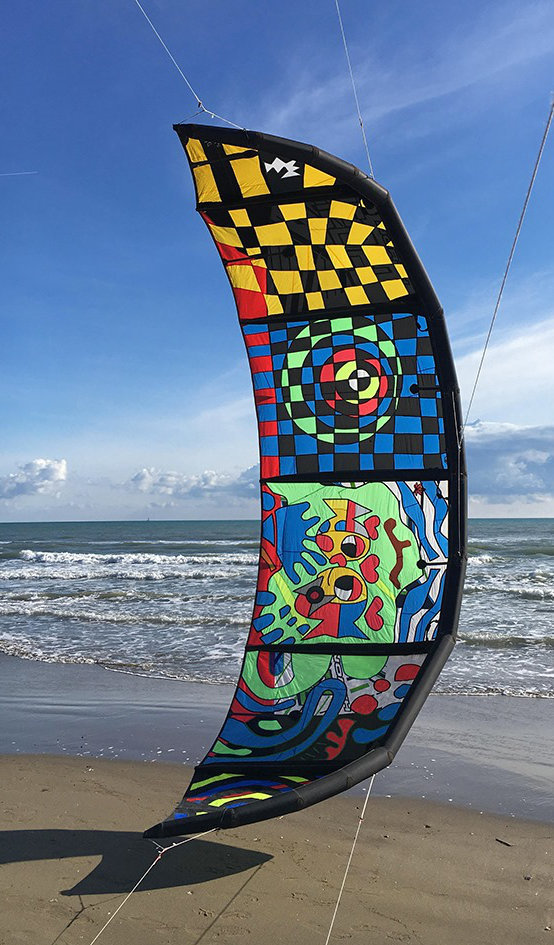 It is a unique emotion to have a kitesurfing session with something as unique as these 'Kite Art' masterpieces. I personally had the pleasure to see them in action on the Garda Lake in Italy last summer and I have to say they stand out from the crowd of industrially manufactured kites: they simply are explosions of colors and shapes in the blue sky.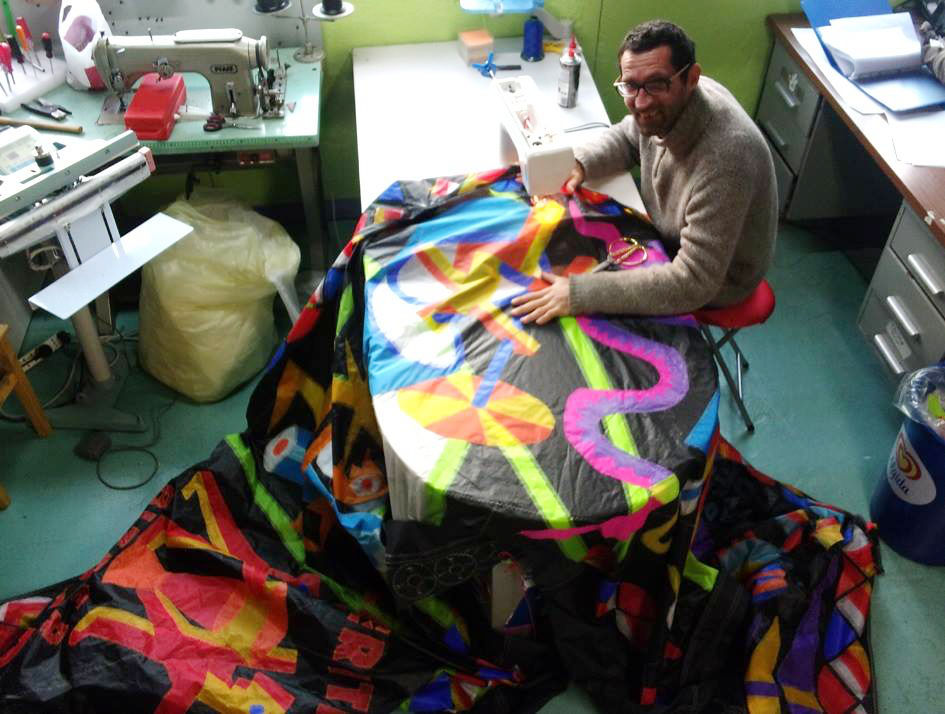 A big thanks to 'Franz', for allowing the publication of his images on the blog.

What do you think of this incredible artist? Which is the kite that most impresses you out of this collection? Let us know in the comments below.

Share the love for Kitesurfing...
Travel Mug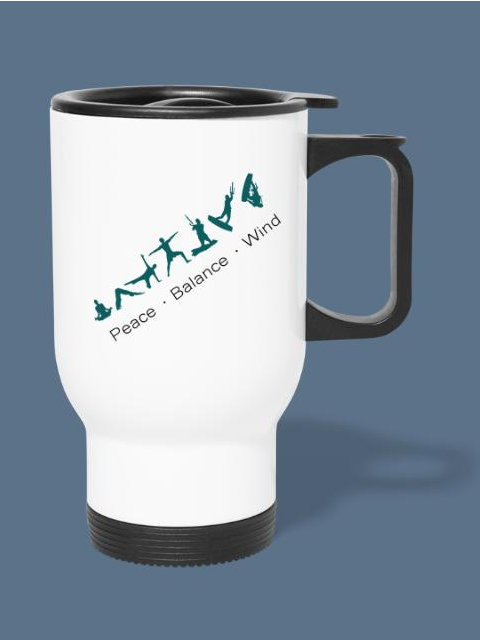 Logo: Peace Balance Wind
Promote your Kite School for free!
Index your Kite School in our database.
You will get free lifetime visibility on Kitesurf Culture website.
If you have a website, it will provide precious backlinks to improve your SEO ranking
Comments
---
Miguel
Thanks for sharing great articles and information
Answers :
---
Gabriele
Our pleasure, Miguel! Thank you for reading!
---
Steel Water Bottle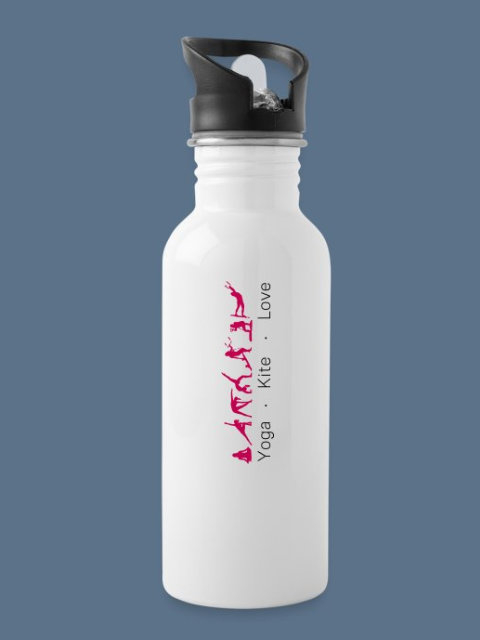 Logo: Yoga Kite Love
Promote your Kite School for free!
Index your Kite School in our database.
You will get free lifetime visibility on Kitesurf Culture website.
If you have a website, it will provide precious backlinks to improve your SEO ranking
Relevant Posts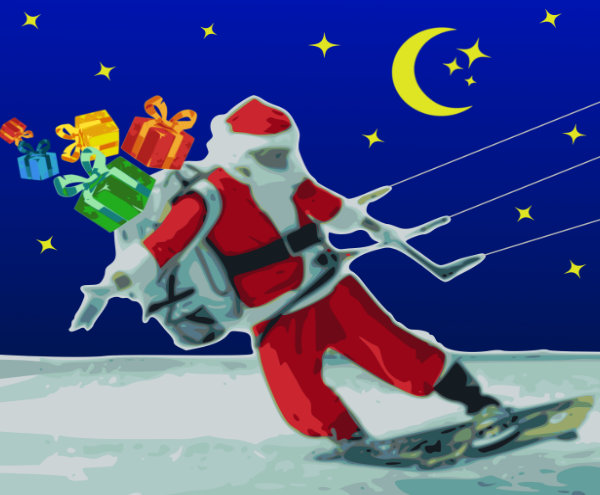 Gifts for Kitesurfers? 20 great presents for your Kite Buddy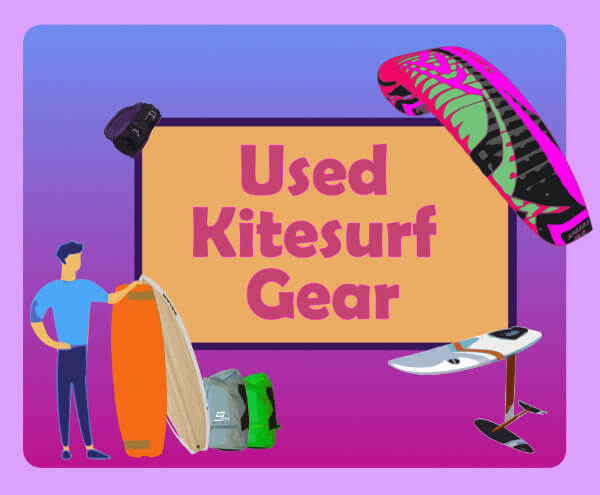 8 Tips to buy used Kitesurfing Gear avoiding Bad Surprises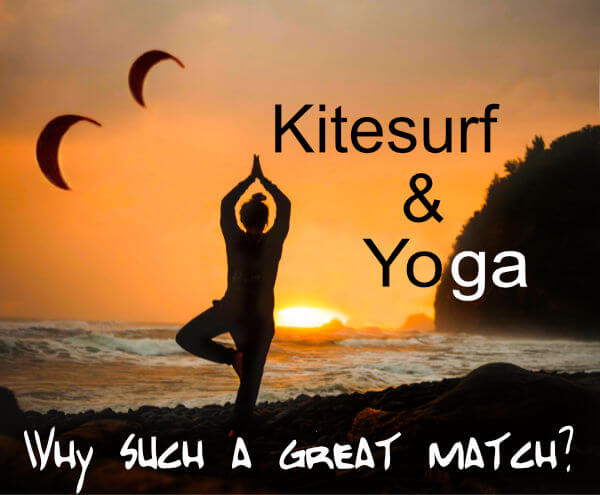 Kitesurfing and Yoga: Why is it Such a Great Match?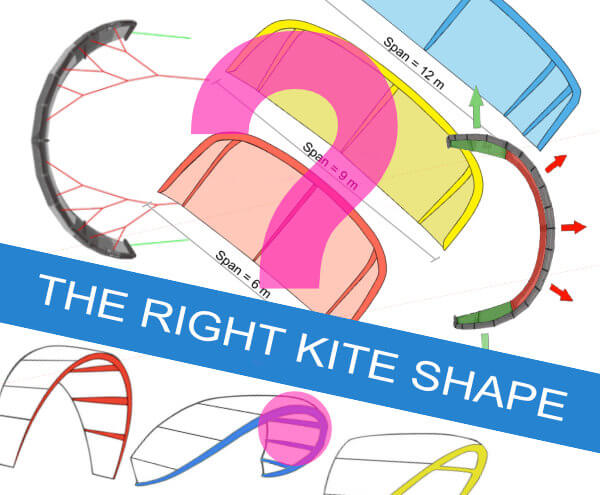 Do you really use the right kite shape for your riding style?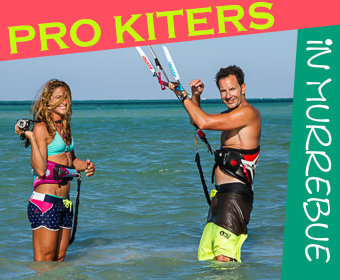 Pro-kitesurfers on Murrebue beach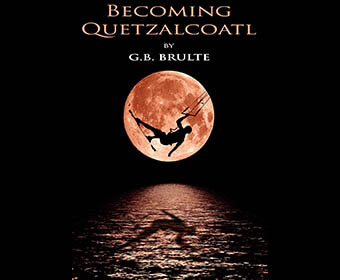 Kitesurfing Novel: Becoming Quetzalcoatl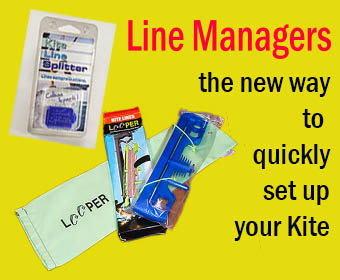 Line Managers: the New Way to Quickly Set Up Your Kite. True or False?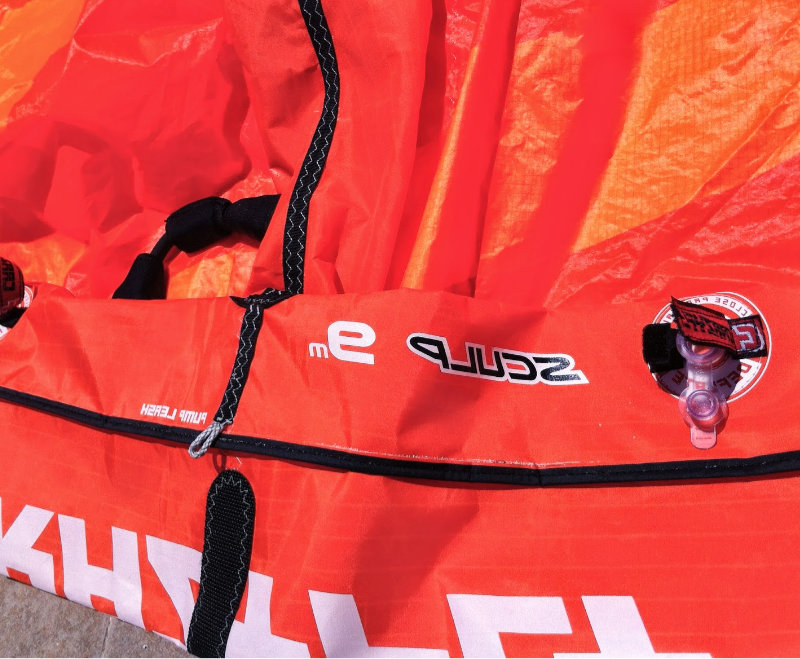 The Kitesurf session ended: tips for Kite Gear Maintenance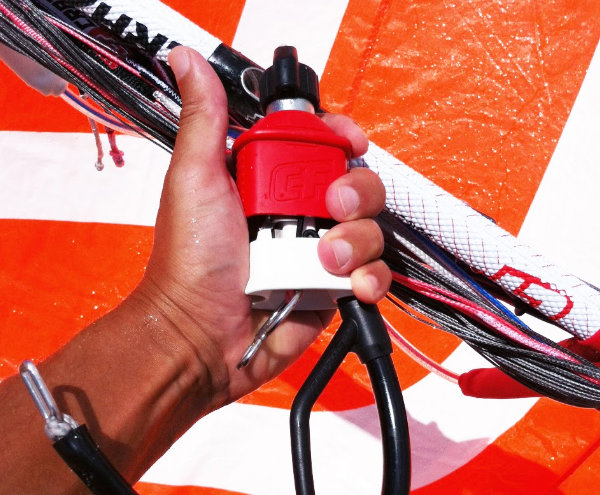 How to Give Your Kitesurfing Equipment a Double Lifespan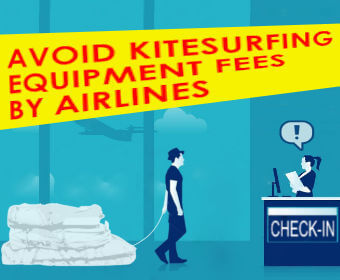 How to Avoid Kitesurfing Equipment Transportation Fees by Airlines
Men's Performance T-Shirt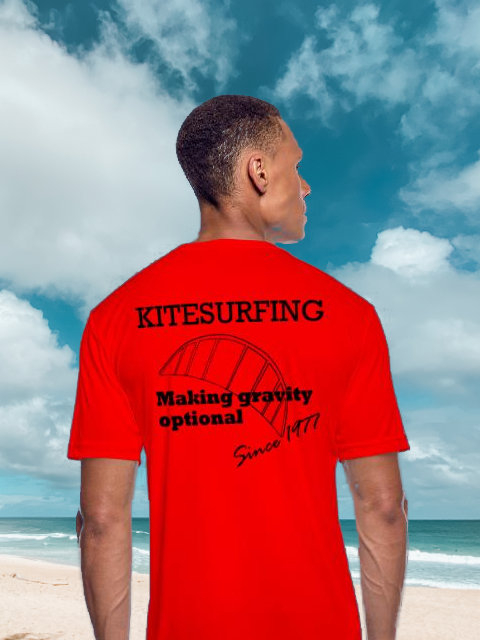 Logo: Kitesurfing making gravity optional since 1977
Latest Posts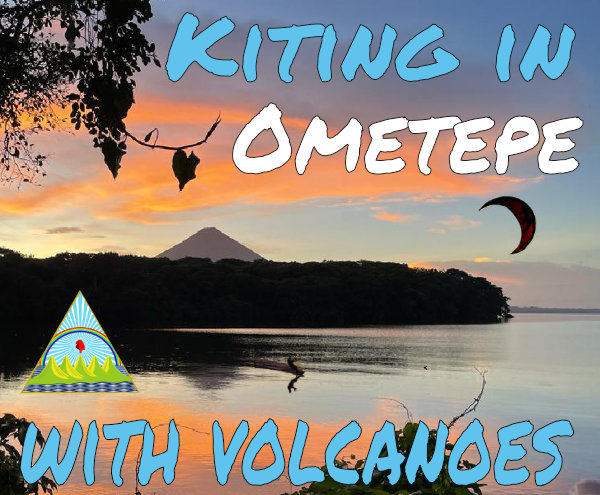 Kitesurfing in Ometepe: an Epic Kite Trip to Nicaragua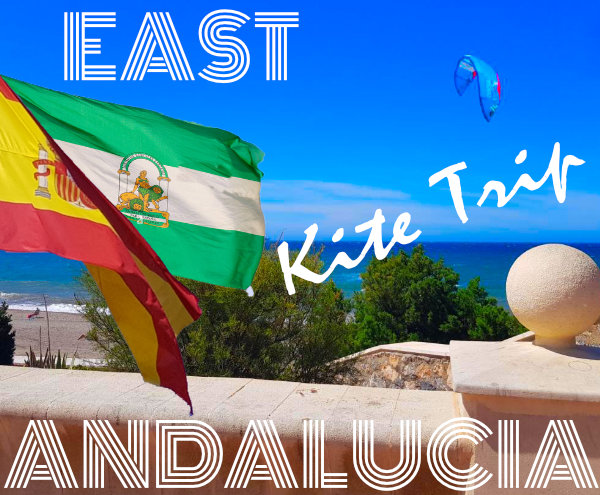 Kitesurfing Spring in Andalucia: Unexpectedly Great!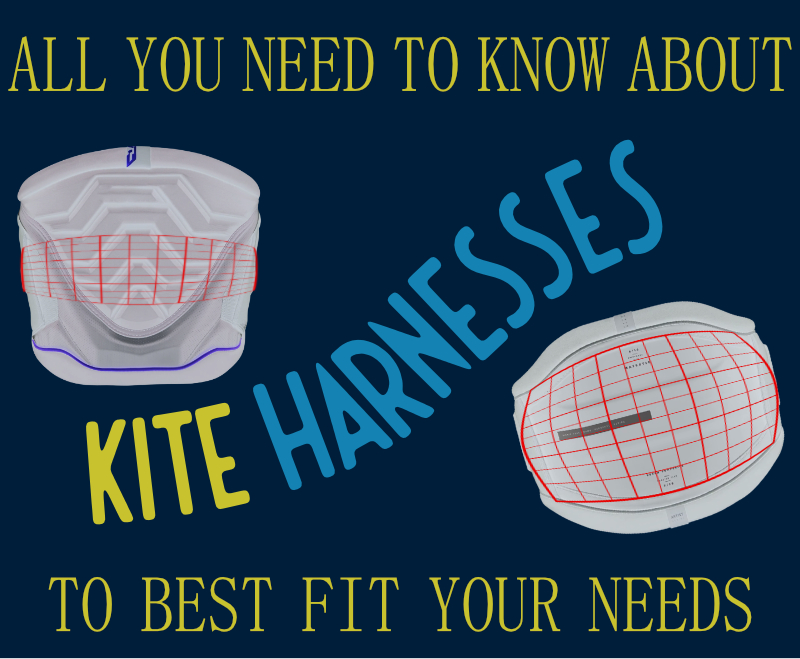 All that you wanted to know before purchasing a kite harness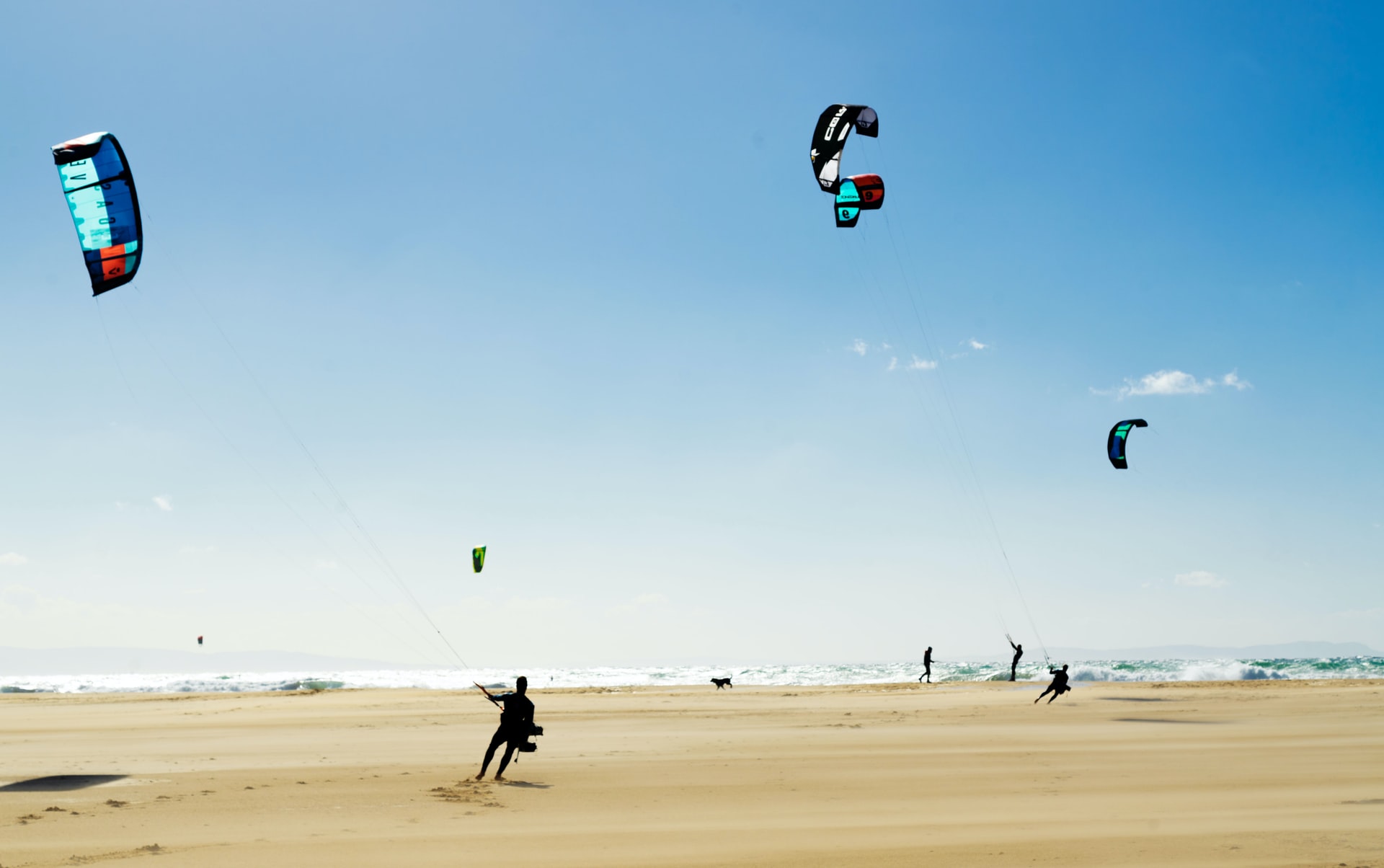 What you need to know before going kiting to Tarifa.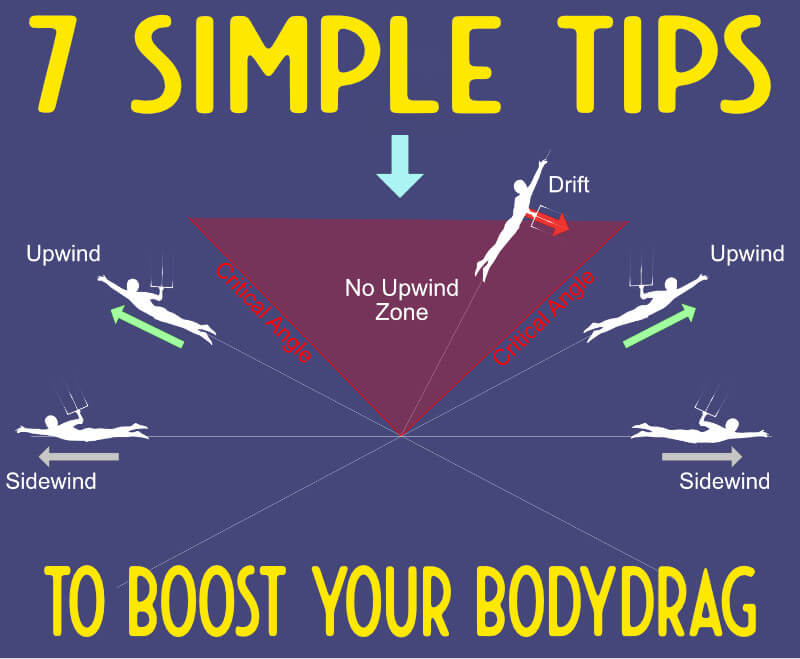 7 tips to boost your body drag upwind skills
Blog Categories