Go kiting to Mozambique: Why choose this country?
---
Unspoiled, underdeveloped, and savage, Mozambique is coming into the spotlight of international tourism attention with its wild beauty, tropical beaches, and exotic sites. Around 1,500 miles of rugged, creamy coastline surrounded by incredible coral reefs, amazing for swimming, sunset sailing, and naturally Kitesurfing. African culture expresses in all the senses in the Art Deco-inspired capital, Maputo. Mangroves, large coastal forest, and thriving coral strike for the impressive biodiversity of both marine and land-based wildlife. If the endless wide tropical beaches of the mainland aren't enough, head offshore: luxury-resorts will delight in the stripes of exclusive private islands, where white-hot sands seemingly melt into the turquoise Indian Ocean.
---
Pros: Mozambique, affordable and less commercial than other African countries in the Indian Ocean, retains exoticism and purity that's still accessible to all. Amazingly uncrowded spots are scattered along its coastline for the most adventurous kiters.
Cons: The brutal 16-year civil war ended in the 1990s, claimed a million lives here, crippling the economy and destroying much architecture. Therefore services are not always reliable and adjustment to circumstances is often needed. Malaria is still broadly present so prophylaxis is recommended.
Kitespots in Mozambique
country map
Select Month:
---
Spot Symbols:

Wave spot

Flat Water Spot

Choppy Water Spot

Wave Spot
with Blog Article

Flat Water Spot
with Blog Article

Choppy Water Spot
with Blog Article
Spot List: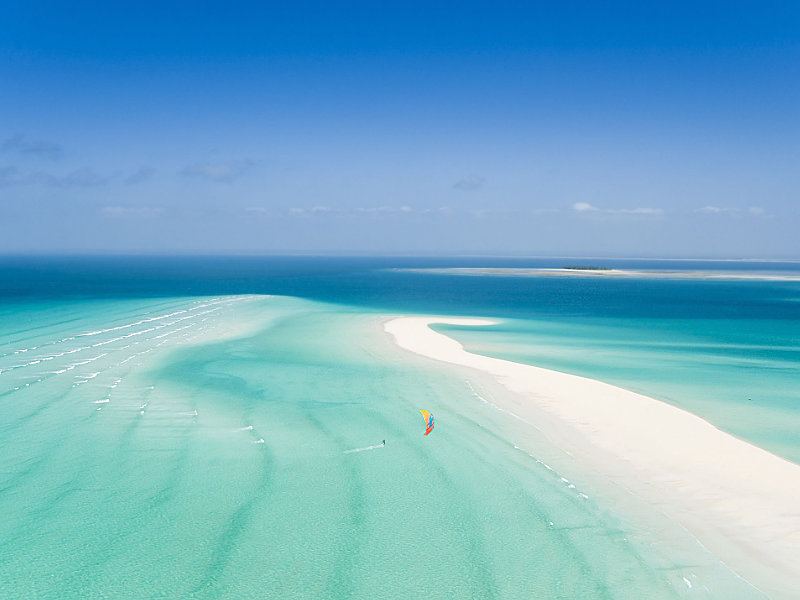 Go Kiting to Mozambique: Main Info
---
Time Zone : GMT + 02.00
Air Lines : LAM
Main Airports : Maputo, Beira, Nampula, Pemba, Vilanculos
Electricity : 220v 50Hz
Launguage : Portuguese
Vaccines : Malaria (prophylaxis), Yellow fever (to enter the country)
*This does not include Covid restrictions
Travel Tips
---
Mozambique is fairly undeveloped with bad road connections. Therefore if you plan a trip by car, you need a 4x4. When you need to cover large distances, it is recommendable to use internal flights. For that, Mozambique is served almost exclusively by the national air company: LAM - Mozambican Airlines, which also connects to the neighboring countries almost as the monopolist. So program your international flight connections carefully.
Destination Best for : Singles and young couples
Budget ($/$$/$$$) : $$
Currency : Mozambican Metical